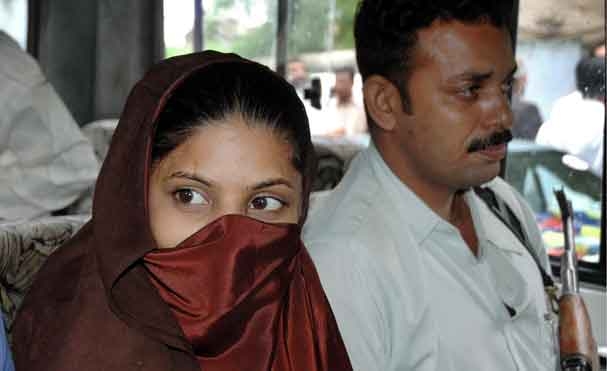 Zahira Shaikh
First it was "Kidnapping of Zahira Shaikh". Teesta Setalvad, the author of this column, was a co-petitioner in the Best bakery case. Zahira Sheikh was the star witness. The first information report was based on Zahira's eyewitness account of the massacre that occurred during the Gujarat communal carnage. Fourteen people were burnt to death on March 1, 2002, when a mob set fire to the Best Bakery, owned by Sheikh's family, situated below their house. Zahira was the boldest witness in the cases.
Zahira changed her statement in front of Vadodra Fast Track Court and said that she did not see anything. After a few weeks Zahira Sheikh arrived in Mumbai and said that she lied under oath because local Bharatiya Janata Party leader Madhu Srivastav threatened her. Zahira was given protection in Mumbai after the CJP, of which Teesta Setalvad is secretary, who helped her file an appeal in the Supreme Court asking for a re-trial outside Gujarat. The Supreme Court granted her request and ordered a re-trial in Mumbai, as it felt that a fair trial was not possible in Gujarat. The Best Bakery case was a landmark case, as it was probably the first in which the Supreme Court ordered a re-trial outside a State.
The trial was under way in Mumbai and the prosecution had examined 27 witnesses, including two eyewitnesses. Zahira was scheduled to testify in a few weeks. However, she suddenly appeared in Vadodara and changed her stand once again at a press conference organised by Ahmedabad-based lawyer Jal Unwala at a five-star hotel. The details of how Zahira reached Vadodara and who paid to get her there remain unclear.
After the press conference, she was put up at a club near the High Court in Ahmedabad and was provided commando protection. The staff of the Silver Pak Guest House was driven out so that top political functionaries could visit without being observed. Today these top state political functionaries are players in national politics. It was the Holy month of Ramadan then, and Zahira, who had never worn a burqa until the second turnaround, was suddenly seen only with a hejab and swore that she would never lie during this especially Holy period. Until the ignominy of television cameras (more honest in their inquiry then) found her quite happily consuming chicken biriyani in the middle of the afternoon.
Zahira denied that she was ever threatened by Madhu Srivastav and said that the Sessions Court judgment acquitting the 13 accused was "correct". Asked about the petition filed by Teesta Setalvad in the Supreme Court, and her affidavit, Zahira said that the petition was drafted in English. She said she was told that the document was regarding the Best Bakery property and thus she signed. Sheikh claimed she was not aware that she was filing a petition in the Supreme Court.
However, the fact that Zahira was physically present in the Supreme Court during one of the hearings went against her. As also the fact that she was freely moving around in Delhi, even visiting the Nizamuddin Dargah where a few dozen persons, could vow that she had not been kidnapped.
Zahira Sheikh also alleged that Teesta Setalvad kept her locked in a flat in Andheri for seven months. However, the magazine Frontline learned that Zahira fell out with Teesta Setalvad and had been living with her sister in Mumbai since December 2003. She had even written to the Police Commissioner saying that she did not want police protection. Around the time of her testimony, Zahira demanded that Teesta Setalvad's organisation give her a flat and a bakery in Mumbai, said the public prosecutor Manjula Rao.
There were other witnesses who had identified some of the accused, so the case stood strong without Zahira and her family.After seeing Zahira Sheikh's multiple flip flops , I. Teesta Setalvad went to Supreme Court and asked for a thorough investigation. The Supreme Court Registrar report found that unaccounted money had found itself into Zahira Sheikh's account. Madhukar Srivastava BJP MLA refused to give voice test samples to the SC (2005). Zahira Sheikh was put behind bars for her blatant lies and Teesta Setalvad was found innocent.
http://infochangeindia.org/human-rights/news/perjury-earns-best-bakerys-key-witness-zaheera-sheikh-jail-term.html
http://indiatoday.intoday.in/story/best-bakery-case-supreme-court-slams-witness-zahira-sheikh-for-flip-flops/1/193039.html
Then there was the article "Tutoring of Witnesses" (Sardarpura, Naroda Patia and Gaam). Special Courts Sardarpura, Naroda Patia conclusively held there was no tutoring (other trials are still on (2011,2012)During this time there were attempts to arrest Teesta Setalvad. However the Supreme Court of India stayed Investigations. http://www.cjponline.org/gujaratTrials/teestayasmeenstat.htm
Then there was the case of "digging up mass graves" in Lunawada when Teesta Setalvad was hundreds of kilometres away. She was illegally "added" as an accused 5 years (2011) after the FIR was lodged (2006) a la Raees Khan Pathan via Gujarat Police . Attempts to arrest Teesta Setalvad were made yet again but the SC has stayed this malafide investigation as well.
"The war is on. Between the foundations that this nation was built on and efforts to turn it into a majoritarian autocratic state. Vindictively stifling dissent and criticism is a way of crippling resistance. Will they succeeed? Only if we allow them to."
The latest assault was about 'funds' for Gulberg Memorial. When the anticipatory bail to Teesta Setalvad was denied by the Gujarat High Court an attempt to arrest Teesta Setalvad (and Javed Anand) yet again was made by Gujrat Police within hours of the verdict. Supreme Court stayed the arrest yet again.
After 20,000 documents INCLUDING credit card vouchers etc have been submitted –and every single filthy allegation of using trust funds for personal expenses disproved–now there is a new attack on Teesta Setalvad's Sabrang Trust. According to Gujarat's Minister of State, Mr Rajnikant Patel, the state government contacted the Home Minister requesting the inquiry into the Setalvad's Sabrang Trust on the basis of their belief that foreign funds sent to her NGO, in particular by the US-based Ford Foundation, were misused in order "to create communal disharmony" within the state of Gujarat, and carrying out "anti-national propaganda" abroad. Following the letter from the Gujarat Government to the Home Minister, senior officers from the FCRA monitoring unit visited the registered offices of the Sabrang Trust, along with those of Citizens for Justice and Peace. With the full co-operation of Teesta Setalvad and her staff, the inspection team carried out a detailed investigation into the records of both NGOs from 6-8 April 2015, during which hundreds of copies of original accounts and records were provided upon request to the investigation unit. The intensified investigation into Teesta Setalvad and the work of her NGOs comes in the build up to her anticipatory bail plea, which shall be heard by a 3 member bench of the Supreme Court on 21 April 2015, in relation to legal proceedings pending against her and her spouse, Mr Javed Anand, based on allegations of embezzling funds intended for the construction of a memorial to the victims of the 2002 Gujarat riots.
The question arises is Gujarat Government paranoid about the legal processes related to 2002 (that is still pending)? Are the constant attacks on us and our organisations CJP and SABRANG primarily to malign Setalvad's image because the organisation that she represents has provided consistent legal aid to Survivors of 2002 as a result of which 126 perpetrators are behind bars? Narendra Modi's minister Maya Kodnani was one of the many convicted along with Babu Bajrangi.
Zakia Jafri's case proceedings will re-start soon. Narendra Modi is one of those sought to be prosecuted in the case. We have been providing legal aid to Zakia appa and her family? Are we then being hounded because despite the intimidation and attacks we have continued in our work?
That in the forst week of April Survivor witnesses challenged in the Supreme Court attempts made in the Gujarat HC to single out Kodnani's appeal and rush it through without other appeaks being heard? That the SIT, for once (after the survivors had filed the SLP) decided to also push for recusal of the case away from the Judge hearing it? And that the SC stayed the hearing of the appeal for two months?
The war is on. Between the foundations that this nation was built on and efforts to turn it into a majoritarian autocratic state. Vindictively stifling dissent and criticism is a way of crippling resistance. Will they succeeed? Only if we allow them to.
A version of this appeared as the author's weekly column in the daily, Rashtriya Sahara