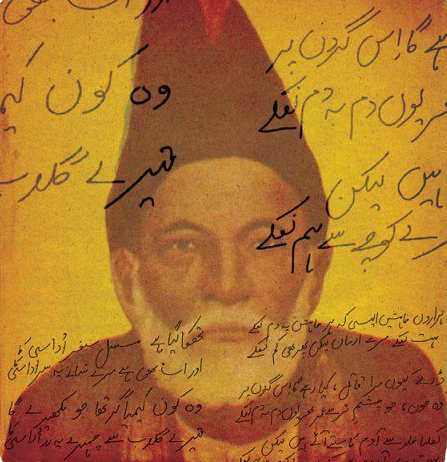 India is a secular country where religion commands the allegiance of millions. Indian secularism, as incorporated in the Constitution and the laws and as interpreted by courts, is not anti-religious or irreligious – for the bulk of our people are deeply religious. A thick streak of religiosity runs through our history, culture and society. Under the Indian law, secularism broadly means that the State shall not have a religion, shall let people practice and propagate religions of their choice and shall not discriminate on grounds of religion. However, in Urdu poetry secularism is not understood in the same way as it is understood in law or constitutionalism. Poetic secularism is a fight against hatred and illogic and Urdu poets, in every era, have made their presence felt in the common man's fight against both. From Ghalib (d. 1869) audaciously renouncing rituals and calling for a merger of all communities into one faith:

Hum muwahhid hain, hamaara kesh hai tark-e-rusoom
Millatein jab mit gayin, ajza-e-imaa'n ho gayin

We believe in Unity of God, rituals we renounce
When communities wither away, they merge into a single faith

to Jigar Moradabadi (d. 1960) taking a dig at politicians who see nothing beyond politics, leaving the job of promoting love and communal fraternity to poets like him :

Unka jo kaam hai, vo ahl-e-siyaasat jaanein
Mera paighaam mohabbat hai, jahaan tak pahunche

What their job is, let the politicians be bothered about
My message is 'love', may it reach the whole world

Urdu poetry has always advocated the cause of secularism and promoted our pluralistic traditions in various forms. Urdu poets have adopted peculiar symbols to
promote liberal humanism and abhor religious sectarianism. Irreligion, anti-religion, anti-formalism, equal respect for all religions, national unity, common brotherhood, mulla and pandit bashing – all these trajectories together constitute the secular and pluralistic landscape of Urdu poetry. And it is not just serious poetry that has used these trajectories to raise its voice against hate, humourists and satirists have shared the serious poet's burden in equal measure – occasionally with far more impact and effect, and the phenomenon is not new. In fact, some of the classicists and masters of romance have used satire to bring home their issues with religion and its preachers. In the 18th Century, Mir Taqi Mir (d. 1810), like Ghalib in the next, did not hesitate in audaciously announcing his incredulity to religion. In his well-known and oft-sung ghazal which begins with:

Ulti ho gayin sab tadbeerein, kuchh na dawa ne kaam kiya
Dekha is beemaari-e-dil ne, aakhir kaam tamaam kiya

All my efforts went in vain, the medicine didn't work at all
Did you see, this heart disease killed me at last

Mir derides religious symbolism, scorns and ridicules its self-appointed sentinels, and finally announces that his faith is beyond their typifications:

Kiska Kaaba? kaisa qibla? kaun Haram hai? Kya ehraam ?
Kooche ke us ke baashindon ne, sab ko yahin se salaam kiya

Sheikh jo hai masjid mein nanga, raat ko tha maikhaane mein
Jubba, khurqa, kurta, topi, masti mein inaam kiya

Mir ke deen-o-mazhab ko ab poochhte kya ho, un ne toh
Qashqa kheincha, daiyr mein baitha, kab ka tark Islam kiya


Whose Ka'aba? What prayer-direction? What Holy mosque? What pilgrim's robes?
We, the inhabitants of her lane, abandoned all from here

The Sheikh who stands naked in the mosque today, was in the pub last night
Cloak, gown, shirt, cap – in inebriation he gave away as tips

What do you now want to know about Mir's religion and faith, he in fact has
Tattooed his forehead, sat in a temple, abandoned Islam long ago

The modern satirist is as repulsed by the growing communal hatred today as the classist was with the overpowering influence of the clergy two centuries ago. One of the most gifted humourists of our times, the incomparable Saghar Khayyami (d. 2008) is flabbergasted with the purely personal interests that control communal politics:

Aisi koi misaal zamaane ne paayi ho
Hindu ke ghar mein aag khuda ne lagaayi ho
Basti kisi ki Ram ne yaaro jalaayi ho
Nanak ne sirf raah sikhon ko dikhaayi ho

Ram-o-Raheem-o-Nanak-o-Eesa toh narm hain
chamchon ko dekhiye toh pateeli se garm hain

Has the world ever seen an example
Of a Hindu home having been burnt down by the Muslim God
A neighbourhood having been torched by Lord Rama
Or Guru Nanak having only shown the right path to the Sikhs

Ram, Raheem, Nanak and Christ didn't teach these things
It's the self-appointed custodians of their teachings who corrupt us[i]


In another hilarious poem, characteristic of Saghar, he uses the example of meat-ban to assail the obviously communal typecasting of Muslims and Hindus on the basis of their perceived food habits:
Ek maheena ho chuka hai bandd hai hum par mutton
Daawato'n mein kha rahe hain bhindiyaa'n ahl-e-sukhan
Khaa ke ghuiyyaa'n kya dikhaaein shaayri ka baankpan
Ho gaye paalak ka patta, nazuki se gulbadan
Nafrato'n ki jang mein dekho toh kya-kya ho gaya
Sabziyaa'n Hindu hui'n, bakra musalmaa'n ho gaya

It's been a month that Mutton is not available
At feasts, poets are being fed with ladyfinger

After having a meal of tarot root, what poetic skills will we be able to show?
Fragility has turned the dainty one into a spinach leaf
In this war of hatred, see what all has happened
Vegetables have become Hindu, and lamb has become Muslim

Pakistani poet, Anwar Masood (b. 1935) is appalled at how, in a large part of South Asian societies, religious dogmatism overrides scientific education even in modern times. In an outstanding example of matchless satire, he takes a jibe at the absurd and impractical manner in which the clergy, rather than relying upon modern scientific methods, insists on physically sighting the Eid-moon every year, leaving the faithful wondering till late in the night if they are expected to celebrate the festival the next day :

Chaand ko haath laga aaye hain ahl-e-himmat, unko ye fikr hai ki ab jaanib-e-Mirreekh barhein
Ek hum hain ki dikhaayi na diya chaand hamein, hum isi fikr mein hain Eid parhein ya na parhein

The courageous have gone and touched the moon, they are now planning to go towards Mars
And we, if we don't see the moon ourselves, keep debating whether or not to offer Eid prayers

Shauq Bahraichi (d. 1964) was a highly underrated poet who few have heard about, though one of his couplets remains high-up in the list of the most popular satirist poems ever:

Barbaad gulistaa'n karne ko bas ek hi ullu kaafi tha
[ii]
Har shaakh pe ullu baitha hai, anjaam-e-gulistaan kya hoga
To ruin the garden, just one owl was enough
Here we have an owl sitting on every branch, pray! what will come of the garden

A law-clerk (Munshi) to several district court lawyers in Eastern UP, his recent posthumously published collection dazzles with marvelous examples of satire and humour. Like many others, Shauq was convinced that the root-cause of all communal hatred was not religion, but the clergy. In one of his quadruplets, he pronounces the ever-preaching mullas as not only frivolous and foolish but also rude and ill-mannered:

Aql ke kuchh dabeez hote hain
ek mohmal si cheez hote hain

Hum ne dekha hai deher mein ae 'Shauq'
maulavi badtameez hote hain

They are short on intellect
They are a meaningless sort

We have seen in this world, O 'Shauq'
Mullas are just ill-mannered

A similar sentiment is echoed by another poet who renders a unique explanation unto God for having evaded religious instruction:

Hum saayagi-e-zaahid-e-badkhoo ke khauf se
Parvardigaar! Teri ibaadat na kar sakey

For the fear of being in the company of the ill-mannered mulla
Oh Lord! we could not worship you

Following the same line of thought, Maachis Lucknowi (d. 1970) claims that on the day of judgement, the sinners' queue will be full of clergymen:

Sar-e-mehshar, gunehgaaron ki saff mein
Amaa'n dekho toh kitna maulavi hai!

On the Day of Judgment, in the sinners' queue
Just see, how many mullas are there

Urdu satirists and humourists recognize that communalism is not just a phenomenon where followers of one religion are pitched against followers of another religion, but casteism and creating hatred between followers of the same religion inter se is also communalism and equally deplorable. Lucknow has witnessed some of the most despicable instances of Shia-Sunni wars, fought at various levels – political, social, economic, personal and, of course, religious. Some decades ago, when many a Shia intellectual announced their allegiance to the Communist Party, a Shia poet from Lucknow, in an unparalleled example of top-notch satire, ingeniously captured the abhorrence of both these communities against the other:

Jab se maaloom hua hai ki khuda Sunni hai
Shia tezi se communist hue jaate hain

Ever since they have come to know that God is Sunni
The Shias are steadily converting to communism

The types and kinds of communalism notwithstanding, the essence of communalism lies in hatred, and hatred increases when human values begin diminishing. Sadly, we are living in a world where human values are fading away by the minute; a world, where we must not only be concerned about communal politics but where we must also find a solution to the larger issue, from which stems the issue of communal politics – the issue of man losing his humane character and degenerating into a monster. Ghalib had voiced his concern on this more than 150 years ago, when he had said:

Bas ki dushwaar hai har kaam ka aasaa'n hona
Aadmi ko bhi mayassar nahin insaa'n hona

Oh! it is so difficult even for random tasks to be rendered easy
(just as) being humane is not a task easily attainable by man

The global situation has only worsened and become more appalling in the century and a half that has followed. To quote the inimitable Rafiq Shadaani (d. 2008), a compulsive humorist whose biting satire in the Awadhi dialect would give many a stand-up comedian a good run for their money:

Iblees bhi hum logan ka pehchaan lihis hai
Insaan ko dekh at hai toh lahaul parhat hai

Even Satan has now recognized us
Upon seeing humans, he recites verses to shoo away the evil