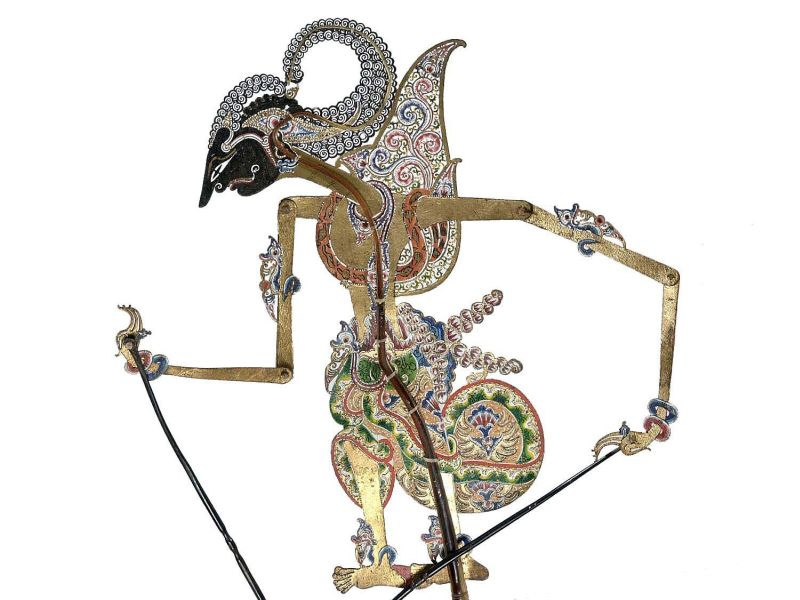 Be it news about the modern revival of Urdu or the Indonesian figures of the Ramayan, there's no news like good news

Dr Undre set up this school in his ancestral village because he wanted to give back. Like Ghulam Pesh Imam, Ghulambhai to us, who returns to his village in the Konkan belt whenever he can, makes one with the rural ambience and inhales the flavours of the Maharashtrian coastal countryside, diversity and inherent respect for the plurality that is this land, is the mantra that guides them.
Recently four Urdu-speaking girls of the Dr A R Undre English High School (ICSE) and Junior College (ISC) at Borli Panchatan village in Raigad district (Maharastra) did exceptionally well in an Indian language that we have failed to preserve and revere as much as we should. While the middle class north Indian, even non-Muslim would grudgingly remark about the meethi tehzeeb palpable to the language and it's culture, the pragmatic Gujarati would prefer restricting enjoyment of the flavour to a ghazal-filled evening but ignore the radical history of not just the language but the writers and poets, many of them Muslims, who enriched it, over centuries. Premchand, our very own father of fiction, crafted his masterpieces in the Urdu script and Firaq Gorakhpuri, gave life and blood to this culture through his writings.
So when the English medium school at Borli Panchatan village in Raigad, which offers Urdu as an optional subject at ICSE board examination registered such success in Urdu language (results out last week) what was so special ? That one of the students was Samruddhi Shyam Waghmare the topper who secured 90% marks in Urdu, beating Madiha Muazzam Undre by two marks never mind that Madiha was the overall topper in the class of 64 students ? Or that apart from Samruddhi who got 90% in Urdu, there were her other classmates, Harshada Dilip Cherphale who also opted for Urdu as an optional subject and secured 86% marks and Simran Deepak Karambe, again who chose Urdu and got 88%? And that there was also Kshitij Pradeep Khopkar who obtained 60% marks also embracing the language of culture and resistance as I have termed Urdu.
This publication has done me the honour of publishing me regularly and it is my dream too that I obtain mastery over this language, soon, some day. But, coming back to Dr Undre, a surgeon in Mumbai, who set up this school in his ancestral village, in 1990. He took a decision to change the affiliations of his school from the SSC Board to ICSE Board because the latter offers an optional Indian language (100 marks paper) as a compulsory subject. His dream was to enable young learners to appreciate the literary beauty and culture of this tradition.
What is it about Urdu that fires the imagination, literary and figurative? That it can open the windows to the writings of Maulana Azad, not just a fiery fighter for India's freedom but a famed writer in Urdu who penned "Ghubar-e-Khatir", a collection of letters written from prison to his friend, Habeeb ur Rahman Khan Sherwani ? Or the poetry of a Ghalib, the political writings of Faiz Ahmed Faiz (his Hum Dekhenge is a powerful allegorical use of the religious to signal a people's revolution), the penning of Nazrul Islam? Are we as Indians not denying ourselves of this great tradition and world, when young learners are not given enough options to learn about our rich and variegated past?
On a trip to Indonesia recently, I was enchanted to find myself greeted everywhere by a lovely smile, a bent head and folded palms. Much like our Namaste this greeting proved as the next few words will, that plurality ad diversity is not ours alone. As versions of the Ramayana still richly preserved within Indonesian cultural heritage is the description of "Prabu Kresna " (our Krishna Bhagwan). I bought a bunch of leather puppets, beautifully crafted and hand-painted that we shall share with young children in schools. Here is what is says about Kresna, " When he was young, his name was Narayana. Kresna became the king of Dwarawati and the adviser of the Pendawa families. He had an invulnerable weapon 'CAKRA" (chakra)which had the shape of a sacred arrow and "the Wijaya Kusuma" Flower….He is a symbol of a wise and intelligent king, a war political observer." And then there is Rahwanah, the Indonesian Ravana and Dewi Shinta, somewhat special to me because that is where my mother gets her name. Sita, to us.

Here is what the Indonesians, ever respectful of their past and traditions say about her, Dewi Shinta, "…In the Ramayana classical story, Shinta was Sri Rama' wife. She was kidnapped and locked up by Rahwana.She was released by her husband and helped by Hanuman, the white monkey and Lesmana her brother-in-law. To prove that she was still a virgin she was burned by her husband, but the fire didn't harm her, hence proving her innocence. A symbol of faithfulness and honour."
Here is what the Indonesians, ever respectful of their past and traditions say about her, Dewi Shinta, "…In the Ramayana classical story, Shinta was Sri Rama' wife. She was kidnapped and locked up by Rahwana.She was released by her husband and helped by Hanuman, the white monkey and Lesmana her brother-in-law. To prove that she was still a virgin she was burned by her husband, but the fire didn't harm her, hence proving her innocence. A symbol of faithfulness and honour

For those who may not know it not only is Indonesia a democracy technically but also the largest Muslim country in the world. Respect for different traditions and ways of worship run through a myriad traditions and I recall that Dr Asghar Alisaab, speaking of recounting tales of a Maulana Vishnu in Indonesia. I will return to the theme at a later date but for this week, the news of young girls mastering Urdu, the sights and sounds of myriad traditions alive and kicking in Indonesia, this is the stuff that good old good news is made off. Hardened journalists rarely go for the good, preferring going for the jugular, that which hurts, wakes us up, causes a sensation. Not something that is warm, reassuring and comforting. That builds traditions and cultures, every day as we mix and mingle, share and learn.

Ghettoisation kills that culture building and formation. Forces, through violence, those of the same faith, or colour, or race to habit in pre-defined holes, earmarked territories. Our battle for a lasting, enduring pluralism, a secular plurality, must be a sustained by a resistance against the politics of enforced and the other, ghettoisation.

A version of this appeared as the author's weekly column in the daily, Rashtriya Sahara