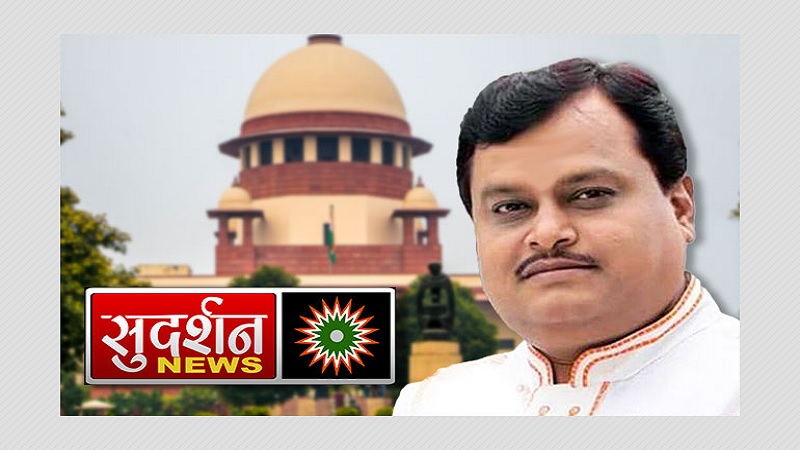 Image Courtesy:boomlive.in
The Supreme Court continued hearing the petition filed against Sudarshan News on the second consecutive day and observed that questions of national security have to be regarded along with human dignity.
On the September 15 hearing the bench comprising Justices DY Chandrachud, Indu Malhotra and KM Joseph had observed, "You cannot target one community and brand them a particular manner… This is an insidious attempt to malign a community… As a Supreme Court of the nation we cannot allow you to say that Muslims are infiltrating civil services. You cannot say that the journalist has absolute freedom doing this".
On the September 17 hearing, Sudarshan News defended its show titled "Naukarshahi me Muslamano ki Ghuspaith ke shadyantra ka bada khulasa" (The conspiracy behind Muslim infiltration in UPSC – The Big Reveal) by calling it "investigative journalism to awaken the citizens and the government about anti0national and anti-social activities".
The arguments continued on September 18, even though the bench was not sitting otherwise, an exception was made for this case and heard arguments through the day.
During the hearing, Advocate Divan appearing for the respondents, Sudarshan News, argued at length defending the show. The bench, after looking at the materials placed before them by both parties remarked that the show had been presented in a manner that incited hate.
Justice Chandrachud's remarks
LiveLaw reported that Justice Chandrachud particularly pointed out the graphics that were used during the show to depict a Muslim person. He noted that the show contained a pictoral representation of a Muslim with a beard, skull cap and green face, with flames in the background and termed this as problematic.
He further commented on the "investigative journalism" angle that Divan kept referring to, "See, we have no problem with you investigating into the funding of an organisation. But, to say that every member of a community represents a terrorist organisation just because some funding member is not above the board, is wrong. This is a cause of concern. Because this is where it goes from free speech to hatred as it implies that every member of that community has an agenda."
When Divan told that the court should refrain from giving specific directions as to what the channel must and must and must not do, Justice Chandrachud said, "Let the marketplace of ideas flourish in India. We know what happened during the Emergency. But, we have the constitutional duty to protect human dignity and that is as important as protecting free speech. Tell us what you propose to do. Let Mr. Chavhanke tell us how he plans to approach this. Let a message go to the media that we need to fight for a nation that is inclusive, that is able. Tell us what you feel about national security. As judges we are also concerned about national security. But, we have to protect human dignity as well…We don't want to do the work of a Censor Board. You know, such as "Beep, Beep, Beep"."
Lack of effective self-regulation
LiveLaw reported that Justice Chandrachud raised concerns about the lack of effective self regulation.
"NBA says that they have a committee headed by Justice Sikri. They can impose a maximum fine of 1 lac fine and this shows how toothless you are. But NBA is only for members, so Sudarshan News not being a member is not governed by NBA… How can you have self regulation if NBA is the only body you have ?"
He further pointed out the "obvious deficiency of self-regulatory body" as all channels are not its members. Justice Chandrachud further reprimanded the government for not taking further notice of the show after the September 9 order allowing the telecast of the show stating "please ensure that it's in conformity with the programme code".
"That's it. Nobody saw anything after it was broadcasted. NBA said that Sudarshan TV was not a member."
Justice Chandrachud asked Solicitor General Tushar Mehta to tell the court "how they will engage with the private bodies, but also with the government."
Justice Chandrachud asked Advocate Nisha Bhambhani appearing for News Broadcasters Association (NBA), "One thing you can do is come back to us on a method to strengthen NBA, so that you have a higher regulatory content. You have a few members and your regulations cannot be implemented. You need to tell us how it can be strengthened."
Bhambhani submitted, "It is not a toothless organisation as they make the channels apologise during Prime Time to all their paid viewers."
Justice Chandrachud asked Bhambhani, "Do you watch TV? Can you control it?" To this Bhambani replied, "No, but we have improved significantly. It's just that not all channels are our members."
Justice Joseph and Justice Malhotra's remarks
Justice Joseph, during the hearing remarked that it should have been a matter of joy that 50% of candidates getting selected in UPSC exam were from marginalized communities. He said that the channel, through the show, was running them down.
Justice Joseph further expressed his anguish on the way the minority community was depicted on the show, "What kind of attitude are you inculcating with this ? When 4 episodes have already been broadcast? Will you continue with this rant ? There are other communities also who want to 'capture the power'. The bottom line is you're maligning community."
"Some of these images were offensive to us as well. These flames and 500 crore, they were hurtful to us as well ! These have to be taken down," said Justice Malhotra.
The court has given Sudarshan News the chance to file an affidavit on what they propose to do and the next hearing is scheduled for Monday, September 21, at 2 P.M.
Related:
Sudarshan News defends show calling it investigative journalism; Centre says regulate digital media first
SC restrains Sudarshan News from telecasting "UPSC Jihad" show, calls it 'insidious'
Retired civil servants move SC; seek authoritative meaning of 'hate speech'
Centre allows Sudarshan News to air controversial #UPSCJihad show