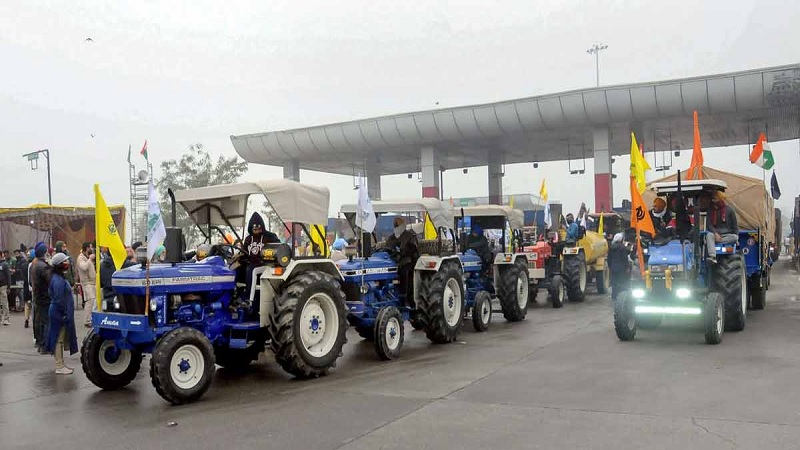 Image Courtesy:onmanorama.com
The Delhi Welcome Committee for Kisan Parade on January 25, 2021 requested all Delhi citizens to come out overwhelmingly in support of farmers who protect India's food security, and stand against corporate cronies and anti-farmer Acts of the central government.
Speaking on behalf of the Committee, farmer leader Navnit Tiwari invited the people of India to participate in parades that will be held in all states and districts.
"Thousands and thousands of tractors will also be entering into Delhi along the designated routes without disrupting any official function," he said in a press release.
The Kisan Parade on January 26, 2021 will mark the first time since independence that farmers' march in a unique parade with national flags. Farmers have been protesting peacefully the three laws and the Electricity (Amendment) Bill 2020 that threaten agriculture and facilitate corporate profiteering at the expense of farmers, said the Committee.
Meanwhile, Delhi Police gave a 'No Objection Certificate' (NOC) to farm leaders for the tractor march on Republic Day. However, it said that only 5,000 tractors and 5,000 participants are allowed. The rally will start at 12 PM and go on till 5 PM on Tuesday. According to reports, 25,000 tractors are also lining up at Singhu, Tikri and Ghazipur borders.
The struggle has been going on for the last eight months and is only growing in strength day by day. The Central Trade Unions, Nation for Farmers, different class and mass organisations as well as people from different walks of life have come wholeheartedly in support of the peaceful struggle.
In the last two months lakhs of farmers have demanded the repeal of the anti-farmer Acts – the Farmers (Empowerment and Protection) Agreement on Price Assurance & Farm Services Act, the Farmer's Produce Trade and Commerce (Promotion and Facilitation) Act and the Essential Commodities (Amendment) Act – and demanding assured remunerative Minimum Support Price (MSP) for their produce. More than 150 farmers have become martyrs in this struggle, said farmer leaders.
Five separate parades will be carried out along Delhi borders from the Singhu border, Tikri border, Ghazipur border, Chilla border and Dhasa border. Two such parade routes may be viewed below:
Similarly, along the Haryana-Rajasthan border, parades will be carried out from the Shahjahanpur border, the Palwal border, the Masani Barrage in Rewari district and inside Mewat city.
Related:
SHOCKING! Nearly 3 lakh farmers died due to loan debts in the last two decades!
Farmers win! Republic Day 2021 will be celebrated with unique tractor march
At least 10 lakh farmers will march on Republic Day: AIKMS
Farmers rights are human rights: Protesters at Tikri Kalan
Farmer leaders consider Centre's proposal to suspend farm laws for 18 months
To be food secure, India must grow its own food grains: JNU professors
Do farmers' demands benefit India's hungry population?
Over 42,000 workers from informal sector allegedly die by suicide