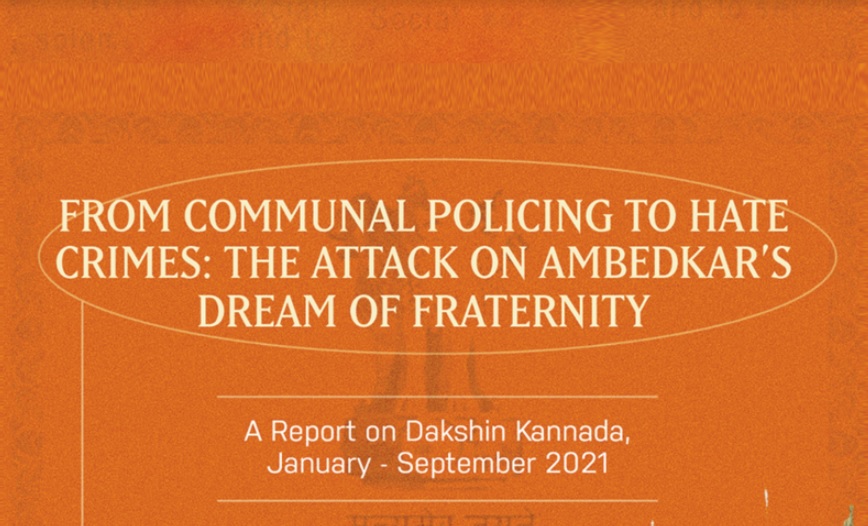 People's Union for Civil Liberties, Karnataka (PUCL-K), All India Lawyers Association for Justice (AILAJ), All India People's Forum (AIPF) and Gaurilankeshnews.com have recently released their fact-finding report titled 'From Communal Policing to Hate Crimes: The Attacks on Ambedkar's Dream of Fraternity'.
The report puts on record and analyses the communally fuelled incidents in Dakshina Kannada area of Karnataka. These events have unfolded between January – September 2021 and include incidents of communal policing and communal hate crimes. According to the authors, the need for such a fact-finding report arose from this massive escalation of communal incidents which were reported in the media. The fact-finding team of rights activists from different organisations also noted how accounts of communal policing were "practically justified" by Karnataka Chief Minister, Basavaraj Bommai. It is such communal policing that has often led to hate crimes, especially against the minority communities, women, and Dalits.
This report, stated its authors, is in continuation to two previous reports, titled "Cultural Policing in Dakshina Kannada: Vigilante Attacks on Women and Minorities, 2008-9" by PUCL-K, and the joint report "Attacking Pubs and Birthday Parties: Communal Policing by Hindutva Outfits'' dated September 2012 by PUCL-K and Forum Against Atrocities on Women. The communal agenda in the Dakshina Kannada area has continued since then.
The authors define "communal hate crime" as an act "motivated by hostility on the grounds of race, religion, caste, sexual orientation, disability or transgender identity is a hate crime. The report has identified six patterns: (a) enforcing social segregation, (b) dictating intimacies, (c) economic and social boycott, (d) attacks in the name of cattle, (e) curbing religious freedom and (f) spewing hate speech."
Even within each of these six patterns, incidents are of two kinds – those reported in the media and those that the fact-finding team investigated. It also notes the response of Karnataka Police and district administrations, in areas "where communal tensions are omnipresent". The team also met the Commissioner of Police, Mangalore and the Deputy Commissioner of Police (Law and Order) Mangalore .
Role of the State
According to the report the "role of the State can be seen as three-fold in the cases of hate crimes: taking action to prevent the occurrence, ensuring that punitive measures are taken in the event of such occurrence and taking remedial steps for victims of such crimes." In the area studied, the report notes that in many cases of inter-faith interactions or relationships, even an FIR has not been registered, and it is the "inter-faith friends or couples who are called to the police station". It noted that "no action is taken against these perpetrators of violence, the police go one step forward and treat the victims as wrong-doers by taking them to the police station and questioning them."
The report notes that in this light, "the police can be seen as effective allies in the process of enforced segregation." It states that attacks on the minority community are intended to "subordinate" them, and are a part of the "process of enforcing social segregation and dictating intimacies." Thus such attacks are "against the Constitutional principle of fraternity, where persons from different religions are effectively prohibited from inter-mingling in any manner whatsoever." There is "economic boycott, social, economic and cultural" attack and "prohibiting" certain foods. All of these have a social, cultural impact on the lives of minorities and the report finds that "this process of segregation, discrimination and subordination results in a situation where social norms dictate the activities of persons, despite the fact that it stands in stark violation of the Constitution."
A Constitutional response
The report identifies the urgent need to respond to the situation of social apartheid and continued attack on Fraternity. It notes "communal hate crimes and communal policing are acts of violence not only against the minority community but against society at large."
The fact finding report's recommendations state that the state government, District Police Administration and the District Administration include:
Ensure Strict Compliance with the orders of the Supreme Court. These include SC orders in Tehseen S. Poonawalla v Union of India [AIR 2018 SC 3354] and Shakti Vahini vs Union of India [AIR 2018 SC 1601].

The 'Right to Choose', including the Right to Love as elaborated by the Supreme Court.
Ensure maintenance of law and order
That there is no parallel administration to the Government of Karnataka and in particular take stern action as per the provisions of the Indian Penal Code against members of all Hindutva organizations engaged in communal violence.

Issue directions to the Police and the District Administration to ensure that in all cases of hate crimes and communal policing, an FIR is immediately registered, and where necessary a Suo-moto complaint is registered.

Ensure that all citizens are able to exercise their fundamental rights without fear and take effective action to dispel the climate of fear that has gripped Dakshina Kannada and is preventing its citizens from exercising their fundamental rights.

Protect citizens' right to engage in interactions, loving or romantic relationships which cut across barriers of religion.

Protect citizens' rights to occupy the public space with other people of their choice, regardless of religion or sex.

Take effective preventive action against all those who disturb the communal peace in Dakshina Kannada district.

Carry out a public education campaign that it is illegal to produce people before the police station for enforcement of a so-called morality and that the police will not hesitate to take action against these vigilante elements.

Ensure that an FIR is registered in every single case of hate crime or communal violence, and in cases where the victims are in fear to file a complaint, register a suo-moto complaint.
It also calls upon the civil society to "respond and deal with communal hate crimes and social segregation and stand in defence of the Constitution" as well as "educate the public on the need for intervention when acts of communal policing and communal hate crimes occur so that the Constitutional rights are safeguarded."
The fact finding report may be read here:
Related:
Every crime against SC/ST cannot be offence under the Atrocities Act: K'taka HC
Was Disha Ravi put in jail for nothing?
Has Karnataka government put on hold survey of churches, till Pope-Modi meeting?
Gauri Lankesh Case: Charges to be framed against 17 accused on Oct 30
Over 300 attacks on Christians reported this year, over 2000 women, Adivasis and Dalits injured
Survey of Churches, anti conversion laws only empower radical mobs: Archbishop Peter Machado
K'taka: Right-wing goons forcibly shut down meat shops; vandalise Muslim couple's chicken shop
Hate Watch: Right-Wing group sing bhajans in Karnataka church as "protest"