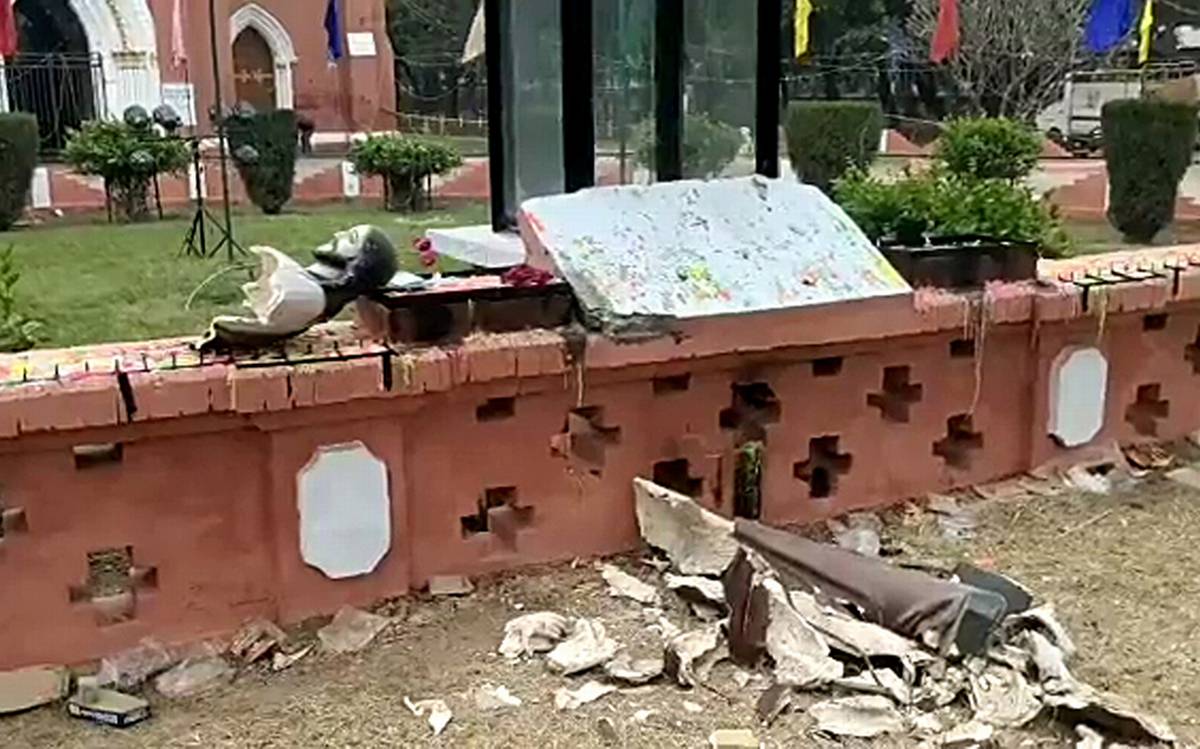 On Christmas eve, Karnataka home minister Araga Jnanendra blamed Christians for the ongoing attacks against them spearheaded by right-wing groups in the state, which has recently adopted an 'anti conversion law'. Christians and Muslims of Karnataka have been targets of these attacks for a while now.
The attacks on Christian churches and prayer meetings escalated in the run up to the anti-conversion law being passed in the state Assembly. However soon after the law was passed Araga Jnanendra blamed the victims and said, "There is mistake on both sides. If they were not doing forceful conversion, then they wouldn't be stopping them and creating ruckus," reported NDTV.
Just two days before Christmas, Karnataka passed the "anti-conversion bill" even as it was protested, Chief Minister Basavraj Bommai had said it was meant to avoid 'rampant forced conversions' in the state. Attacks on the minority community continued in the run up to the passing of the bill and also after it was passed.
Jnanendra's words, "There is mistake on both sides. If they were not doing forceful conversion, then they wouldn't be stopping them and creating ruckus," will now only empower the right-wing groups to continue their communal attacks. They are likely to disregard that the minister also said that "no one can take law into their own hands… if a complaint is given, action will be initiated." However, the complaints made by the victims are few and far between as the community, especially those in the rural and semi urban areas fear for their lives if they complain against the right-wing hooligans.
The minister said, "On one hand, yes, fringe elements and on the other hand there are illegal conversions," adding that the state government has 'data' based on allegations saying, "There are no registered cases. In Udupi one suicide took place, four people in Mangaluru committed suicide because of conversions and our MLA's mother." He was refering to the BJP MLA from Hosadurga Taluk Gulihatti Chandrashekar who had gone viral saying his mother had become a Christian. Chandrashekar had tried to file a police complaint after he "requested his mother not to convert" but it was not possible then as there were "no sections" under which a case could be filed.
The Karnataka Protection of Right to Freedom of Religion Bill, 2021 popularly known as "Anti-conversion Bill", was passed Assembly amid vociferous protests by the Congress, who called it "anti-people", "inhuman", "anti-constitutional", "anti-poor" and "draconian". Many civil society-led protests took place across the state, especially in Bengaluru. However, the attacks continued, while Dr Ashwathnarayan CN, – a minister in Basavaraj Bommai's cabinet reportedly told NDTV that no attack on Christian community took place because of religion. The attacks, he stated, were "on personal levels." However, many civil society-led fact finding investigations have established scores of attacks by right-wing vigilantes on churches and the Christian community in Karnataka. Even on the day the bill was tabled for discussion, a statue of St Anthony was vandalised by unknown people. The priest of the church, Father Joseph Anthony Daniel, told the media that the attack on the church in Susaipalya has never happened before.
However, these attacks were not limited to Karnataka on Christmas day. Here are some other attacks reported from across the country:
Ambala: Statue of Christ desecrated
On December 26, the life-size statue of Jesus Christ at the Holy Redeemer Church in the cantonment area in Haryana's Ambala was desecrated. According to The Hindu, the lighting inside the church premises was also "damaged by two unidentified men". A First Information Report (FIR) has been lodged on charges of trespass and defiling a place of worship. Superintendent of Police, Ambala, Jashandeep Singh Randhawa said that the police were probing the desecration incident from all angles, including personal rivalry, and that "pictures of the suspects in the closed-circuit television footage were being developed and secret sources were activated to gather leads in the attack."
According to the news report, Father Patras Mundu, Parish Priest, Holy Redeemer Church, said, "The attack took place between 12.30 A.M and 1.40 A.M with two men on a two-wheeler entering the church by jumping over the main gate and damaging the lighting and the decoration inside the premises." They threw bricks and broke the glass case at the entrance to the church, which housed the statue of Jesus Christ.
Kurukshetra: Mobs chanting "Jai Shri Ram" enter Christmas celebration venue
A Christmas celebration was disrupted in Kurukshetra when right-wing zealots who while shouting slogans of 'Jai Shri Ram' took over. They entered the venue and made their way to the state, and started playing Hanuman Chalisa on loudspeakers, even as hapless local Christians looked on in shock and disbelief.
Assam: Mob stops people from celebrating Christmas
On December 25, a group claiming to be members of the Bajrang Dal "stopped Hindus from celebrating Christmas" in Assam's Silchar. They reportedly also manhandled non-Christian revellers at the town's Presbyterian Church near the Cachar district police headquarters, according to news reports. A video uploaded on social media showed a man named Rangirkhari who claimed to be a leader of the Bajrang Dal's local unit, saying, "We have nothing against the Christians who have every right to celebrate Christmas. Our issue is with the Hindus who went against their dharma to sing Merry Christmas instead of observing 'Tulsi Divas'."
Christmas day December 25 has been marked as 'Tulsi Divas', to celebrate the medicinal and spiritual significance of the basil plant as well as "Good Governance Day" to celebrate former Prime Minister Atal Bihari Vajapayee's birth anniversary. In Assam, the Bajrang Dal activists wore saffron scarves chanted 'Jai Shri Ram' and claimed to have "locked the church after 11 P.M as there were too many people violating the Covid-19 protocols beyond the time allowed by the administration."
Agra: Santa Claus effigies burnt on Christmas Eve
On December 24, in a rather bizarre incident effigies of Santa Claus were burnt near St John's College in Agra, Uttar Pradesh by a mob reportedly comprising members of the Rashtriya Bajrang Dal. They set the effigy of Santa Claus ablaze while shouting "Santa Claus Murdabad", and claimed this was a protest against "using the ruse of Santa Claus during Christmas." According to India Today, the others in the mob claimed to be members of the Antarrashtriya Hindu Parishad, and along with Rashtriya Bajrang Dal took out a procession carrying effigies of Saint Nicholas, a.k.a Santa Claus. They claimed "using the ruse of Santa Claus during Christmas" was an alleged attempt to convert Hindus.
Claiming to be a 'general secretary' of the two groups, one Ajju Chauhan accused "missionary schools of trying to forcibly convert students by dressing them up as Santa Claus and punishing the kids if they do not comply." He said, "Santa [Claus] does not come bearing any gifts, his only goal is to convert the Hindus to Christianity. It's not going to work anymore. Any attempt at conversion will not be allowed to succeed. If this is not stopped, then there will be agitations at missionary schools." He threatened that "teams will be formed by Rashtriya Bajrang Dal to prevent this. These teams will keep an eye on settlements and mohallas so that such malicious attempts to convert to Christianity are thwarted. If any missionary is found doing this, the Antarrashtriya Hindu Parishad and Rashtriya Bajrang Dal will take strict action against him."
One Harish Ramkali of Bajrang Dal in Haryana posted on his Facebook account on December 23, "Any school who would make a child dress as Santa Claus without the permission of their family would have a case filed against them and be closed." On December 24 and 25, he added more posts and threatened that Bajrang Dal was visiting "such schools".
Varanasi: Right-wing mob protests outside Matridham Ashram
On December 24, in Chandmari district of Varanasi, Uttar Pradesh, a right-wing group carrying saffron flags raised the "Jai Shri Ram" slogan outside the Matridham Ashram just before a Christmas event was due to take place. The group also chanted 'Dharmantran band karo' (stop conversion), 'Church murdabad' (death to the church) and 'Isai missionariyo hosh mein ao' (Christian missionaries come to your senses) as seen in the video shared on social media by Dr Anoop Shramik, a Dalit rights activist. The mob also blocked the road for about half an hour.
According to news reports, Father Anand, a priest affiliated with the Matridham Ashram, said, "This is not even a church, this is an ashram, people of all faiths, castes and creed come here to pray and find peace. There has not been one single conversion here, like a baptism, nobody has changed their faith, people are still involved with the Hindu society." He informed that the Christmas Eve event this year was a small one as the Uttar Pradesh government had announced a curfew, and "the demonstration in front of the Ashram gates caused the congregation tension and fear." He further told the media that even though "police had been informed of the event and were meant to be there in advance, but they were not there when this group came," adding that they arrived only well after the miscreants had left. "This is a symbol of what is happening because these people have impunity, and it creates tension. The situation in UP is worse than in every other state. Every Sunday is a day of terror and trauma for Christians, especially those belonging to those small churches, like Pentecostal churches. Nobody is doing forced conversion, they do spread the gospel and teach, but there is no baptism or anything like that, people come, attend prayer and go back," Fr Anand told the media. He added that while Christians are the victims, here, "FIRs are always written against the victims – the police stand with the perpetrators. It is indirectly state-sponsored violence."
Mandya, Karnataka: Christmas celebrations interrupted at Nirmala school
On December 24, Christmas celebrations at a school in Karnataka's Mandya district were interrupted by a right-wing group who forced their way in and threatened the school authorities, stated news reports, the attack was caught on video. According to the headmistress of Nirmala English High School and College, members of right-wing groups "forced their way into the institution when the students had organised a Christmas celebration."
Gurugram: School's Christmas fair disrupted with 'Jai Shri Ram' chants
On December 23, a group of men reportedly led by Narendra Singh Pahari, who had contested assembly elections from the Pataudi constituency as an independent candidate, barged into a private school and disrupted their Christmas carnival. They chanted "Jai Shri Ram (long live Lord Ram)" and "Bharat Mata Ki Jai (hail mother India)" and reportedly warned the students and staff saying, "Christianity is not acceptable here. We are not disrespecting Jesus Christ but we want to tell the future generations to remember him if they want and do it legally but not fall for attempts of religious conversion. It can destroy Indian culture."
According to news reports, this incident took place at a Christmas carnival at Narhera village in Gurugram's Pataudi town, organised by a group called House Hope Gurugram. Reportedly some people "chanted praise to Jesus Christ" after a song performance, which was seen as "a provocation to convert students into Christianity". The school administration sent the group back to placate the situation stated NDTV. However, Narendra Singh Pahari, meanwhile "had gathered his supporters" and went to the school on hearing about the carnival, accusing them of "conversions in the guise of the carnival". He alleged that Hindu religious sentiments were being hurt and there were attempts to divide Hindus during the program, stated news reports adding that Pataudi Station House Officer Amit Kumar said police said they received information regarding the incident and "the matter was resolved; there has been no written complaint on it. No case has been registered."
According to Fr Suresh Mathew, Editor, Indian Currents, "Christians are becoming sitting ducks to Hindutva goons wherever they are – at worshipping places, in trains, buses and other public places. Christians' right to be Christians is no less Constitutional than the rights of those following the majority religion. The spurt in attacks has phenomenally gone up after new anti-conversion laws have been enacted in many BJP-ruled States." However, he also pointed out that some "sections of the Church hierarchy do not seem to have their ear to the ground. Their knee-jerk reaction is tantamount to turning a blind eye to the attackers…" He further said, "Church hierarchy adopts an ostrich-type approach as if it is under the spell of the sweet talk of the government and its vague assurances."
Related
Hundreds march in protest: Karnataka anti-conversion law
A Christmas Message for We the People
A 2020 Report of 10 Worst Victims of apathy: Dalits, Adivasis