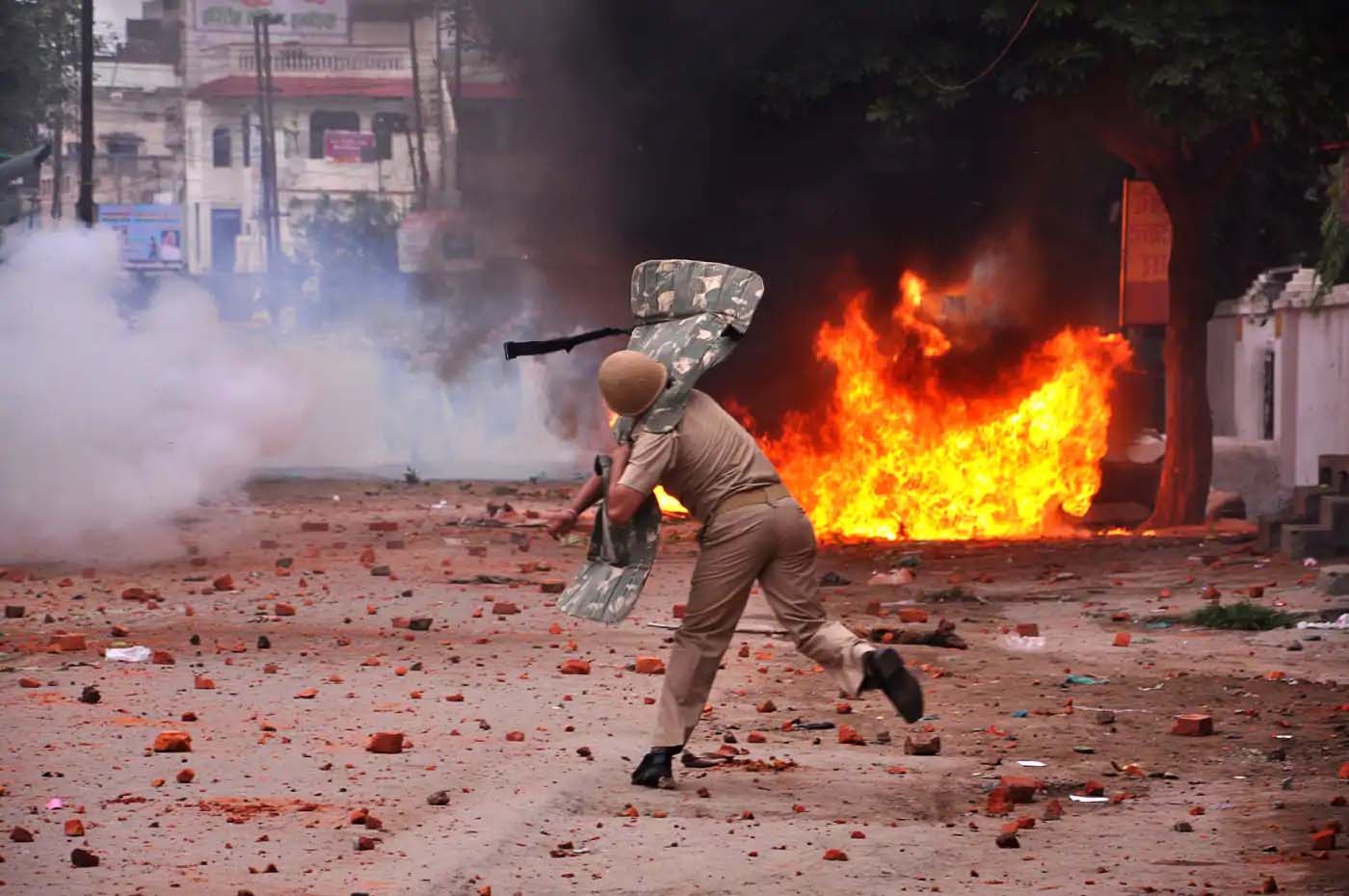 Representation Image
There were 20 communal riots, in which one person died, and 16 incidences of communally motivated mob lynching in the year 2021, according to the data monitored by Centre for Study of Society and Secularism (CSSS) using a limited methodology, viz., scanning five newspapers published from Mumbai – The Times of India, The Indian Express, The Hindu, Inquilab and Sahfat. This methodology is not very exhaustive but yet gives a significant peek into communal violence.
It is to be noted that the State has stopped publishing its reports on communal riots and mob lynching under the National Crime Records Bureau (NCRB) which reports substantially a greater number of communal riots. The actual number of riots and mob lynching might be several times than those reported in the newspapers scanned by the CSSS as is revealed from the statistics collected by the Bureau of Police Research and Development (BPR&D) in the previous years. However, the Ministry of Home Affairs (MHA), Government of India has stopped publishing the statistics regarding communal violence. The statistics pertaining to communal violence are revealed only as a reply to the starred question in the Parliament.
When we compare the number of communal riots and communally motivated mob lynchings in the year 2021 with those in the year 2020 as reported in the previously mentioned newspapers, we find that there is a decrease in the number of incidents of mob lynching – 16 in 2021 as against 23 in 2020. At the same time, there was an increase in the number of communal riots in the year 2021 to 20 from 10 communal riots in the year 2020. Even though the methodology followed by the CSSS in its monitoring of communal violence is not comprehensive given the limited resource, it does indicate the national trends. The CSSS also undertakes field visits to study the communal incidences and find out facts. While this increase in the number of communal riots is worrisome, the communal violence in 2021 ensures a steady, albeit slow, march towards realising a "Hindu raj" (Hindu state that enforces select authoritarian mode of culture, rituals and mythology of a section of Hindu elite) thereby undermining democracy and secularism.
The march towards Hindu raj is not only through physical violence through communal riots and incidences of mob lynching. The steady transformation of democracy in India to a Hindu raj is achieved through a triple strategy – 1) physical violence by non-state actors; 2) hate speeches and hate crimes that continuously reinforce and deepen communal identity popularising communal prejudices; and 3) creating a legal architecture and institutional structure that enable the executive arm of the State to privilege a section of Hindu elite and discriminate against others. All the three methods work in tandem and complement each other in demonising those whom the Hindutva political ideology considers as "foreign" communities and seek sanitization of the social space – of their sight, their memories and their heritage. Physical violence instils fear of those who belong to other communities, the fear of those belonging to other communities creates a conducive environment to internalise stereotypes and prejudices of the 'other' and communal prejudices prepares ground for a discriminatory and undemocratic legal architecture. Communal violence is a broader concept that encompasses all the three instruments – communal riots and mob lynching (physical violence), hate speeches; and legal instruments to persecute the so-called foreign communities. In this paper, we propose to examine all the three aspects of communal violence in the year 2021.
According to CSSS, communal violence is much broader than merely communal riots- it traces state action and ruling ideology leading to violent state laws and hate speeches. Thus, while communal violence includes physical violence in the forms of communal riots and mob lynching, it is not limited to this. Communal violence encompasses discriminatory laws and policies, domination of particular supremacist ideology promoting Hindu religion and related symbols in public spaces, hate speeches leading to construction and reinforcing of mega narratives and hate crimes based on religious identity. These aspects of communal violence appeared amplified in 2021. This report unravels these aspects which manifest themselves in heritage politics, hate speeches and discriminatory legal architecture. We will look into these in details in the sections below.
State promotion of Hindu iconography and heritage:
The State expenditure on the Hindu iconography has increased considerably. We cannot quantify the increase in expenditure as we have included for the first time this head for monitoring. Some numbers represent the budget allocated, while others represent the expenditure incurred as the event is over. The actual expenditure might be higher, as we have taken only from the newspaper reports.
Article 27 of the Indian Constitution states: "No person shall be compelled to pay any taxes, the proceeds of which are specifically appropriated in payment of expenses for the promotion or maintenance of any particular religion or religious denomination." Article 27 ensures that the State maintains equidistance from all religious establishments and institutions, even though Article 25 gives all persons in India freedom of conscience and religion to profess, practice and propagate religion of their choice, subject, of course to certain limitations. It is principle of neutrality. The BJP always vehemently protested expenditure by the state on Haj subsidy and salaries to Madrasa teachers or imams and rightly so.
The tables below give the expenditure on religious festivals, religious events, temples, temple corridors, and welfare of temple priests and staff, pilgrimages sponsored by the state to Hindu temples. The expenditure statement also does not include the amount spent on travel and security of the Prime Minister, chief ministers or other state officials, expenditure on worship and other sundry expenditures. Not all taxpayers may agree to promotion of only one, or any religious institution. Therefore, such expenditures clearly seem to be in violation or Article 27 stated above.
Table – 1
| | |
| --- | --- |
| Expenditure/Budget (in crore Rupees) | Description |
| 900 | Kashi Vishwanath Corridor in Varanasi, UP |
| 800 | Puri Heritage Corridor, Odisha |
| 200 | Maa Samaleshwari Temple, Odisha |
| 742 | Jagannath and Lingaraj Temple in Bhubaneshwas, Odisha |
| (Amount not known) | Temples in Mayurbhanj and Kendrapada |
| (Amount not known) | Dhoopa and Deepa Naivedyam Schemes in twin cities in Telangana |
| 720 | 7,000 Temple development and welfare of Archakas and temple staff in twin cities of Telangana. |
Creation of infrastructure for tourism is one explanation given for this expenditure. This begs a question: Are there no non- Hindu heritage sites that would also qualify State expenditure?
Hindu Mythology
Yogi Adityanath, the Chief Minister of Uttar Pradesh, a state ruled by the BJP, has repeatedly and publicly justified promotion of Hindu culture. In one of his statements, he said that secularism was the biggest threat to India's tradition getting global recognition. He has sworn to protect the Constitution of India and act without fear or favour in accordance with the Constitution, whose Preamble declares India to be a secular State.
While illustrating his efforts to make Ramayana popular at the global level, he said, "There are seven holy cities of Sapta Puri, which are considered as the holiest Hindu Teerths, out of these, Ayodhya, Mathura, and Kashi are within Uttar Pradesh. It is a matter of pride for us that a workshop has been organised by the Department of Culture in collaboration with the Ministry of External Affairs. It should be our endeavour to stage Ramleela all over the world." (Indian Express, 2021)
The selection of heritage which is sought to be promoted points towards the bias of the government as to which heritage it considers as representing India.
Hindu temples
In the year 2021, massive amount of taxpayers' money was allocated to sponsor building of Hindu temples or sites related to Hindu mythology. For instance, earlier in 2021, government of Uttar Pradesh passed a budget of 300 crores for the construction of Ram Janmabhoomi temple and access roads to the Ayodhya Dham. In December 2021, the Prime Minister of India himself inaugurated the massive Rs 900 crore Kashi Vishwanath Corridor in Varanasi and justified it by saying, "(It) will be a glorious reflection of the rich cultural and historical heritage of Kashi." As per the state government sources, total Rs 451.90 crores were spent to purchase the surrounding properties and rehabilitating over 1,100 families (Bajpai, 2021).
In Puri, Odisha, the Puri Heritage Corridor is planned at a whooping cost of Rs. 800 crores. The project includes redeveloping major portions of the holy town and in the vicinity of the temple for visitors and tourists. Naveen Patnaik, CM of Odisha had also announced a Rs. 200 crore package for the development of Sambalpur's Maa Samaleswari Temple scheduled to take place in February, 2022. In the 2021-22 Budget, his government announced an allocation of Rs. 742 crores for the development of Jagannath and Lingaraj Temple (Bhubaneswar). There have also been announcements of support for temples in Mayurbhanj and Kendrapara (Mohanty, 2021).
The Telangana government extended Dhoopa Deepa Naivedyam scheme to temples located in twin cities from the financial year 2021-22. In addition to this, the government has allocated Rs. 720 crores for the temple development, welfare of Archakas and temple staff in the state, which is Rs. 220 crores higher than the previous year's allocation. According to the Endowment Department officials, over 7,000 temples in the city will benefit from this (Kartheek, 2021).
This is also indicated in the essay by Corinne Leferve which comments on the policies of heritage conservation and promotion in India from 2014 to 2018, by studying the Swadesh Darshan Scheme (SDS) and the Adopt a Heritage scheme (AAH). The essay describes how the non-Hindu heritage sites are ignored and maximum state funds are spent on Hindu heritage sites. Lefevre argues that Indian vestiges associated with Islamic and Christian cultures are marginalized in state-funded heritage conservation and promotion projects. He also illustrates the argument by giving relevant figures how promotion of one type of heritage is meant to crush, by virtue of its gigantism, the non-Hindu elements of India's built landscape (Lefevre, 2020).
Expenditure on Festivals:
Table – 2: State expenditure on Hindu religious festivals and events
| | |
| --- | --- |
| Expenditure/Budget | Description |
| 5.42 crores | Dasara fesitival |
| 1.33 crores | Lighting 12 lakh earthen lamps and laser beam lights in Ayodhya during Diwali festival by UP Govt. |
| 5,000 | For each tribal for pilgrimage to Ram Temple in Ayodhya by Gujarat Govt. |
| 325 crores | On Kumbha Mela by the Uttarakhand Govt. |
| Amount not known | Insurance upto 1lakh and entire travel expenditure in AC buses and trains for pilgrimage to Ram Temple in Ayodhya, Velankani (a Christian site in Tamil Nadu) and other religious sites for 77 thousand pilgrims every year who are senior citizens above 60 years |
| 20 lakhs | Over rose petals that were showered on the Kawariyas from helicopters during their pilgrimage on foot, crossing the 130-km Delhi-Haridwar highway. |
| 17 lakhs | On helicopters to shower the rose petals. |
| 647 crores | On cow shelters to take care of old cows |
| Amount not known | 515 ambulances dedicated exclusively to the cows. |
The state government of Karnataka incurred an expenditure of Rs. 5.42 crores for the festivities in Mysuru, Srirangapatna, Chamarajanagar and Arkalgud on the occasion of Dasara (The Hindu, 2021). In 2021, UP government organized grand 'Deepotsav' to celebrate Diwali. On the occasion of Deepotsav, out of 12 lakh diyas, 9,51,000 earthen lamps were lit on the bank of the river Saryu in Ayodhya while 50,000 diyas were lit at the site of the Ram temple and the rest were lit in other temples across the state. Additionally, laser show, 3D holographic show and fireworks were also organised. During his speech at the Deepotsav, CM Yogi Adityanath said, "This is the fifth Deepotsav of Ayodhya. There was no discussion of Deepotsav in the city before five years but our government came and decided that if we want to bring "Ram Rajya" then we will have to organize events like this." (NDTV, 2021)
Boost to Hindu Pilgrimage
For the creation of Hindu Rashtra, the right-wing insists on the unity of all Hindus by constructing a common enemy. Thus, attempts are consistently made to co-opt Adivasis into the Hindu fold. They are made to believe that they are actually Hindus and their gods too are from the Hindu pantheon. This ideology reflected in the policy of Gujarat state. State Tourism Minister Purnesh Modi in the state of Gujarat announced that a financial aid of Rs 5,000 will be given to each tribal who undertakes the pilgrimage to 'Ram Janmabhoomi' in Ayodhya. He added that the financial aid is in line with similar assistance doled out for the Kailash Mansarovar Yatra, Sindhu Darshan and Shravan Tirth Yatra (Dhar, 2021).
Similarly, the Union Ministry of Finance sanctioned Rs. 325 crores to the Uttarakhand government for Kumbh Mela 2021which took place at the peak of the second wave of Covid 19 in India. Ironically, the When asked about the feasibility of holding the Kumbh Mela even as the Covid-19 pandemic was raging across India claiming a large number of lives, Chief Minister of Uttarakhand, Tirath Singh Rawat, said, "I invite all devotees across the world to come to Haridwar and take a holy dip in the Ganga during Mahakumbh. Nobody will be stopped in the name of Covid-19 as we are sure the faith in God will overcome the fear of the virus."
Keeping the above scenario in mind, one can't help but juxtapose this policy with the one related to Kanwar yatra which have also become procession marked by intense violence. It would help to recall the state preparations for the Kanwar yatra over the recent years. In 2019 alone, around 8,000 security personnel, including Rapid Action Force (RAF), Border Security Force (BSF), and Anti-Terrorism Squad (ATS) units, snipers (as per the pattern followed during the Kumbh Mela), drones and helicopters for aerial surveillance were deployed by the Yogi Adityanath administration in UP. Rose petals were showered from the helicopters on four crore devotees who were crossing the 130-km Delhi-Haridwar highway in the state. The expenditure on the flower petals was Rs. 20 lakhs and Rs. 17 lakhs were spent on the helicopters (Lakhani, Sharma, & Bhatnagar, 2019). Incidentally, in 2018 too, the UP government spent over Rs. 14 lakhs to hire a chopper to shower flower petals on the devotees (Sharma, 2018). In 2021, during the Covid second wave, the UP government earlier allowed the Kanwar yatra to take place despite other states not opening their borders and banning the yatra. However, later it was called off by the state government after the Supreme Court ordered to cancel the yatra warning it could give rise to a spike in the Covid-19 cases.
Public Expenditure on other Hindu symbols
The UP government has announced that it will start an ambulance service exclusively for cows across the state with 515 ambulances. The Yogi Adityanath government of Uttar Pradesh spends crores of rupees annually on the maintenance of cow shelters in the state. The Yogi Adityanath administration had allocated Rs. 647 crores in for the maintenance of cow shelters in the state (Times of India, 2021). Chief Minister Yogi Adityanath said, "A change has been noticed in Uttar Pradesh. Earlier, state funds were spent on boundaries of kabristan, today the money is spent on redevelopment and beautification of temples," hinting at how public spaces are being turned into arenas of competitive communalism (Verma, 2021).
Related:
Locating the Role of State and Changing Nature of Violence
What caused the Anti-Muslim Riots in Sri Lanka