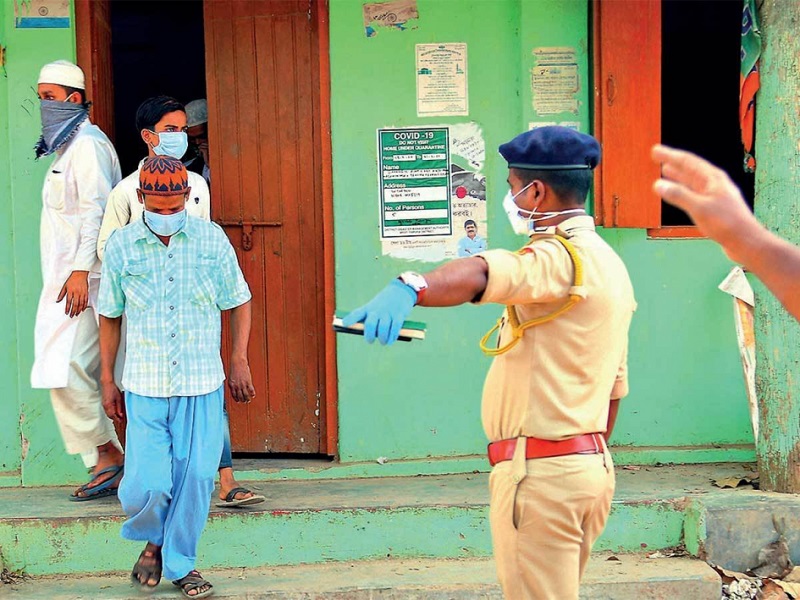 Representational Image

On March 30, Riyaaz was away at his in-laws house somewhere in a village in Uttar Pradesh, arranging snacks for those who had come for the funeral of his wife's sister-in-law. Suddenly his phone rang, it was his younger brother's wife on the other end asking him to come back to their family home quickly as there were policemen from Delhi, in their house! The 32-year-old small-time buffalo dairy owner rushed home, in the 15 minutes it took him to reach, the uniformed men who said they were from Delhi police but did not show their ID cards or give their names, had begun searching the village home were Riyaaz, his brothers Hamid ( 26), and Zain (37) were staying that week. The brothers had come together to the village, from their home in Bhajanpura in North East Delhi to attend their relative's funeral as a family. "They had just accompanied my wife and me and now the police were here to take them for no reason," recalled Riyaaz.
The policemen kept looking for 'weapons,' but there was nothing in the house. "They kept saying show us the weapons, but we rear and milk buffalos, why would we have weapons," he asked. "They then said my brothers needed to come with them back to Delhi for some questioning, and drove off with them," Riyaaz says he does not recall if the policemen wore nameplates, "I am not that literate," nor does he remember if the police vehicle had beacons. He just remembers driving back to Delhi, with his sister in law, and his pregnant wife.
"It took me the usual two hours or so to reach Delhi. I told the policemen at the border that my wife was due to deliver anytime and we had to get to the hospital she was registered at," he says the policemen saw his wife;s condition and let them pass. Their baby was born almost a week ago. However Riyaaz and his family are not in a mood to celebrate. All Riyaaz wants is that his brothers should be released. "They are innocent, they were in their homes during the riots, too scared to even step out. And after that Covid-19 scared everyone into staying home," recalls Riyaaz who lives with his wife and kids a few lanes away from his brothers' homes. He now has to look after his sisters-in-law and his elder brothers children as well. "All the women have not stopped crying since March 30," he says that he did get a call from a policeman probably, saying his brothers had been arrested by the special branch and an FIR had been filed. He has not seen the FIR and nor does he know where his brothers' have been lodged. "We are stuck in the lockdown. I cannot even go out and look for a lawyer to fight for us. I do not know if i will see my brothers again," his voice is dry and emotionless by now. All he can do is wait, he says, "we just rear buffaloes and run our small milk business separately. The courts are closed, I was told, and even I know that no lawyer can help us till the lockdown gets over,". The family has survived riots because they stayed locked in, they are not sure if their men now under arrest will survive, "all I know is they are 100 percent innocent.
The two brothers from Bhajan pura are among hundreds of young men who have been arrested for their alleged involvement in the anti-Muslim pogrom that left a trail of devasation in large parts of North east Delhi a few months ago. Apart from these young men, the best of whom are are small time businessmen or shop owners, while the others are semi-literate workers, the national lockdown has also muffleded news of the arrests of many students who were involved in the anti-CAA-NRC-NPr movement and later diverted their energies to help the riot survivors of North east Delhi.
The nation may be under an extended lockdown till May 3, but these arrests, and investigations seem to continue, says a report in the Indian Express. Over 800 arrests have been made so far. According to the IE report the Ministry of Home Affairs had issued a fresh directive to continue investigations in the wake of the Coronavuris lockdown as some teams of the Crime Branch had stopped visiting the Northeast district. Locals say there had been fewer arrests since the lockdown was enforced on March 25.
However, more arrests may be expected now that the pace has been picked up after the Home Ministry told Delhi Police to ensure that "the probe does not slow down."
This quote in the IE is self explanatory ""But the situation changed two weeks ago when a meeting was called by senior MHA officials to discuss preparation by the Delhi Police during the lockdown. During the meeting, they were also asked about progress in the riots cases. Police chief S N Shrivastava apprised them of the situation, and MHA insisted that police must continue making arrests under any circumstances," said a highly placed source."
According to the report the crime branch is, "probing 42 murder cases, has made 182 arrests, while the Northeast district police has arrested 620 people in connection with the riots. Out of the 182 arrested, 50 were nabbed during the lockdown."
The lockdown and the risk of Coronavirus, however, has put the police on high alert, the report describes how the investigators had to rush out of a suspect's house and and sanitise themselves as a resident there had a cough and high fever. The police have also been asked to wear PPEs.
According to the IE report, "he Crime Branch has also arrested two more persons from Uttar Pradesh's Sambhal in connection with IB staffer Ankit Sharma's murder for providing shelter to the murder accused.""
"It looks as if the whole narrative of who started the riots is being changed," Siad Delhi Minorities Commission Chairman Dr Zafar-ul Islam Khan who had issued notices to the Delhi Police seeking an explanation on the issue of Muslims being targetted in the riot affected area.
On April 13, the Dy Commissioner of police North-east district, Ved Prakash Surya (IPS), replied stating that proper procedure was being followed and the arrests were not haphazard. "Accused are being arrested after collecting relevant evidence against them," he stated, adding that the investigation is being conducted in a "fair and impartial manner."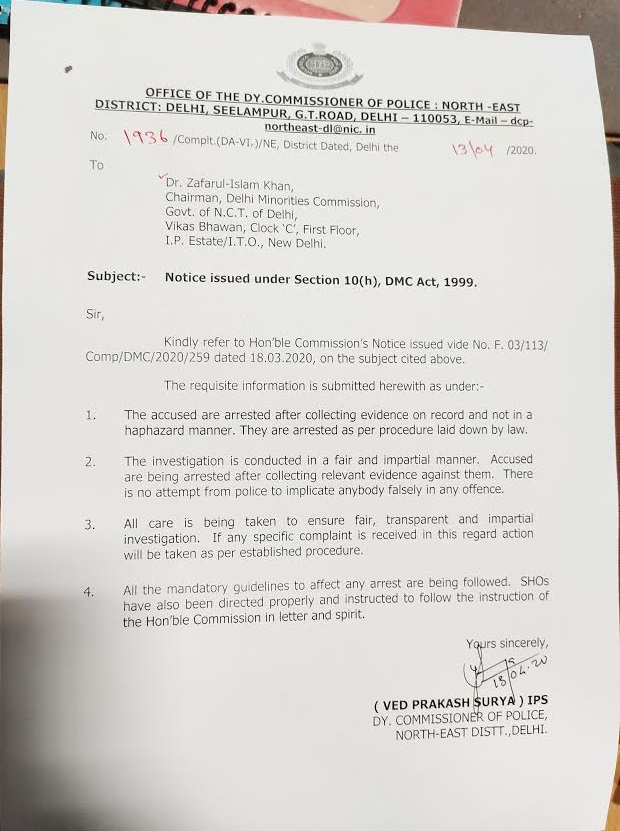 However, activists say that the reply is a matter of procedure, and on expected lines. "We know of those arrests as the news is full of Covid-19 updates," said another activist who is closely following this violation of human rights closely.
There is another set of arrests that have happened in the city, during the lockdown. Many young activists and students who were at the forefront of the city wide peaceful protests against the CAA/NRC/NPR have been arrested.
"We condemn the witch-hunt by the Special Cell of the Delhi Police against activists," human rights groups such as Hum Bharat Ke log, have issued strong statements demanding that the Delhi Police stop the arbitrary arrests of students and activists amid the Covid-19 lockdown.
Prominent among them is Safoora Zargar, a student of Jamia Millia Islamia, who was called for questioning on April10, by the Special Cell at their office in Lodhi Road, and was subsequently arrested. She was produced before court on April 11 which remanded her to three-day police custody. Before her arrest young RJD politician Meeran Haider, a PhD scholar of Jamia Millia Islamia had also been arrested, and many other students of Jamia, and activists, have also been called for questioning by the Special Cell. All this is happening as life in the city has almost come to a standstill under the now extended lockdown.
Activists are calling this "communalisation of a pandemic" and have demanded that Delhi Police stop abusing state powers as this was the time to focus on dealing with the massive health and hunger crisis that is unfolding across the country.
"At a time when citizens in lockdown are unable to fully exercise their democratic rights, it is the moral duty of governments to guard against any abuse of power by the state. Instead we see open communalization of this pandemic, which is being used to target students and activists by agencies of the State," stated Hum Bharat Ke Log.
Activists say that the police, and investigating agencies are "weaving fictitious narratives about the Delhi violence.Police is abusing the COVID-19 lockdown to silence and arrest those who oppose government policies, hoping that this abuse of State power will go unreported, with neither news coverage nor democratic protest."
They have reminded everyone that young activists like Khalid Saifi who was arrested in February, and Ishrat Jahan were arrested continue to remain in jail even today. ridiculously false charges. "Khalid Saifi was arrested in February when he went to speak to the police, tortured in custody, implicated in a false case and when he was about to get bail, the Special Cell implicated him in another case."
The Coronavirus pandemic is also a risk to the lives of the jailed activists and students. They are also unable to access legal aid on a priority as the courts are only functioning partially due to the lockdown, and lawyers are unable to work properly.
"This is a way to scare the young eemrging leadership amonst the Muslim community," said an activist. Most of the scholars arrested are in final stages of earning their advanced university degrees and many of them hail from other states. This has also put great emotional and financial burden on their families back home.
Many of the activists now under arrest were also helping carry out humanitarian relief to those stuck without resources to survive the lockdown in many marginalised parts of the city.
Strangely the arrests of scholars from Jamia Millia Islamia University, and Jawaharlal Nehru University (JNU), had also been done outside delhi. The Wire has a detailed report on the arrest of Mohammad Chingiz Khan, in his home state of Manipur. Khan is a PhD scholar at the history department of JNU. He has been charged with sedition for writing an article critical of the BJP-led state government's policy towards his community. He was arrested a year after he had co-authored the article titled 'Pangals victim of manufactured insecurity' published in The Pioneer newspaper. As The Wire explained, he cited examples of state action, "including the eviction of about 500 Pangal Muslims from a reserved forest, to accuse the N. Biren Singh government of indulging in "a conscious and political sidelining of the Pangals in Manipur"."
According to the new report, it was a year later, on April 6 2020, that the article was translated and published in a local daily, Ichel Express. "Police took suo moto cognisance and accused Khan of "inciting communal disharmony", "communal conspiracy", inciting "disaffection towards the government" and also expressing an intention to cause "mutiny" to the armed forces," said the report. On April 8, said the report, Khan was arrested and in Imphal and remanded to six days police custody.
"It seems that it is now a crime to dissent, to raise your voice even," said an activist, adding the attempt of putting fear in the people's hearts may just be taking root.
(Names changed/withheld to protect identities)