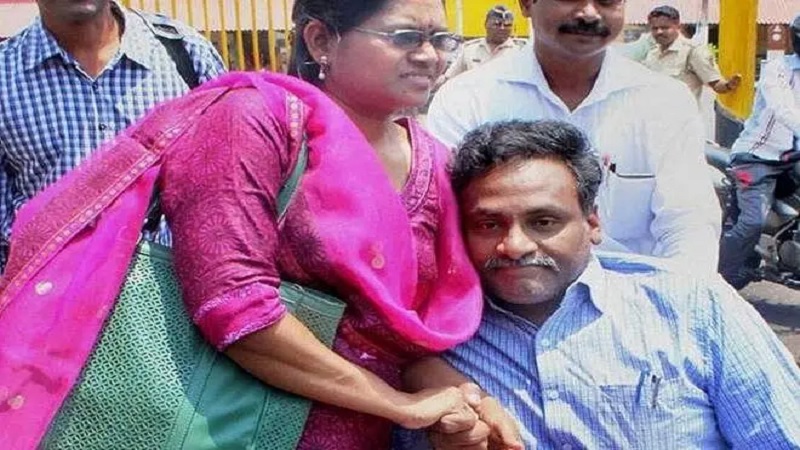 Image Courtesy:freepressjournal.in
Human rights activist AS Vasantha Kumari has shared that the health concerns of her husband Prof GN Saibaba, a political prisoner lodged at the Nagpur Central Jail, need to be addressed. The last time Saibaba had made a brief call to his wife on November 6 was to inform her that he had just ended his 10-day hunger strike, after the Jail authorities agreed to give in to some of his demands for newspapers, books, and letters. "I didn't even know he had gone on a hunger strike, that too for 10 days," she said she was shocked at the call from her husband and that neither she, not Saibaba's lawyers, had got any information about the hunger strike.
Vasantha Kumari says she received a letter from Saibaba in the last week of November where he stated that he has been feeling "extremely weak" after ending his ten-day long hunger strike on November 6, 2020. According to Vasantha, this is the first time in his life that the wheelchair bound Saibaba who suffers from a number of ailments has gone on a 10-day fast, and is now "unable to eat food" normally. "As part of the hunger strike, he had to stop taking his prescribed medication for heart condition and blood pressure. This has also adversely affected his already weakened health," stated Vasantha in an open letter she wrote on Sunday. Saibaa is suffering from a stomach laitment she stated adding that he "he had passed blood in stool," and that the jail Superintendent "promised IV fluids every day for three days after ending the hunger strike, but has only delivered one bottle after two days". She added that Saibab's legs have started swelling, and he is feeling dizzy and suffers from severe headaches.
She has alleged that "jail authorities did not provide him with any fruits, even when he offered to buy them at his own cost. They had only given him a glass of Mosambi juice and two pieces of the fruit when he ended his hunger strike." Vasantha Kumari stated that Saibaba has also sent a message to his supporters apologising for ignoring their advice and going ahead with the hunger strike. "The circumstances have forced me to undergo this ordeal," he wrote.
"After agreeing to the demands, he still didn't receive some of my letters. They are holding paper clippings, printouts of the current issues and letters written in October month and some books. There is endless discrimination, target troubling towards him and crushing the prison rights more in this Pandemic Corona virus condition," added Vasantha.
GN Saibaba's application for a 45 days' parole has been rejected for the second time, "this time even the reason also not mentioned. The rejection letter was served in Marathi. When can they serve the copy of English, we don't know," stated Vasantha.
Related:
Wheelchair-bound paralysed prisoner GN Saibaba was on a hunger strike for 10 days
GN Saibaba still denied parole, medicine, books, letters from family: AS Vasantha
What lies behind the high walls of Indian prisons?
If Premchand has really touched Modi, why are so many scholars rotting in jails?