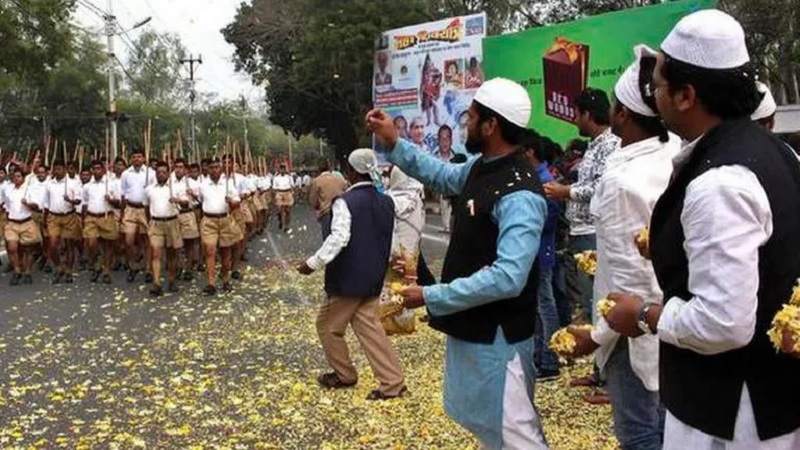 Image Courtesy:republicworld.com
"Kill, Destroy, Sack, Tell a lie; how much you want after victory nobody asks why?" is a quote famously attributed to Adolf Hitler. However, these words from the world's most hated dictator seem to come true wherever an election is due.
When calls for genocide of Muslims were gieven at the Dharam Sansad in Haridwar, the world reacted with shock. The Hate Speech makers of Haridwar, who in the past have claimed proximity to politicians of the Bharatiya Janata Party (BJP) called for targeted violence against Muslims. These calls were condemned by all secular citizens of India, as well as the world. However there was silence from a section of Muslims themselves. These were the ones who are a part of the Rashtriya Swayamsevak Sangh's (RSS) Muslim Rashtriya Manch (MRM).
More than a month after the hate event, the MRM is out campaigning for the BJP in Uttar Pradesh ahead of the Assemby Elections. They are hoping to woo Muslims to vote for the BJP, and on Sunday, January 23, held meetings with Muslim clerics and scholars in an effort to influence Muslims to vote for the BJP as a community. However, Muslims and even the farmer community across religion have told many journalists that they are not in favour of the right-wing party. The BJP in Uttar Pradesh is already dealing with the anti-incumbency factor and is being challenged on all grounds by Samajwadi Party (SP) and others.
The remarks made at the Haridwar 'Dharma Sansad' were by Hindutva leaders, many of whom also have roots and followers in Uttar Pradesh. The Muslim community as well as Christians and Dalits have also continued to be communally targetted in UP. Now, in election season, the MRM team including its national convenor Md Akhtar, head of the outfit's Madrasa cell Mazahar Khan and Uttarakhand Madarsa Board chairman Bilal Ur Rehman, are canvassing for the BJP. The MRM's national convenor Shahid Sayeed told the media that they "had long and intense discussions with the maulana of Jama Masjid, Qazi and Muslim intellectuals like doctors, lawyers, and engineers on the problems that the members of the community are facing and their solution."
This group of Muslims came to engage deeply the RSS on December 24, 2002, it was an Id Milan program, according to its own website, and was "the then RSS Sarsanghchalak K S Sudarshan, RSS ideologue M G Vaidya, Senior RSS functionary Indresh Kumar, Madan Das, President of All India Imam Council Maulana Jameel Iliyasi," and others. This group of Muslims was named "Muslim Rashtriya Manch" in 2005, and it claims that it was then that "the image of RSS as diehard, communal, fundamentalist Hindu organization began to fade and Muslim intellectuals and religious leaders started coming openly in embracing RSS as their 'true friend' and Indresh Kumar as their messiah."
However the right-wing groups which owe allegiance to Bajrang Dal etc have continued to attack Muslims across the country even after the investigations of the hate speeches at Dharma Sansad have begun. The MRM issued a statement more than a month after the hate event, putting on record that the Muslim community is concerned, "They felt that the kind of statements made at the Dharma Sansad was not right for any civilised society." According to reports, Akhtar even stated that "neither the government nor the Sangh had anything to do with any 'Dharma Sansad'," adding that the "MRM does not support such people and it strongly condemns their remarks."
Apart from this perfunctory statement the RSS's Muslim wing released a 'Nivedan Patra' (request letter) to woo Muslim votes for the BJP in the upcoming assembly polls in five states, including Uttar Pradesh. The RSS's Muslims claim the community is "most secure and happy" under the BJP rule. The RSS's Muslims are yet to condemn the vandals who claim to be from right wing ourtifts such as Hindu Jagran Manch Himachal going on rampage breaking Muslim shrines and posting anti-Muslim videos. They are also yet to condemn when Namaz is constantly disrupted by Hindutva goons in Gurgaon, Haryana. By all standards, 2021 was a year of unprecedented communal hate crimes, but the 'condemnations' from even right wing affiliated Muslim groups seem to be timed to be heard in election season 2022 only.
Related
Uttar Pradesh: Why were communal slogans raised in Ghaziabad?
Karnataka Bajrang Dal's Sanjay Nalvade, three others arrested for murder of Muslim teen
2021: A year of unprecedented communal hate crimes
Gurugram: Why are Namaz disruptions on the rise?