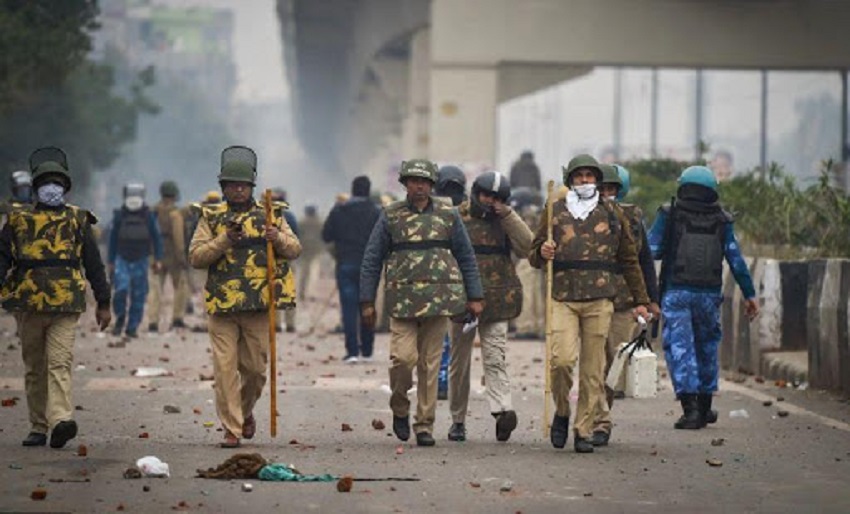 Maria Arena, Chair of the Chair of the European Parliament's Subcommittee on Human Rights, has urged the Indian government to conduct a "prompt, thorough, independent and impartial investigation into all human rights violations committed by law enforcement officials." This was part of a recent statement released by Arena expressing concern over deteriorating rule of law in India and urging the government to walk the talk on human rights.
Arena says, "It is with great concern that I have been observing the rule of law deteriorate in India." Her statement further explains the cause of her concerns, "Marginalised communities, religious minorities, particularly Muslims, a vocal and vibrant civil society and critics of government policies have been under increasing pressure for a long time. Widespread protests over the proposed citizenship verification process and the discriminatory citizenship law amendments have resulted in arbitrary detentions and an unnecessary loss of life." She adds, "Journalists and other peaceful critics continue to be arrested under draconian counter-terrorism and sedition laws, while human rights defenders are unceasingly and severely targeted by the authorities."
Mentioning Amnesty International, a human rights organisation that has often found itself in a vindictive regime's crosshairs, Arena said, "An investigation carried out by Amnesty International India has unveiled grave human rights violations committed by the Delhi police during the February 2020 Delhi Riots. In the absence of action by India's authorities since the outbreak of the violence, I strongly support the call for a prompt, thorough, independent and impartial investigation into all human rights violations committed by law enforcement officials." Arena further says, "There should also be a fully independent, public and transparent inquiry into the role of the police in failing to prevent the violence that broke out and even aiding it. Fighting impunity and promoting justice is the only way to stop and prevent police brutality. Most recently and very worryingly, Amnesty International India has been forced to announce that it is halting its work in India due to government reprisals."
Reminding India of its commitments to upholding international human rights conventions, the statement says, "As a sitting member of the Human Rights Council, India has pledged to 'continue to foster the genuine participation and effective involvement of civil society in the promotion and protection of human rights.' Therefore, I call on the Indian government to meet this pledge, in a manner worthy of the global role model it aspires to be. It is high time for India to translate words into action. In this context, I also wish to call on the EU to address these concerns within the EU-India Human Rights Dialogue."
The entire statement may be read here.
Previous concerns raised by the European Parliament
This is not the first time the European Parliament has raised concerns about India. On May 28, this year, Arena had written to Indian Home Minister Amit Shah raising serious concerns about the manner in which human rights activists, peaceful protesters and sundry dissenters were being thrown behind bars and being silenced using provisions of the draconian Unlawful Activities Prevention Act (UAPA).
In that letter, Arena had said, "To date, the European Parliament has noticed that various forms of legitimate peaceful protests against laws, policies and governmental actions, including the Citizenship Amendment Act, have been portrayed as terrorist activities under this legislation, resulting in a number of arrests under this umbrella. This is notably the case for human rights activists such as Safoora Zargar, Gulfisha Fatima, Khalid Saifi, Meeran Haider, Shifa-Ur-Rehman, Dr Kafeel Khan; Asif Iqbal and Sharjeel Imam who were recently arrested by the Police."
Elaborating on the concerns regarding UAPA the letter had stated, "Indeed, the vague definition of 'unlawful activities' and 'membership of terrorist organisations' could allow for wide discretion by the government in applying the law. Such a process would substantially weaken judicial oversight and the protection of civil liberties in the country. Consequently, we strongly believe that measures should be urgently taken to stop impeding and criminalising the work of human rights defenders by means of overly broad national security legislation and to respect their freedoms of association and expression."
Related:
European Parliament raises concerns about intimidation of activists in India
European Parliament discusses CAA; possible vote on Thursday
Designate India as 'Country of Particular Concern', impose sanctions: USCIRF
Continued and systematic vilification of minorities during lockdown: Report