Though the broomstick is the election symbol of the Aam Admi Party, it is the Congress that is sweeping the BJP out of Madhya Pradesh and is all set to win in as many as 148 assembly seats. This is according to an opinion poll conducted by Samvida Karmachari Union.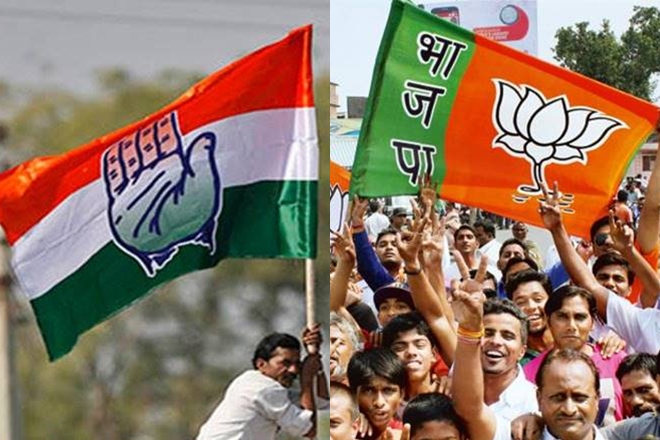 The Samvida Karmachari Union comprises over 2 lakh members and many of them were present at polling booths across the state. They carefully compiled opinions of voters from 230 constituencies and released their results on Monday. Their findings set the record straight. The Congress and BJP are NOT neck-and-neck in the electoral race for the central Indian state.
This is in sharp contrast to the findings of different exit polls that were released hours after the completion of Assembly elections in Rajasthan and Telangana on December 7 and who were still undecided on the electoral fate of Madhya Pradesh. Here is what the other exit polls have been saying so far: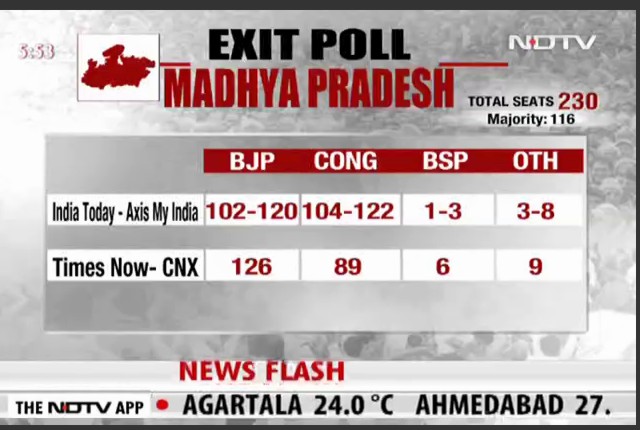 "I normally find results of exit polls bogus. Nobody asked me or anyone in my family about how we voted. But Samvida Karmachari have more intimate knowledge given how they are present at voting booths, so they have greater credibility than news channels," says veteran journalist LS Herdenia. He too feels that the Congress could make a comeback under Kamal Nath. "The Congress has a fair chance of coming back because of several reasons. Farmers and small traders are disappointed with Shivraj Chauhan and especially Modi. Also government servants, especially those who are out on their feet in field jobs, are disappointed with the manner in which they have been neglected and not given enough protection. The sand mafia has killed so many officials. Many police personnel are also angry because of the manner in which they are bullied and humiliated by RSS men whenever any of their people are arrested," explains Herdenia.
According to the Samvia Karmachari Opinion Poll, the BJP will get a measly 71 seats even as the Congress appears resurgent and gobbles a lion's share of seats. Mayawati's BSP could get 4 seats, while the Samajwadi Party is likely to win 3 seats.
Complete constituency wise results of the Opinion Poll may be read here:
Here are a few interesting predictions based on the findings of the Samvida Karmachari Opinion Poll:
1) BJP's Yashpal Singh Sisodiya is all set to lose Mandsaur to Congress candidate Narendra Nahata. This is probably the result of growing farmer unrest in the district where 6 farmers were gunned down in cold blood last year while agitating against the government's anti-farmer policies.
2) Traditional BJP bastion Indore also appears to be swinging in favour of the INC, with only three out of nine seats likely to go to the BJP. This will be a body blow to the BJP that has traditionally depended on the small and medium sized business owners and traders from the region. But this vote bank has been reeling under twin blows from demonetisation and GST, two of the most infamous examples of Modinomics.
3) It is a similar story in the industry and manufacturing heavy district if Dhar next door with Congress likely to win five of the seven seats.
4) The Congress is also likely to win five out of seven assembly seats in Bhopal district, it is also likely to win all three assembly seats in Raisen and four out of five seats in Vidisha.
5) All five seats in the Rajgarh district are likely to go to the Congress, but the BJP remains firm in Dewas with only Sajjan Singh Verma of the Congress wresting away Sonkatch.
6) Though Shivraj Singh Chouhan is likely to retain his Budhni seat from Sehore district, Congress has begun to make inroads into this district with Gopal Singh likely to win Ashta, the transport hub famous for its gulab jamuns.
So with the sweetness gone, will BJP finally eat humble pie?