The Hindutva camp has unabashedly once again thrown in the ring name of its trusted and tested followers, Sri Sri Ravishankar as 'mediator' between Hindus and Muslims on the Babri mosque/Ram temple conflict. Shockingly, the Congress has lauded the Art of Living founder Sri Sri Ravi Shankar's efforts to hold talk with the stake holders of Babri Masjid-Ram Temple and act as a 'mediator' between them.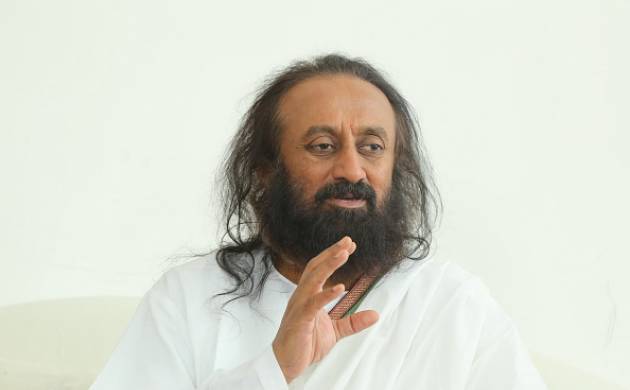 According to media reports, senior Congress leader Tom Vadakkan told journalists that if such efforts were made by Sri Sri, it was appreciable, "While this matter subjudice, the court did say that this matter can be settled outside the court and if efforts have been made by Sri Sri Ravi Shankar to solve the problem, it is welcome decision. The point is, it must be discussed properly with the stakeholders and no pressure must be brought on anybody. If done amicably it is good for country."[i]
It is sad that a hardcore Hindutva baba, Sri Sri Ravishankar is being presented as 'mediator' in the Ayodhya mosque demolition issue There are three critical issues to be kept in mind while accepting Sri Sri as a 'mediator'.
Firstly, the demolition of mosque on December 6, 1992 was not the result of a conflict between Hindus and Muslims. It was an engendered conflict –that took many lives — between Hindutva organizations and the democratic-secular Indian polity. The mosque was demolished despite orders of Supreme Court, assurances by the RSS/BJP leaders to the Indian Parliament and then prime minister, Narsimha Rao. Both the IndianParliament and the prime minister then promised to rebuild the mosque at its original site.
Secondly, what is the inordinate hurry when country is awaiting judgments from the Supreme Court and lower courts in criminal as well as deewani (ownership question) aspects of the case?
Thirdly, this baba is not a neutral 'mediator'. He is an old RSS (which was responsible for demolition of mosque at Ayodhya on December 6, 2017) cadre who has been attending all major programmes of RSS. Earlier RSS and his supporters advanced the name of Dalai Lama, also a great pal of the RSS, but his name was withdrawn for his open hobnobbing with the RSS.
Sri Sri's modus operandi, operations, gimmicks and close connections with RSS have been recorded by a renowned South Asia expert and journalist in his book, In Spite of the Gods: The Strange Rise of Modern India, Doubleday, New York, 2007.

According to him:

"I was still several miles from the ashram. But I could already make out its imposing meditation hall illuminated in shimmering blue and white light. I had come to visit Sri Sri Ravi Shankar (not to be confused with Ravi Shankar, the classical sitar player), who is perhaps the most prominent of a new breed of highly successful Hindu evangelists, at his Art of Living Foundation near Bangalore in south India. It was evening and hundreds of devotees had already congregated for evening prayers. From close up, the meditation hall was even more striking. Rising to five stories, it had been built entirely from marble. The hall was shaped like a lotus. There were 1,008 marble petals covering the exterior of the building symbolizing the diversity of human consciousness. It was only a few years old. The funding for this extravagant construction had come from corporate donations-much of it from the software companies in nearby Bangalore-and revenues the foundation earns from its hugely popular course in breathing techniques and meditation. 'Come inside,' said the polite young lady assigned to show me around. 'You are just in time to watch the guruji take his evening questions.'"

"The interior was even more striking, fashioned like a Roman amphitheatre. We sat on polished white marble steps looking down at the stage in the centre. I felt like I had stepped inside a large wedding cake. Above us the walls and ceilings were covered with pink lotuses. On the pillars that supported the dome around the central stage were the symbols of the world's main religions: the Islamic Crescent, the star of David, and the Cross of Jesus. In the centre, much larger than the other representations, was a depiction of Laxmi, the Hindu goddess of wealth. Alone on the stage, on what looked to be a large throne, sat a man in flowing white robes with an equally flowing white robes with an equally flowing beard and silky locks of hair falling luxuriantly around his shoulders. It looked as if Jesus were shooting a shampoo advertisement. This was Sri Sri Ravi Shankar.

"There was some chanting and clashing of cymbals. Then the prayers ended and a hush descended over the hall. It was time for guruji to take questions. I, expecting people to ask about higher consciousness or metaphysics. But the questions consisted mostly of mundane queries about how to deal with recalcitrant teenagers, whether staying late in the office was a good thing, and how to choose a marriage partner. The guruji spoke in a quiet but sonorous voice. But his answers were more like those of an advice columnist than a prophet. Someone asked how she could truly know she was a good person. 'You do not need to be sweetie-sweetie, goodie-goodie all the time,' said guruji. The audience broke into delighted laughter. Puzzled, I looked around to see hundreds of shining eyes and overjoyed expressions. The next question, which came by e-mail and was read by one of guruji's followers ended with: 'I love you so much guruji.' Someone asked about whether it was always wrong to pay bribes. 'You shouldn't be too idealistic all the time,' said the guruji. 'Sometimes you have to make little, little compromises.' Again the audience erupted in laughter. I was beginning to wonder about the Art of Living's breathing techniques.

After the Q&A session had ended, I was told it was now time for my "audience" with Sri Sri Ravishankar. It took a while for the interview to begin because throngs of people had surrounded the guruji seeking his blessing. Half of them were westerners. 'Can I have your blessing, guruji,' shouted a blond woman as the guruji was finally entering the interview room. He turned slowly and placed his hands on the woman. Her face was a study in beatific joy. Then he entered the room. After we had settled down, I asked Sri Sri Ravi Shankar what he thought about the arrest of the Shankaracharya of Kanchi. 'It was shock to me,' he said. 'It was also shock to hear about all the financial inefficiency in the mutt (temple). But I am not surprised at the lack of public reaction. The Hindus are a very docile people. We are a non-violent people. But maybe it has also to do with the fact that the institution never reaches out to people. Other sections of society don't feel any attachment to his temple."

"In contrast to Shankaracharya's temple in Kanchi, which is dirty, the Art of Living Foundation was spotlessly clean. Its meeting rooms looked like executive boardrooms. There were liquid crystal displays. People from all walks of life and religion are welcome at the Art of Living Foundation. All sorts of credit cards are also accepted. Sri Sri Ravi Shankar has a reputation for being a mystic and liberal.

"What is less widely known is the guruji's close attachment to the RSS. He has shared platforms with VHP leaders at public meetings. I asked him whether the Ram Temple should be built in Ayodhya. 'Suppose,' he said, 'that it was the birthplace of Jesus or Mohammed. What would you have done? Would you have tolerated another structure on that site? Let us build a temple to Ram and let the Muslims make this gesture as an act of goodwill and then the temple will also belong to Allah and to all Muslims.' To Allah? I asked. 'Yes, as you must have seen, we accept all paths to God. Sometimes we wish other religions would do the same.'

The guruji's words reminded me of Advani's desire to see more "Hindu Muslims" and more "Hindu Christians." They also reminded me of an interview I had had with Narendra Modi in Gujarat. Modi had said: 'We have nothing against people who are not Hindus what we cannot accept is when people say; we are whiter than white. Our religion as better than yours.' As we saw, Modi demonstrated his opinion of such people in more robust ways. I wondered whether the guruji really believed in all this. He seemed courteous and gentle—although I suspected he might also be suffering from a mild dose of narcissism. 'Why do people want to convert people to other religions?' the guruji asked. 'It is great pity. We should protect the cultural diversity of the planet and not try to change it.' I pointed out that the Art of Living Foundation was thriving in places such as California, London, and the Netherlands. 'Yes, but we are not a religion. We do not try to convert anyone. There are many paths to God.'

A few weeks later received a telephone call from Ram Madhav, the national spokesman of the RSS. 'I am calling about Sri Sri Ravi Shankar,' said Madhav. 'I was talking to him the other day and he said he was disappointed with your article in the Financial Times. You only quoted his views on politics and the Shankaracharya. He said he was hoping you would quote his views on tolerance and spiritualism.' It is true my article had lacked space to quote the guruji's opinions on other matters. But I was surprised the guruji should have chosen the RSS—of all organizations—to convey his complaint.'"[ii][Bold text for emphasis]

Support by the Congress of this baba's name as 'mediator' proves one fact once again that the former has not learnt any lessons from its past blunders in this case when it allowed the opening of the gates of mosque, pooja and shila poojan at the site, actually allowing a conflict to first fester and then explode in humungous proportions.

This latest move by the Congress, shocking and short sighted, to support a 'mediator' who has in the past declared support for one powerful side in the dispute (he has openly stated that eh stands for building a temple over the site of the demolished mosque)is suicidal for both secular, democratic India and the Congress.
---
[i]http://www.tribuneindia.com/news/nation/cong-lauds-sri-sri-ravi-shankar-s-act-as-mediator-in-ayodhya-dispute/488632.html
[ii]
Luce, Edward,
In Spite of the Gods: The Strange Rise of Modern India
, Doubleday, New York, 2007, pp. 175-178.
The views expressed here are the author's personal views, and do not necessarily represent the views of Sabrangindia.