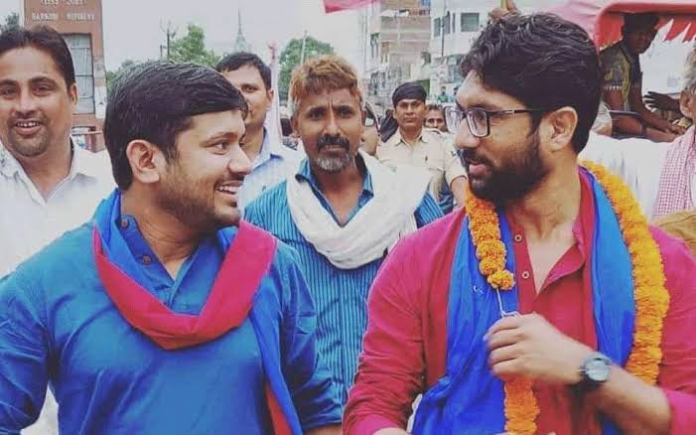 Image: The Hindu
The news has all been attributed to 'sources', but the buzz is loud and clear that Gujarat MLA Jignesh Mevani, and former student leader Kanhaiya Kumar of the CPI, will soon join the Congress. Speculations had been doing the rounds about Kanhaiya Kumar's possible move to the Congress for a while, however, Jignesh Mevani's name has only recently cropped up. It has been reported that Kumar who contested the 2019 Lok Sabha election from Begusarai, Bihar (where he lost to the BJP strongman Giriraj Singh) had already met Rahul Gandhi and Priyanka Gandhi Vadra. The two young leaders may get plum position in the party, and NDTV reported that Mevani, a Dalit leader elected to the Gujarat Assembly Vadgam constituency as an independent "could be made Working President of the party's Gujarat unit." He has 'appreciated' the Congress in this recent tweet:
The decision of appointing Charanjit singh ji as the CM of Punjab is a message that @RahulGandhi and @INCIndia have given.

It will have tremendous impact amongst not just dalits but all the subaltern masses.

For dalits, the move is not just brilliant but soothing too.

— Jignesh Mevani (@jigneshmevani80) September 20, 2021
According to the report, Kanhaiya Kumar and Jignesh Mevani "will join the Congress – likely during an event on October 2", adding that "hey were scheduled to join on September 28 – on the birth anniversary of Bhagat Singh." Mevani move to the Congress, ahead of Gujarat elections next year, is being compared to the appointment of a Dalit CM in Punjab. The Dalit voters are emerging as a political force the party can no longer ignore. The two are also popular young leaders and the party it appears has recognised the need to bring youth to the forefront of its leadership, which till now has been helmed by 'elders'. All eyes are set on state elections in 2022 and the Lok Sabha election in 2024.
Related
65 Congress MLAs, Jignesh Mevani move Gujarat HC to utilise MPLAD funds for medical facilities
Can detain activists, cannot detain anger: Jignesh Mevani
JNU sedition case: Court directs police to supply chargesheet copies to Kanhaiya, Umar and 8 others