October 31, 2019: This last day of October reminds us of the brutal assassination of the then Prime Minister Mrs Indira Gandhi, by her own security guards who were supposed to protect her. Since June 1984 when Indira Gandhi ordered 'Operation Bluestar' at the Golden Temple in Amritsar, Sikh feelings had been tremendously hurt but there was no attempt to assuage the feelings. Somehow every Sikh became a 'terrorist' and victim of a sinister campaign to humiliate him.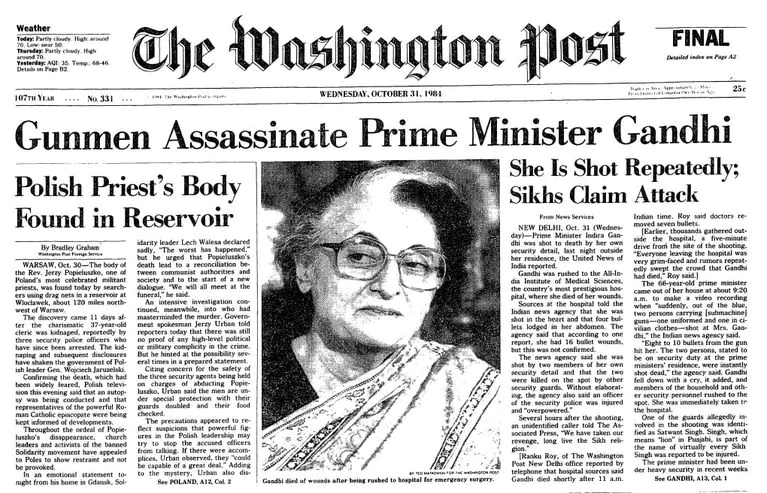 I still feel, however, that those times were a tad better than today because we did not have these goons who threaten people from their newsrooms and instigate violence against them. Can you imagine, what would have been the role of this (today's) media under a powerful government of Rajiv Gandhi?
Doordarshan kept showing the dead body of Mrs Gandhi for several days as people were shouting slogan : Khoon Ka Badla Khoon se lenge..
Indiraji had brought the colour TV revolution to India, people watched the entire drama unfold on their TV screens: they were being fed all the sarkaari reports minute by minute. It was perhaps the first 24×7 'spectacle' for the TV media in India. It extended for some days. Newspaper sales increased and in smaller cities, copies of editions of newspapers would be sold off in minutes of arrival at the outlets.

Doordarshan and All India Radio did their "duty" by the government of the dat. Absent were the screaming voices of "party spokespersons" inside the studios like we are witnessing today. Today, there would have been a direct campaign launched against the Sikhs. The media at the time was silently just "doing its duty as per government orders". Doordarshan-Akashwani would stop all regular programmes and we would have repeated news on Indira Gandhi's Assassination. We depended on external sources like the BBC which had declared by 10 am that she had been shot dead but there was no official word about it. Though she was shot at her home in the morning time around 9 am, the official announcement of her death came at 6 pm on radio and television simultaneously. When I imagine what would have happened if Indira ji's Assassination tool place today, during commercial 24X7 TV channels, I shudder…
Violence erupted or was made to erupt by the goons of the Congress party but it was not merely an issue of Congress. In her death, Indira Gandhi had become or was projected as a Great Hindu leader killed by the Sikhs. So in the subsequent days, we saw, a manifestation of 'Hindu' outrage, though we conveniently called it only Congress goons but it was not so. Congress had become the Hindu party, a party of the Hindu sentiments, whose leader was called and Rajiv Gandhi called her Bharat Mata in his first broad-caste to the nation.
The violence or pogrom whatever we call as the state of India completely abdicated its duty. The goons whether Congress Party or any other sympathizer, whether Hindus or not, had complete protection from the administration and its police. It was like a 'national' 'resolve' to 'teach' Sikh a lesson. Innocent children lost their parents. We never saw such brutality since partition of India. Butchering of families. The Home Minister P V Narsimha Rao sat silently allowing the goons to do all the things and police remaining quiet. All over the country, there was a pattern, whisper campaign against Sikhs as if they killed Mrs Gandhi. This is a serious question to ponder over.
Why did we blame the entire community if some crime is committed under their name. Muslims have been punished for that, Dalits, too and Sikhs got their "punishment" because the murderer of Indira Gandhi happened to be Sikh. But the murderers of Rajiv Gandhi were Hindus while that of Gandhi ji was a Brahmin but we never saw that kind of isolation and condemnation of that community. It means, that the dominant define the discourse: who to vilify and who to glorify. That is why, Gandhi's murderers are still being glorified and nothing has, metamorphically, happened to them.
Today when we moan the brutal murder of Indira Gandhi anx remember her legacy, we can not keep our eyes shut at the massacre in her death. that Sikhs were butchered and murdered in the aftermath of her assassination were a complete abdication of the state Rajdharma. It was a project of the Hindu Rashtra, this time under Rajiv's Congress where Sikhs were vilified and Rajiv became symbol of Hindu Asmita.
If we are today living in these terrible time when the Indian state apparatus has turned brahmanical then the project started since the return of Indira Gandhi in 1980. It got strengthened in her unfortunate assassination in 1984.
India is paying a heavy price today for the games that the Congress played during this period in the absence of fighting the issue ideologically, it tried to sail through the same boat of communal polarisation which resulted in massive mandate for Rajiv Gandhi but victory of the Hindu Rashtra. Subsequently, Rajiv's flirtation and Congress's complete ideological bankruptcy paved the way for the Hindutva forces whose cherished dream to rule India was realised in May 2014 and second mandate of 2019, they have further strengthened their position.
Today is the day to not merely remember Mrs Gandhi and her contribution to our polity but also the Congress'es failure to fight communal forces ideologically by virtually becoming the B team of Hindutva, resulting in the legitimacy and ascendancy of hate mongers in the power structure of the state.