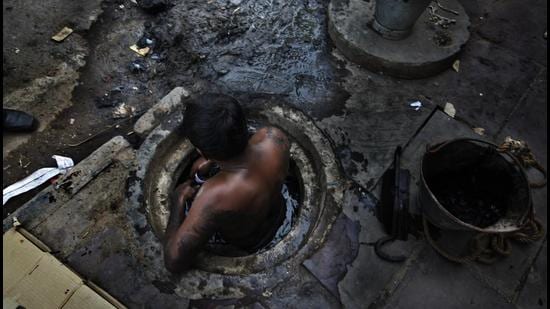 In an extremely tragic accident on October 5 in Faridabad (Haryana) four workers who had gone for cleaning sewer of a hospital died due to inhaling poisonous gas. Two of them were brothers, young sons of a widow.
The hospital used their services through a contract agency. So soon after the deaths allegation were being traded between the authorities trying to shift responsibility and blame. This is a typical situation which creates problems in fixing accountability.
All four workers did not have have any regular employment and worked on daily wage basis. They were given jut Rs. 400 to Rs. 450 per day for very high risk and unhealthy work. They agreed to do this work only because of their highly precarious economic condition. One of them earlier had a better job but had lost this recently, pushing him to take up this work.
It is also surprising that despite the work being done in a hospital, no one prevented them from undertaking such high risk work, and medical help was just not available for them fast enough.
In an earlier accident in another city of Haryana (Rohtak) on September 10, two workers who entered a sewer died. In their case, it was reported by a leading newspaper (Amar Ujala, September 11), that they were actually threatened: that, if they do not take up this high risk work, they will lose their job.
According to information provided by the government in mid-July 2022 in Parliament, 347 workers died while cleaning septic tanks and sewers in India during the five years 2017-2022 (up to July 2022). According to data provided by the National Commission for Safai Karamcharis (sanitation workers) 920 workers died while cleaning sewers and septic tanks during 1993-2020. However according to leading social activist Bezwada Wilson, during roughly this period of 27 years, almost 2000 workers died while cleaning sewers and septic tanks.
A review of the official data shows that the highest numbers of such deaths have taken place in Uttar Pradesh, Tamil Nadu, Delhi and Haryana but if you consider the situation relative to the total population of the state then Delhi is the worst offender followed by Haryana. It is surprising to find the worst situation in places where one would expect the safety situation to be relatively better.
On the other hand the fact that official data are highly concentrated in a few states may also be a reflection of significant under-reporting from some other states. Bezwada Wilson, activist and National Convenor of the Safai Karmachari Andolan has regretted that the government has not been giving adequate attention even to collecting reliable and updated national level data on this important issue.
Some of the most tragic news in India which appears with a cold regularity relates to the deaths of sewer workers caused by occupational hazards. The demand for fixing responsibility and taking strong action against those guilty of negligence has been gaining ground, as also the demand for the prompt compensatory payment as fixed by the Supreme Court.
It is shocking –and a measure of the overall state of impunity — which the compensation ordered to be paid promptly by the Supreme Court in such cases still hasn't reached many affected households. This work should be speeded up
In terms of exposure to health hazards in the course of routine daily work also there are very serious problems. If all the hazards faced by sewage workers in routine daily work are considered, then these together have a very adverse impact on their health, exposing them to several diseases and chronic health problems.
Hence the wider urgent task is that of initiating more comprehensive efforts which can minimize all serious safety and health hazards. This demands substantial investment in appropriate technology and equipment, as well as in training based on this.
When safety issues are highlighted, one response is to hastily purchase whatever equipment happens to be available, even though this may not prove very useful. We need to give adequate attention to evolving technology and equipments which are suitable in working conditions that prevail in India.
Who can advice best on this than the workers, including more senior workers and supervisors who have so much close and day-to-day experience of the kind of problems that exist? The most expensive and the biggest machines available in the market are not necessarily the most effective.
Let us be clear regarding our needs. Our need is to ensure safety. Our need is to minimize health hazards. Our need is for reducing costs without sacrificing effectiveness so that safety and health protection can spread all over the country in affordable practical ways. If the equipment can be fabricated locally in smaller scale units then this is all the better in terms of generating local jobs.
To improve safety and reduce risks we should have training facilities for safety and use of new equipment. We should not sacrifice jobs unnecessarily in a rush for heavier machines than what we need in terms of safety. So we should involve workers including senior and retired ones and supervisors to work more broadly on technology, design, innovation, manufacture, training, while making available adequate funds.
Budgetary issues should not be a constraint when it comes to safety, but the practical aspects of being able to cover a vast area should be kept in mind.
There are several other aspects of sanitation and sewage which need improvements, and ultimately over-centralized expensive models must yield place to local decentralized models.
The writer is Honorary Convener, Campaign to Save Earth Now. His recent books include A Day in 2071, Navjeeven and Kathin Daur Mein Ummeed.
Related:
Safai Karamchari Andolan campaigns against dry latrines
Manual Scavenging: Why the gov't's conscience is not clean about the Swachh Bharat Mission
Safai Karamchari Andolan & Ors. vs Union of India & Ors.