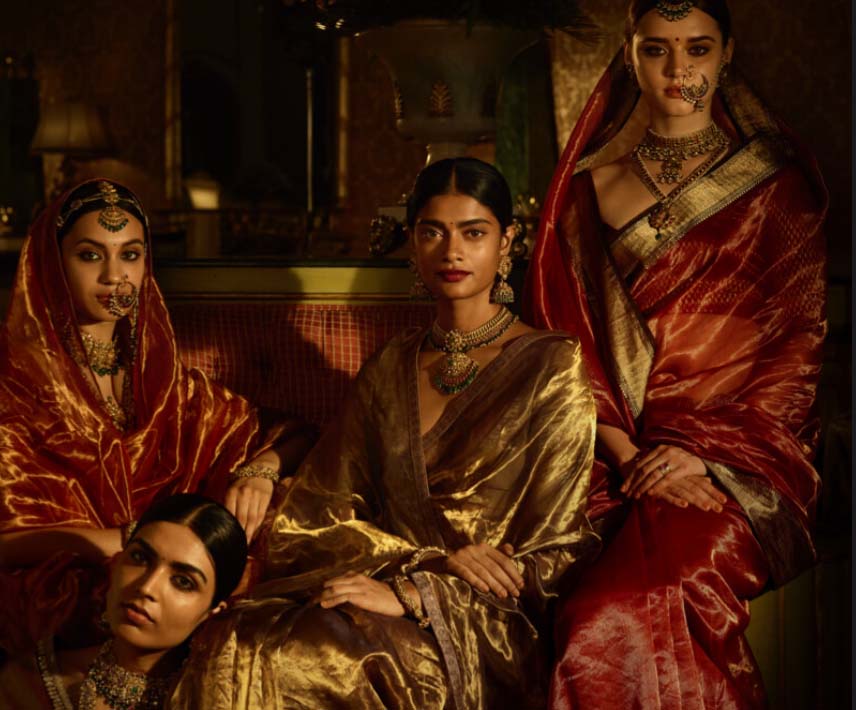 Image: http://sabyasachijewelry.com
Best known for elaborate, and expensive wedding outfits often worn by film actors, designer Sabyasachi is also gaining fame for couture controversy. This time around he, and his eponymous label are getting trolled for a line of designer mangalsutras. However the problem in these sanskari times is not the design of the mangalsutra, which boasts of the Sabyasachi logo as the centerpiece.
Keepers of our 'tradition and morality' are more upset that the new campaign from the house of Sabyasachi shows skimpily clad models. It seems that some images also show male models wearing the mangalsutra which is traditionally only worn by married women in most parts of India.
Sabyasachi Mukherjee's brand logo of the stylised interpretation of the Royal Bengal tiger is the centre of this jewellery collection. The mangalsutra collection is actually pretty light and laid back, unlike his heavy and elaborate wedding collections usually are. Sabyasachi's official Instagram handle shared the campaign that described the designs as, "a Royal Bengal Mangalsutra 1.2 and the Bengal Tiger Icon collection of necklaces, earrings, and signet rings in 18k gold with VVS diamonds, black onyx and black enamel"… A mouthful of a description, so viewers perhaps skipped the reading, and trained their eyes on the model in a black bra and a tiny bindi, wearing the mangalsutras; a shirtless male model was the human prop.
The models may be viewed here: https://www.instagram.com/sabyasachiofficial/
And the jewellery sans models may be viewed here: https://www.instagram.com/sabyasachijewelry/
Enough photos to throw trolls into high gear, never mind that most of them, and us, would not be able to afford the bikini, leave alone the jewellery that was being advertised. Some called it underwear advertising, others were less charitable.
No! This is no lingerie or C0nd0m Ad.

This is Sabyasachi Mangalsutra Ad.

Ultra Woke #Sabyasachi are so creatively bankrupt that they have to use semi naked models for a Mangalsutra ad.#BoycottSabyasachi #Femina pic.twitter.com/dim9YpJhgF

— श्रद्धा | Shraddha ?? (@immortalsoulin) October 27, 2021
Mangalsutra looks like this #Sabyasachi

It's not a random piece of fashion jewellery, it indicates the love and commitment the husband and wife have towards each other. pic.twitter.com/HB3r4Aa4A4

— Sheetal Chopra ?? (@SheetalPronamo) October 27, 2021
It is not known if those trolling have ever visited the beaches especially of Goa, where newly wed couples, mostly from north india, are on the honeymoon holiday, all clad in bikinis, sometimes underwear, accessorised heavily with mangalsutra, choora (bangles), and other signs of marriage. It is not yet known if Sabyasacchi was trolled for the size of bindi, or lack of it and sindoor, like FabIndia was recently, or for that matter showing same sex couples like Dabur was.
However, the brand and the man are not new to controversy, he was called out for the "collaboration" with H&M. Sabyasachi, even got an open letter from various artisan collaboratives and organisations that called him out for the collaboration. Many objected to traditional folk designs being "appropriated without credit or compensation to the communities that have held it all these centuries." However, it seems that the open letter may have landed in the designers' spam box.
Related:
Dabur uses LGBTQI storyline to sell skin bleach, gets trolled for 'insulting' Karva
BJP MP says Aamir Khan's CEAT Tyres Diwali ad hurts Hindu sentiments
Jashn-e-trolling: What does the festive season mean for bhakts?