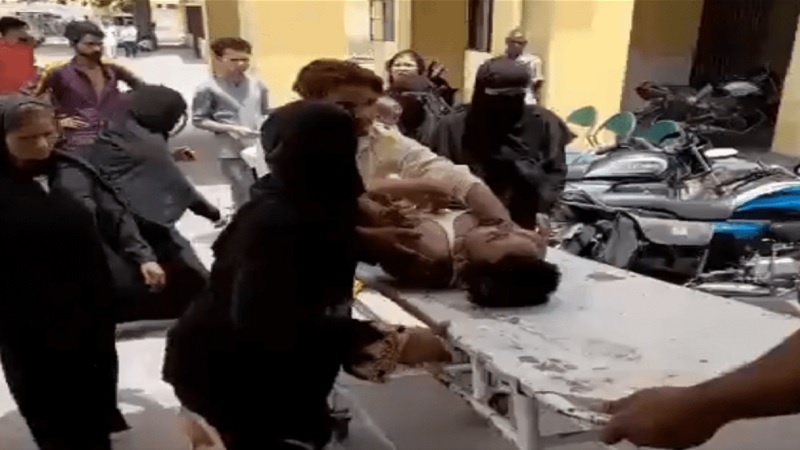 Image Courtesy:siasat.com
An FIR has been filed 5 policeman from Badaun, Uttar Pradesh for brutally torturing a Muslim youth in his early 20s under the suspicion of cattle theft for the purpose of slaughter. It has been reported that he was made subject to electric shocks and a stick was inserted in his rectum.
The doctors at the hospital reportedly said that the patient was getting seizures regularly as his nervous system has been affected severely, possibly because of a shock. "Since the case is under investigation, we can't provide further details about the medical examination report," a doctor told TOI.
According to his sister-in-law, "Police thrashed my brother-in-law the whole night. After realizing that they had picked the wrong person, they handed him Rs 100 and sent him back after torturing him for two straight days. Since then, he has been getting seizures almost every day. On Friday (June 3) his condition deteriorated and we had to rush him to the hospital. He has been severely injured and unable to walk or speak", reported Siasat.
On May 2, 2022, the victim who is reportedly a vegetable vendor was picked up and detained by the police on his way to work. It is important to note that the victim does not have any prior criminal record.
Superintendent of Police (SP) (city) Praveen Singh Chauhan said, "The allegations against five policemen were found to be true during a preliminary investigation. We have registered an FIR against them for wrongful confinement and torture. Steps are being taken to suspend them and an impartial investigation will be carried out in this case. We are also supporting the family to ensure the best possible treatment for the victim", reported Deccan Herald.
A case has been reportedly filed against the police officers under IPC section 342 (wrongful confinement) and section 33 (voluntarily causing hurt) along with others.
CJI NV Ramana on Custodial Torture
In August 2021, at an event organized by the National Legal Services Authority of India (NALSA), Chief Justice N.V. Ramana reportedly said, "The threat to human rights and bodily integrity are the highest in police stations. Custodial torture and other police atrocities are problems which still prevail in our society. In spite of constitutional declarations and guarantees, lack of effective legal representation at the police stations is a huge detriment to arrested/detained persons. The decisions taken in these early hours will later determine the ability of the accused to defend himself. If, as an institution, the judiciary wants to garner the faith of the citizens, we have to make everyone feel assured that we exist for them. For the longest time, the vulnerable population has lived outside the system of justice. The prevailing obstacles like lengthy, painstaking and expensive formal justice processes add to the woes of realising the goals of 'Access to Justice'. As an institution, the toughest challenge before us is to break these barriers first."
Judicial Precedent:
In the case of Paramvir Singh Saini vs Baljit Singh and Ors (S.L.P Crl. No. 3543 of 2020), while considering the installation of CCTVs in all police stations across the country to check State abuse, the Supreme Court's three Judge Bench (Justices Rohinton Nariman, K.M Joseph and Aniruddha Bose) passed a detailed and specific order directing states and the centre to take concrete steps towards ensuring that every police station in the country and all investigating agencies have CCTV cameras in their premises
The bench ordered setting up of state and district level oversight committees that will be responsible for making sure that these CCTV cameras are procured, installed and function so they can be of use during trial. In September 2020, the court had impleaded all the States and Union Territories to find out the exact position of CCTV cameras at each Police Station as well as the constitution of Oversight Committees in accordance with the 2018 Order in Shafi Mohammad v. State of Himachal Pradesh (2018) 5 SCC 311. As per action taken reports filed by 14 states and 2 union territories, the court observed that the majority of the Compliance Affidavits and Action Taken Reports failed to disclose the exact position of CCTV cameras in each Police Station and also did not disclose any details on oversight committees.
In March 2021, the top court expressed its displeasure as both the Centre and the States/UTs did not take the matter seriously. A Bench comprising Justices Rohinton Fali Nariman, BR Gavai and Hrishikesh Roy said, "We reiterate that these are the matters of utmost importance concerning the citizens of this country under Article 21 of the Constitution of India."
The top court came down heavily on Telangana, Karnataka, Uttar Pradesh, Madhya Pradesh and was most displeased at Bihar's state of conditions. It noted that nothing has moved forward in these states in terms of installing cameras, allocating necessary budget, etc.
Further, the court also directed the central government to allocate its budget accordingly for CCTV camera installation in different investigation agencies like CBI, ED, etc. It had strictly reiterated that "after budgetary allocation is made within the one month given by us, our earlier orders will be implemented in letter and spirit within a period of six months from the date on which budgetary allocation is made."
Police misconduct such as brutality, using excessive force, different methods of torture, humiliation, targeting the most marginalised, although does not go unnoticed, rarely attracts penal punishment. Police reforms have been long recognised especially in Prakash Singh and Ors v. Union of India and Ors (2006) 8 SCC 1, in which the Supreme Court came up with seven directives to kick start such reforms and re-shape the police force's functioning mechanism.
Amongst the seven directives, the most important to the theme is "Police Complaints Authority" to be set up at the State and district level to inquire into public complaints against police officers of and above the rank of Deputy Superintendent of Police in cases of "serious misconduct by the police personnel, which would include incidents involving death, grievous hurt or rape in police custody."
"The head of the State level Complaints Authority shall be chosen by the State Government out of a panel of names proposed by the Chief Justice; the head of the district level Complaints Authority may also be chosen out of a panel of names proposed by the Chief Justice or a Judge of the High Court nominated by him. These Authorities may be assisted by three to five members depending upon the volume of complaints in different States/districts, and they shall be selected by the State Government from a panel prepared by the State Human Rights Commission/Lok Ayukta/State Public Service Commission. The panel may include members from amongst retired civil servants, police officers or officers from any other department, or from the civil society", read the judgment authored by Justice Y.K. Sabharwal.
Moreover, in a landmark judgment given by the Supreme Court in the case of D.K. Basu v. State of West Bengal (AIR 1997 SC 610) with respect to an increasing number of custodial deaths in India, the Court laid down 11 specific requirements and procedures that the police and other agencies have to follow for the arrest, detention and interrogation of any person. guidelines were made binding by the court by stating that failure to comply with these would make an official liable for departmental action and also for contempt of court. It was further held that these requirement flow from Articles 21 and 22 (1) of the Constitution and need to be strictly followed. These were to be followed not just by the police department but other law enforcement agencies.
However, the guidelines are being more or less violated and non-compliance of the same does not invite any serious implications. It's time these guidelines take the form of legislation or gets inducted in the Code of Criminal Procedure with meaningful implications. After all, violations of the legislature truly intend to safeguard a person's right to life.
Related:
Mumbai: Dalit youth tied and beaten to death with an iron rod!
UP: Goons carve trishul on a man's face!
Hate Watch: Dalit man thrashed, dragged like an animal by so called "upper caste" goons
Hate Watch: Dalit, Covid health worker, killed for sporting moustache in Rajasthan
Dalits attacked by 300 men in UP village, 13 upper-caste men arrested