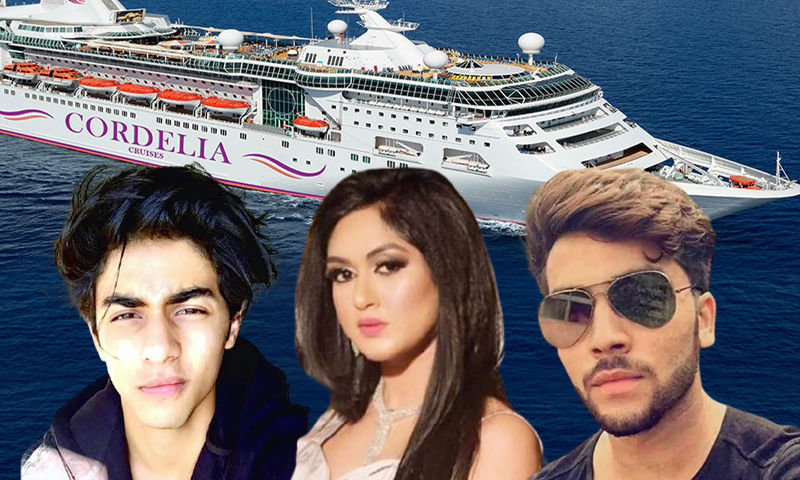 Advocate Kanishk Jayant, a Mumbai-based lawyer has in a written complaint to Police Commissioner Hemant Nagrale raised serious concerns about the suspicious role of five people in connection with the high-profile Cordelia Cruise drug bust case where superstar Shahrukh Khan's son Aryan is one of the key accused.
Even as a Mumbai Sessions Court started hearing Aryan Khan's bail plea on October 12, a good 10 days after the incident, Adv Jayant has drawn attention to the role of five people: KP Gosavi, Manish Bhanushali, Amir Furniturewala, Prateek Gaba and Rushab Sachdeva. In his letter, he has requested that an FIR be filed against them for extortion.
Brief background of the case
The cruise ship was supposed to set sail from Mumbai to Goa at 4 P.M on Saturday, October 2, 2021 and passengers had been asked to reach by 2:30 P.M. After receiving a tip off, officers of the Narcotics Control Bureau (NCB) posed as passengers and conducted a raid.
Aryan Khan and co-accused Arbaaz Merchant reached the spot and crossed the Central Industrial Security Force (CISF) check point at around 3 P.M. It is noteworthy that Aryan Khan was intercepted at the terminal even before he could board the ship. He was interrogated and searched by the NCB officials. Though no drugs were found on Khan, 6 grams of charas were allegedly found on Merchant. Khan's phone was confiscated, and NCB officers then took him to the NCB office where he was detained till an FIR was registered the following day. He was arrested under Sections 8(c), 20(b), 27, 28, 29 and 35 of Narcotic Drugs and Psychotropic Substances (NDPS) Act.
Meanwhile, the ship was prevented from setting sail while NCB officials raided and searched it for drugs. The raid lasted till 2 A.M on October 3. Eventually they seized 13 grams of cocaine, 5 grams of mephedrone MD, 21 grams of charas and 22 MDMA pills that were recovered from three spots: two rooms and the ship's lobby. Subsequently as many as 20 people were arrested in connection with the case including employees of an event management company.
A private detective, a BJP leader and a viral selfie
What is utterly inexplicable about the case is how KP Gosavi and Manish Bhanushali, who were neither officers of the NCB nor Mumbai Police, were the people to take physical custody of Khan and Merchant at the terminal.
A selfie of Gosavi with Aryan Khan went viral on social media, prompting the question – in what capacity was he allowed to be in close proximity of a key accused in a high-profile drug case.
Pune police searching for KP Gosavi absconding in cheating case since 2018. Gosavi is NCB's independent witness in cruise drug case and his selfie went viral with #AryanKhan . @mid_day @patel_bhupen @DiwakarSharmaa pic.twitter.com/W9b1cAXhdM

— فیضان خان FaizanKhan (@journofaizan) October 7, 2021
While Gosavi claims to be a private detective, is said to be a member of the Bharatiya Janata Party (BJP). Interestingly, the NCB issued a statement claiming Gosavi and Bhanushali were independent witnesses. Deputy Director General of the NCB Gyaneshwar Singh told mediapersons that there were a total of nine such independent witnesses and their presence was required at the scene of the raid. However, none of these witnesses were known to the NCB prior to the raid.
Subsequently, it was unearthed that Gosavi is wanted by the Pune Police in connection with a 2018 case for cheating two youths. He reportedly took money from them after promising them jobs. The Indian Express reported that he was "named as an accused in at least four cases of cheating, including one at Andheri police station in Mumbai in 2007, two at Kapurbawdi police station in Thane in 2015 and 2016, and one at Faraskhana police station in Pune in 2018."
Ever since the story of the raid and subsequent detentions broke, Nationalist Congress Party (NCP) leader Nawab Malik has been pointing out how Gosavi and Bhanushali kept popping up at the NCB as well.
Here's the video of Kiran P Gosavi and Manish Bhanushali entering the NCB office the same night the cruise ship was raided. pic.twitter.com/25yl9YsrSJ

— Nawab Malik نواب ملک नवाब मलिक (@nawabmalikncp) October 6, 2021
Another video footage of Kiran P Gosavi and Manish Bhanushali leaving the NCB office. pic.twitter.com/9VxnSNgTxK

— Nawab Malik نواب ملک नवाब मलिक (@nawabmalikncp) October 6, 2021
He further alleged Khan was framed by two others who were first arrested and then released in connection with the case:
#AryanKhan was invited by two people on the cruise who were later released after detention. It was a pre-planned strategy to frame Aryan Khan.#NCBJawabDo #NawabMalik pic.twitter.com/N865Lk5tOI

— Office of Nawab Malik (@OfficeofNM) October 9, 2021
And it isn't just the NCP. Maharashtra Pradesh Congress Committee spokesperson Sachin Sawant too raised a series of pertinent questions tweeting, "How private people are part of NCB raid on a cruise? With what authority? How do we see VP of BJP & a duper taking custody of accused? How their vehicle has "police" written on it? Has NCB outsourced their job?" He further demanded to know, "Was real goal to divert attention from Mundra drug sieze? (sic)"
Was real goal to divert attention from Mundra drug sieze? We hv seen BJP's drug connection in Goa, sandalwood drug racket & even in SSR case. It's a serious conspiracy against our country. Allegations of @nawabmalikncp are serious & must be probed https://t.co/IyTluWnkQt pic.twitter.com/OhfUxJeg1e

— Sachin Sawant सचिन सावंत (@sachin_inc) October 6, 2021
Key points in Adv Jayant's complaint
In his complaint, a copy of which may be viewed in the tweet below, Adv Jayant has asked, "Who has authories (sic) Mr. K.P Gosavi and Mr. Manish Bhanushali to take physical custody of Mr. Aryan Shah Rukh Khan and Mr. Arbaaz Merchant?"
Urgent Police Complaint by Adv.Kanishk Jayant @jayant_kanishk to @CPMumbaiPolice for lodging an F.I.R. in #CordeliaCruiseDrugBust dt.12.10.2021. @Dwalsepatil@CMOMaharashtra pic.twitter.com/aUDjbh48m1

— Kanishk Jayant (@jayant_kanishk) October 12, 2021
He further asks, if it was NCB Zonal Director Sameer Wankhede who decided it was okay for Gosavi and Bhanushali to get that close to alleged suspects in the case? Adv Jayant also asked, "Did Mr. K.P Gosavi and Mr. Manish Bhanushali pose as public servants while taking physical custody of Mr. Aryan Shah Rukh Khan and Mr. Arbaaz Merchant?" Finally, he asks why were three other accused – Rishabh Sachdeva, Pratik Gaba and Amir Furniturewala released and if it had anything to do with Sachdeva being related to a BJP member?
Aryan Khan in custody
Khan's arrest was officially confirmed on October 3. He was produced before Additional Chief Metropolitan Magistrate (ACMM) RK Rajebhosale after 7 P.M along with Arbaaz Merchant and another accused Munmun Dhamecha. They were remanded to one day NCB custody. On October 4, their remand was extended to October 7. However, the NCB's demand for further custody was rejected on October 7 and Khan was remanded to judicial custody. Though Khan moved ACMM for bail the same day, the hearing was adjourned till the next day to grant NCB time to file a reply. On October 8, ACMM RM Nerlikar rejected Khan's bail plea on the ground that it was not maintainable. On the same evening Khan moved Sessions Court for bail.
Aryan Khan's bail hearing in Sessions Court
The matter was heard on October 13 by Special Judge Narcotic Drugs and Psychotropic Substances Act (NDPS Act), VV Patil. Kahn was represented by Advocates Amit Desai and Satish Maneshinde. Khan's lawyers argued that no drugs were recovered from his person. Special Public Prosecutors AM Chimalker and Advait Sethna appeared for the NCB.
The NCB submitted its replies, after many instances of delay, in connection with Khan, Merchant and Dhamecha. According to Bar&Bench, the NCB objected to granting Khan bail saying, "Considering the influence that Aryan Khan holds in the society, it is very much possible that he may tamper with evidence and influence other witnesses whom he personally knows. Also the possibility of the applicant fleeing justice cannot be ruled out."
Advocate Tareq Sayed appeared for Arbaaz Merchant and shot down the NCB's contention that they had recovered incriminating Whatsapp chats. B&B reported that he submitted, "The entire case is based on mobile phone and the panchnama," adding, "Prosecution was using WhatsApp chats, but now this panchnama is before you. There is no phone seized as per panchnama. There is no separate panchnama for phones… Hence the entire WhatsApp chats will become inadmissible."
Hearing will continue on October 14.
Conclusion
Given how in the Mundra Port drug seizure case, the port was operated by the Adanis, a business group will close ties to the ruling regime at the Centre, and in the Cordelia Cruise drug case they key accused is the son of an actor who is routinely accused by right-wing trolls of having "Pakistan connection" only because of his religion, the contention that this targeting of Aryan Khan is a way to deflect attention from the Mundra drug seizure needs further investigation. After all, memories are still fresh of how actor Ria Chakraborty was hauled over the coals by social media and even a section of the TV news media, who practically defamed her in yet another case of trumped-up drug charges.
Related:
Social media calls out soft coverage of massive drug seizure at Adani port at Mundra
Mundra Adani Port: NDPS court orders probe into heroin seizure
Guilty as charged: Investigators, judge, jury and executioners of TV news 'debates'
Social media hate machine goes into overdrive against Rhea Chakraborty