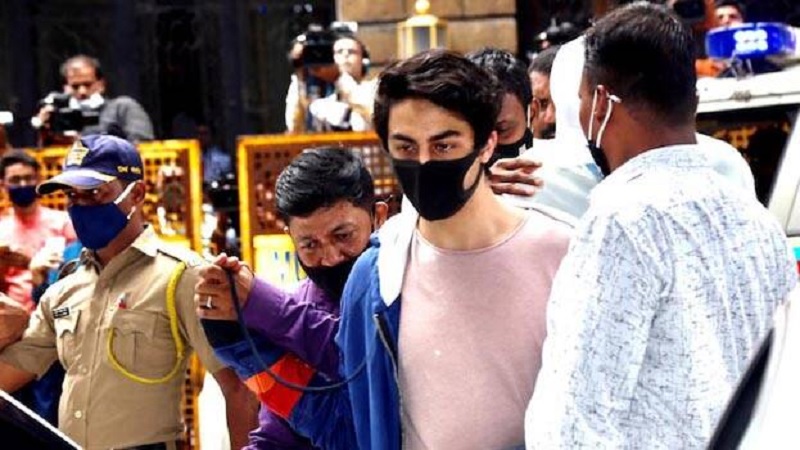 Image Courtesy:keralakaumudi.com
The Bombay High Court has granted bail to Aryan Khan, son of movie star Shahrukh Khan in connection with the drug bust aboard the cruise ship Cordelia. A single-judge bench of Justice Nitin Sambre also granted bail to his co-accused Arbaaz Merchant and Munmun Dhamecha. The trio is likely to be released tomorrow after the operative part of the order detailing terms of bail is likely to be pronounced.
As we have reported previously, the cruise ship Cordelia, was supposed to set sail from Mumbai to Goa at 4 P.M on Saturday, October 2, 2021 and passengers had been asked to reach by 2:30 P.M. After receiving a tip off, officers of the Narcotics Control Bureau (NCB) posed as passengers and conducted a raid.
Aryan Khan and co-accused Arbaaz Merchant reached the spot and crossed the Central Industrial Security Force (CISF) check point at around 3 P.M. It is noteworthy that Aryan Khan was intercepted at the terminal even before he could board the ship. He was interrogated and searched by the NCB officials. Though no drugs were found on Khan, 6 grams of charas were allegedly found on Merchant. Khan's phone was confiscated, and NCB officers then took him to the NCB office where he was detained till an FIR was registered the following day. He was arrested under Sections 8(c), 20(b), 27, 28, 29 and 35 of Narcotic Drugs and Psychotropic Substances (NDPS) Act.
Meanwhile, the ship was prevented from setting sail while NCB officials raided and searched it for drugs. The raid lasted till 2 A.M on October 3. Eventually they seized 13 grams of cocaine, 5 grams of mephedrone MD, 21 grams of charas and 22 MDMA pills that were recovered from three spots: two rooms and the ship's lobby. Subsequently as many as 20 people were arrested in connection with the case including Munmun Dhmecha and employees of an event management company.
Khan was arrested on October 3 and remanded to NCB custody till October 7. Thereafter he was remanded to judicial custody and was lodged at Arthur Road Jail. A special NDPS court rejected Khan's bail plea, prompting him to move High Court.
Bar and Bench reports that on Thursday, October 28, Additional Solicitor General Anil Singh, representing the NCB, submitted before the High High Court, that the case against the accused is not for consumption but for 'conscious possession and plan to consume'. He further submitted that the total quantity of drugs recovered was a "commercial quantity". The NCB has relied on Whatsapp chats between Aryan and his friends to claim that they had planned to consume the drugs while on the cruise. The NCB opposed grant of bail to Khan saying he was an influential person and could tamper with evidence if released on bail.
Meanwhile, on October 26, Mukul Rohatgi, appearing for Khan, had argued that Khan cannot be held liable as the drugs were not recovered on his person, but from within the shoes of Arbaaz Merchant. He also submitted that the Whatsapp chats were from 2018 and had nothing to do with the case. Meanwhile, Arbaaz Merchant's lawyer Senior Advocate Amit Desai shot down the NCB's attempt to use the "umbrella charge of conspiracy", something the trio wasn't charged with at the time of their arrest. He also argued that even if the charge of "personal consumption" sits against his client, the maximum punishment is for one year and in such a case bail is the norm, and arrest is the exception in line with the Arnesh Kumar judgment. Munmun Dhamecha's lawyer argued that no drugs were recovered from her person, and rolling paper was recovered from Somiya, who along with Baldev was among the people who were present in the same room with Dhamecha at the time of the raid. However, Somiya and Baldev were allowed to go!
Related:
Cordelia Cruise Drug Case: Mumbai lawyer files complaint with Police Commissioner
Social media calls out soft coverage of massive drug seizure at Adani port at Mundra
Mundra Adani Port: NDPS court orders probe into heroin seizure