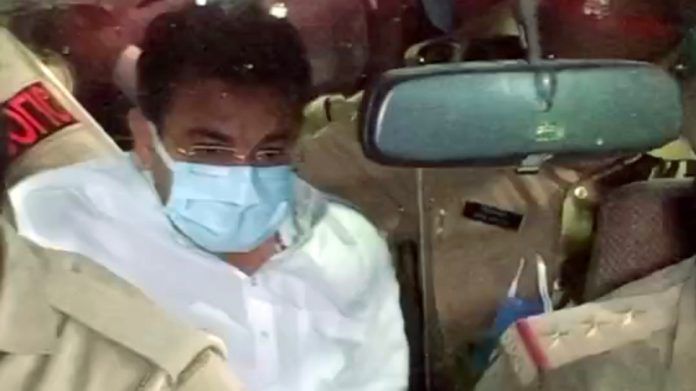 Image: ANI

The Chief Judicial Magistrate, Chinta Ram, of a district court in Uttar Pradesh has denied bail to Ashish Mishra, accused of murdering four farmers, and one journalist in Lakhimpur Kheri on October 3.
In a video that was circulated online, protesting farmers were seen being mowed down by a four-wheeler owned by Mishra, son of Union Minister of State (MoS) in the Ministry of Home Affairs (MHA) Ajay Mishra Teni. Ashish was formally arrested on October 9, nearly 5 days after the incident. According to DIG Upendra Aggarwal, Mishra was arrested for non-cooperation and evasive replies. As per media reports, he has been sent to 14 days of judicial custody.
Meanwhile, two more accused persons, Ankit Das and his bodyguard Latif alias Kale were arrested by the Uttar Pradesh police. Das is reportedly the nephew of a former Congress Member of Parliament, late Akhilesh Das and is said to be a close aide of prime accused Ashish Mishra. According to an IE report, Ankit Das's driver Shekhar Bharti was also apprehended by the Police. Shekhar Bharti was reportedly driving the black Fortuner behind the Thar Mahindra that hit the protesters in Lakhimpur Kheri.
Ashish Pandey and Luvkush Pandey are the other two accused persons in the case, who have been arrested, taking the arrest toll to 6 people. The Uttar Pradesh government on October 7, 2021 appointed retired Allahabad High Court Judge Pradeep Kumar Srivastava to look into the eight deaths that took place in Tikunia village of Lakhimpur Kheri. The Additional Chief Secretary Awanish Awasthi has instructed the single-member enquiry commission to complete the investigation within two months.
On the same day, October 7, the supreme court had expressed its dissatisfaction over the handling of the investigation by the UP administration. As we have previously reported in SabrangIndia, the court had said, "We are not satisfied with the actions of the State." The 3 judge Bench was unhappy to learn that the main accused, Ashish Mishra, had not been arrested yet, despite clear eye witness statements. After this hearing, the six arrests were made.
The matter before the supreme court will now come up on October 20.
Related:
We are not satisfied with UP Government's actions: SC on Lakhimpur Kheri incident
Lakhimpur violence: SC asks UP Gov't to provide details of the FIR, number of arrests made
Lakhimpur Kheri: Accused Ashish Mishra arrested on Saturday
Lakhimpur Kheri: How does a journalist's death not make it to the headlines?