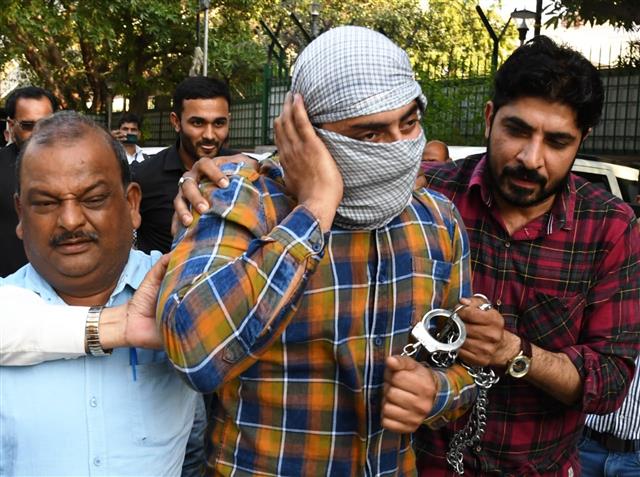 A Delhi Court (Karkardooma) denied bail to Shahrukh Pathan, who pointed a gun at a police officer during the North East Delhi riots noting that the gravity of the offence and the allegations against him were "quite grave".
As per the prosecution's story, the accused/applicant Pathan was caught brandishing a pistol with the audacity of firing at police personnel Deepak Dahiya who was deputed near the Jafrabad metro station on February 24, for law-and-order arrangements. The Additional Sessions Judge Amitabh Rawat noted that, "The accused is alleged to have participated in the riots and has been duly identified. His picture speaks volumes about the involvement and the conduct of the accused on the said day."
The prosecution contended that a huge crowd had unauthorisedly gathered protesting the Citizenship Amendment Act beneath the metro line at Jafrabad. The people in the crowd carried stones, bottles and pistols and eventually resorted to stone pelting. The public prosecutor submitted that the sensational incident was captured by a journalist on his mobile phone, which became breaking news on all channels and newspapers.
Thereafter, Shahrukh Pathan absconded but however, after a concerted effort, he was arrested by the team of Crime Branch on March 3, last year from Shamli Bus Stand, Uttar Pradesh on the basis of 'secret information'. The State submitted that the illegal weapon along with two live cartridges and the shirt worn by him at the time of the incident was also recovered from his home on March 5 during police custody remand.
But Shahrukh Pathan submitted that he has been made a "poster boy" by the Government and that he has been languishing behind bars for the past 10 months. He argued that the statement of the complainant Deepak Dahiya, in this case, is contradictory in terms of various news clippings and statements under Section 161 of the Code of Criminal Procedure.
Pathan's counsel argued that as per the complainant, he was never shot at and thus, section 307 (attempt to murder) of the Indian Penal Code cannot be invoked against him. The ASJ examined the arguments provided by both parties and held that serious charges have been invoked against the accused and even his presence at the riot spot has been established through the CDR location.
The court remarked, "Going by the conduct of the accused and the manner in which he absconded and was arrested later on, suggests that he is a flight risk." The court held that in bail matters, the statements made by the complainant/ police officer are not relevant and only the contents of the charge sheet and documents/ annexures have to be looked at.
Finally, the court held that at this stage, "if there are minor discrepancies…its is not material". Accordingly, Shahrukh Pathan's bail application was dismissed.
The order may be read here:
Related:
Delhi Riots: 63-year-old accused gets bail from Delhi HC
Delhi riots accused granted bail as eye witness account recorded after "humongous delay"
Faizan police brutality case: Delhi HC directs police to file affidavit on working CCTV cameras