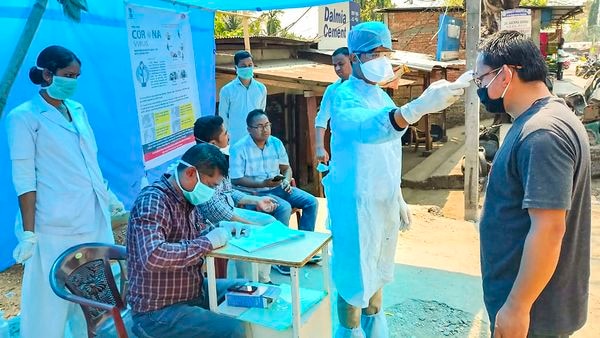 Even as the eastern Indian state of Assam appears to be gradually recovering from floods that affected over 28 million people in 31 of its 33 districts, the coronavirus still remains a clear and present threat to its people.
At present, as per the official Assam government website dedicated to Covid-19 updates (https://covid19.assam.gov.in/) the state has 50,455 confirmed cases out of which 14,429 are active, 35,892 people have recovered, 121 people have died and 3 have migrated to other states.
The worst affected districts are:
| | | | | |
| --- | --- | --- | --- | --- |
| District | Confirmed | Active | Recovered | Deceased |
| Kamrup Metro | 16,105 | 4,720 | 11,336 | 46 |
| Jorhat | 2,155 | 576 | 1,569 | 10 |
| Nagaon | 2,175 | 385 | 1,688 | 2 |
In light of this, the All Assam Students Union (AASU) has demanded that the state government put together a comprehensive relief package to not only address health concerns, but also alleviate financial distress.
Tweeting from his official handle on July 29, Dr. Samujjal Bhattacharjya, Chief Advisor, AASU, said, "The Pandemic has not only caused health adversities but also financial distress. Daily wage earners, Farmers, Vendors, local Entrepreneurs, Media Houses, Advocates, Entertainment industry, Sportspersons etc bear the brunt. Urge @mygovassam to announce financial package for those affected."
At present, Covid-19 also poses a grave threat to the families who were evacuated from flood affected areas and are presently living in relief camps. An estimated 44,000 families are living in 276 relief camps. The state's resources are stretched thin and Covid warriors are doubling up as flood relief providers.
However, the state government has stepped up testing in the state. On August 4, Health Minister Himanta Biswa Sarma tweeted, "In pursuit of our commitment to contain COVID 19 infections in our state, today we have completed 59,064 number of tests. By far, this is the highest number of tests we have achieved in a single day. For the next ten days, we will continue with massive testing across the state."
On July 22, the central government had announced a Rs 346 crore flood relief package, but that only addresses one of the calamities affecting the state. Luckily, the flood situation appears to be improving with water levels in inundated areas beginning to recede.
Earlier this year as a part of a nationwide Rs 3 lakh crore package for Micro Small and Medium Enterprises (MSME) in wake of the Covid-19 pandemic, the Assam government received Rs 933 crores that were allocated to 28,000 MSME units in the state. However, given the nature and scope of the devastation caused, the people of Assam need a dedicated Covid relief package that addresses both health and economic issues.
Related:
First Covid, now floods; NRC work still on hold in Assam
Floods wreak havoc on 31 out of 33 districts in Assam