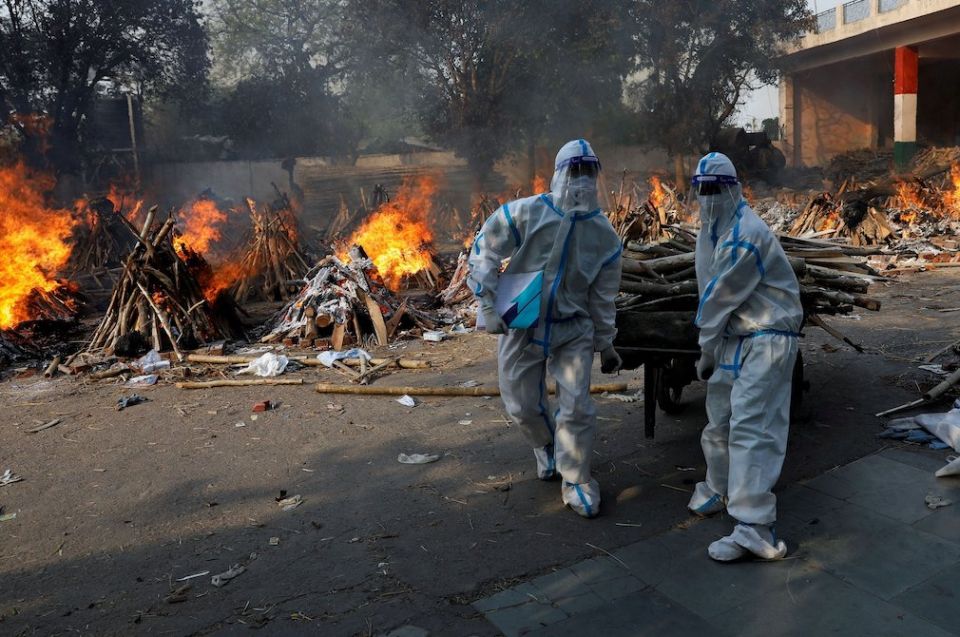 Image: Reuters/Adnan Abidi
2021 was a particularly daunting year for India's healthcare sector. Barely recovering from the first wave of Covid-19, hospitals, medical colleges and healthcare workers reeled under the onslaught of the second wave. And the battle is far from over.
On December 14, 2021, World Health Organisation (WHO) Director-General Dr. Tedros Adhanom Ghebreyesus warned all nations about the dangers of the new Omicron variant, especially warning against people's dismissive attitude towards a so-called "milder" variant that is actually more infectious than its predecessors and spreading at a speed not seen before.
"Surely we have learnt by now that we underestimate this virus at our peril. Even if Omicron does cause less severe disease, the sheer number of cases could once again overwhelm unprepared health systems," he said.
India has already paid the price for its complacence earlier this year, when after a significant drop in cases, people began to take a rather lackadaisical attitude towards Covid-19 protocols pertaining to hand hygiene, wearing masks and maintaining social distancing.
At present the efficacy of existing anti-Covid vaccines against new variants is still unclear, with some countries asking citizens to get booster shots. Let us take a look back at this year at key mistakes, we must strive to avoid in the coming year.

January
As the first wave of Covid-19 subsided, India focused its attention on its vaccination programme that began from January 16 with two options for vaccines – Astra Zeneca's Covishield and Bharat Biocon's Covaxin.
However, even before that, several concerns were raised during clinical trials. It was alleged that in some cases, people were being used as guinea pigs, particularly when the All India Drug Action Network (AIDAN) pointed out the hasty manner in which the vaccines were made public. Prior to January 16, Bhopal Gas Tragedy survivors and other city residents alleged that they were forced into participating in the third phase of the Covaxin trial without receiving a consent form. Moreover, they were allegedly neither informed about the trial, nor were they told about side-effects.
The first group of people to be vaccinated were healthcare and frontline workers, followed by the elderly. The vaccination was made available to younger people in stages. By January 25, India vaccinated more than 1.6 million healthcare workers. On the following day, India reported a record low of 9,100 new cases. During this month Modi even addressed the World Economic Forum's Davos Dialogue and boasted about how India successfully averted the "tsunami of Covid-19 cases". He hailed the country for the rapidly declining cases.

February
The first half of the month further placated anxieties, with an average daily new case count of below 9,000 cases. According to WHO, India had recorded total of 1.10 crore cases by February 22, with only 10,584 confirmed cases on that particular date. With such favourable data, the BJP-led government at the Centre as well as some states, decided it was safe to permit holding of religious festivals like the Kumbh Mela, and event that sees lakhs of devotees congregate together at one spot. Though this is certainly dangerous as it can enable quick and easy spread of the virus, the regime had its eye on upcoming elections in key states.
On February 25, the State of India's Environment 2021 report said that 375 million children in India will suffer Covid-19's after-effects such as being under-weight, stunting, loss of education and work productivity.
March
The upward trend began once again, as WHO data recorded 26,291 confirmed cases over 24 hours on March 15 and 1.13 crore confirmed cases cumulatively. Overall, 1,58,725 deaths were reported by then.
The WHO claimed that nearly 3 crore vaccine doses were administered in India halfway into the month, with the highest single day vaccination of over 20 lakh doses. However, a parliamentary panel on March 16 noted that less than one percent of the Indian population was vaccinated till date.
By March 29, India reported 1.20 crore total confirmed cases and 68,020 confirmed cases within the previous 24 hours. As many as 1,61,843 people had died in India due to Covid-19 by that date. The five states of particular concern were Maharashtra, Kerala, Karnataka, Andhra Pradesh and Tamil Nadu, contributing more than 54 percent of total cases.
In reaction to this resurgence, several states jumped into action. Parts of Maharashtra declared night curfew by March 11. Later, a fire at Sunrise hospital in Mumbai on March 26 killed 10 patients, highlighting other failures of the healthcare infrastructure.
Punjab and Uttar Pradesh closed various educational institutions till March 31. However, Islamophobia shone through the latter state even during the second wave when 40 mosques in Shahjahanpur were covered with plastic sheets ahead of Holi to "maintain peace".
Of course, all these efforts proved futile once the Centre directed the Uttarakhand government to follow "strict Covid-19 spread prevention measures" for the upcoming Kumbh Mela instead of cancelling the event. This was a body blow to both, healthcare and secularism.
April
By April 5, India recorded over one lakh cases in 24 hours. Maharashtra government and activists called for stringent lockdown guidelines after reporting high number of Covid cases. The decision brought on the ire of many local businesses that suffered greatly during the lockdowns and demanded a long-term solution from the government.
With anxieties rising and as many as 71 vaccination centres shutting down in Mumbai alone, it would have been desirable if the Centre had worked with state governments to address concerns. Instead, BJP, Congress and other state governments engaged in an enthusiastic blame game with even Union Minister Harsh Vardhan – a public service official – criticizing the Maharashtra government and citizens for the rise in Covid-cases. Political parties continued rallies around the time of the Assembly elections and ignored Covid-19 norms while the country suffered a shortage of Remdesivir, vaccines, oxygen supply and beds.
Meanwhile, the Centre stayed mum on the massive Kumbh Mela gathering where devotees went for holy dips in large groups, abandoned their masks and then returned to states where hospitals struggled with further spread of infection. Many hospitals also faced the ire of the very families who came seeking medical help for their kin, when people could not be saved due to shortages of essential medicines, oxygen or non-availability of beds.
In Uttar Pradesh, primary school teachers were forced to engage in gram panchayat election duties that resulted in the death of 1,621 teachers and workers.
Tired of government failures and rising concerns of Covid-variants like the Bengal virus the public took matter in their own hands. Minority communities and people active on social media worked together to provide oxygen to at-home patients. But UP Chief Minister Yogi Adityanath, saw this as the exposure of his administration's failure to help people, and instead of improving the quality of services or arranging for adequate resources, threatened that a First Information Report (FIR) will be filed against any person asking for oxygen supply over social media.
In other regions, farmers at protest sites provided food to migrating labourers. The Tamil Nadu government on its parts allowed the partial reopening of the Sterlite plant to address oxygen shortages.
As India moved into the next month, news reports started focusing on the unsettling fact that Covid-deaths in India were grossly under-counted. Using available data and on-ground voices, SabrangIndia covered the sorry state of affairs in cremation and burial grounds in Madhya Pradesh, Uttar Pradesh, Gujarat, Maharashtra and Karnataka among other states.

May
With 3,78,075 (Day Moving Average) new cases, the WHO reported India accounted for 47 percent of new cases globally on May 5, 2021 with 2.22 lakh deaths in the country. Oxygen shortage became a concern to the point that the Supreme Court and high courts were instructing governments about distribution of medical supplies and essential drugs, and questioning the Centre about exorbitant prices.
The apex court even asked the Centre to revisit its vaccine policy so that it withstood scrutiny of Articles 14 and 21. Meanwhile, anger against the BJP government was rising. In Uttar Pradesh, the party lost panchayat polls in Ayodhya, Mathura and Varanasi. In response Adityanath focused his attention on the protection of cows, providing help desks, oximeters and thermal scanners in gaushalas.
CJP Team's ground reports in Purvanchal presented how the eastern region was struggling to survive the second wave, highlighting the callousness of the government. Around May 12, the situation worsened to a point where bodies from various states were being thrown into the Ganga river and even as some people working in Gujarat's cow shelters were encouraging people to consume cow urine and dung.
At this point, the Centre decided to allow state governments to procure 50 percent of vaccine doses directly every month from private players. The move threw the "tika mahotsav" into complete turmoil with doses now becoming a distant possibility for the disadvantaged groups.
In light of all this, the Bombay High Court responding to a PIL, slammed the Centre about faulty ventilators that were reportedly bought with funds collected under the PM CARES Fund. The Bench also criticised officials for defending the incident in the government's affidavit. Similarly, the Uttarakhand High Court berated the state government for its lack of planning for the second wave. The Allahabad High Court called the Covid-related deaths, "not less than genocide".
Among the few governments that avoided public ire was the Kerala government that decentralised its Covid-19 management, with local bodies and found novel methods of bringing down the upward trend of cases.
As CJP had reported during this period, the State Assembly elections became the hindrance in the continued efforts of the administration to keep Covid spread in check and compelled the newly elected governments in these states to enforce a lockdown. It is noteworthy that Kerala was one of the few states, which had not faced oxygen shortage until May 2021. In the past year, Petroleum and Explosive Safety Organisation has made concerted efforts to set up oxygen plants and maintain the existing ASU (Air Separation Unit) plants and manufacturing plants both in public and private sectors.
Finally, life returned to some degree of normalcy by May 26 when less than 2 lakh new cases were reported for the first time in 40 days.
Summarising the second wave of Covid-19 in India, CJP reported in May 2021, that the second wave caught the Centre as well as States completely unawares. It also revealed an absence of scientific and rational understanding of a worldwide pandemic among members of the administration. Worldwide, even as other countries and societies experienced a second wave, India gloated about coming out of the pandemic. This attitude showcased the unpreparedness of governments and the callous complacency that set in due to a brief dip in cases which was not in tandem with increasing administration of vaccination doses to the maximum number of people.

The road ahead
As 2021 draws to a close, one must pay heed to Dr. Ghebreysus's warning that the battle with the virus is not over. However, it is more important for citizens to reassert their right to public health. The Supreme Court interprets the Right to Health as a part of Article 21 and thus a part of our fundamental rights.
Before the Omicron wave arrives in full force, the Centre must ensure that this time we are not crippled by a severe shortage of hospital beds, oxygen and life-saving medicines. More funds need to be allocated for India's healthcare, especially in the rural regions. Most of all, India needs to learn from its people, who came together to help each other in times of crisis, and the regime must put aside its communal agenda and the tendency to blame and marginalise minority communities in India.
After consulting with experts, CJP volunteers agreed that one of the most important strategies to reduce out-of-pocket expenditure for people who do end up contracting the virus, is to strengthen the primary health care system. Rather than privatising healthcare, the administration should focus on strengthening primary healthcare services and improving public health infrastructure.
Sabrang Related:
Is the right to health a forgotten constitutional mandate?
Covid-19: Which Indian states tackled it effectively and how?