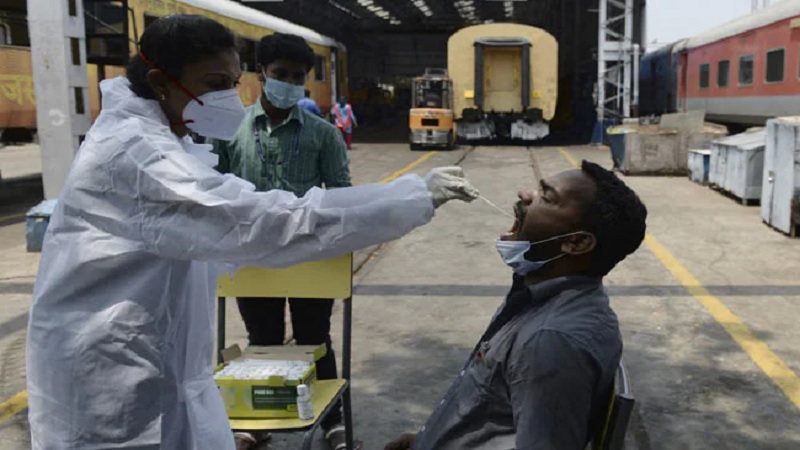 Image Courtesy:ndtv.com
As the week drew to a close, Covid-19 cases continued to rise across the country. On Saturday, over 1,45,384 new infections were reported in the last 24 hours. This is the fourth consecutive day that India has recorded more than 1 lakh cases in a 24 hour period. The number of active Covid-19 cases in the country have now crossed the 10 lakh-mark.
As states continued to alert the Centre of impending vaccine shortages, Congress chief Sonia Gandhi on Saturday said that the Narendra Modi government has mismanaged the situation in the country. Gandhi blamed the Centre of exporting the vaccines and thus allowing "a shortage to be created in India." She held a video conference with chief ministers of Congress-ruled states and said the focus must be on India's vaccination drive first and foremost, and only then should the government "export vaccines and gift them to other countries."
Remarks of Congress President, Smt. Sonia Gandhi at a meeting of Congress ruled States & Congress Ministers from our alliance States to review the efforts to fight COVID-19 including availability of vaccines, access to medicines & ventilators. pic.twitter.com/fvJWhzrNO9

— Congress (@INCIndia) April 10, 2021
She also called out "mass gatherings and religious events" saying that they added to the rise in coronavirus cases. She asked the Congress-ruled states to "make all efforts to support those who have faced the brunt of reduced economic activity as the restrictions become harder and more stringent."
Ironically, on the same day Union Health Minister Dr Harshvardhan who had earlier lashed out at the Government of Maharashtra, and blamed citizens for the rise in cases, was busy promoting visuals of Prime Minister Narendra Modi's election rally in West Bengal, where many unmasked supporters were seen crowding together. West Bengal has over 18,603 active Covid-19 cases at the moment.
Watch Now!

Hon'ble PM Sh @narendramodi Ji addresses #PublicMeeting at #Krishnanagar, #WestBengal#PMInWestBengal @PMOIndia
https://t.co/Ba1eiJsKZI

— DrHarshVardhanOffice (@DrHVoffice) April 10, 2021
Maharashtra, the state that has been asking for more vaccine doses, and instead has been attacked verbally by many senior ministers, has begun the weekend lockdown. According to a report in The Indian Express, private vaccination centers will remain closed in Mumbai till Monday, however, government vaccination centers will remain open in the city. Prithviraj Chavan, Member of the Maharashtra Legislative Assembly and former CM, has also alleged, "The central government has not only failed to provide vaccines to Maharashtra but also to provide important medical equipment during the Corona period. According to Lok Sabha data, N95 masks, PPE kits and ventilators have been provided by the central government in Gujarat and Uttar Pradesh with a busy population."
महाराष्ट्राला फक्त लसी देण्यातच नाही तर कोरोना काळात महत्वाची वैद्यकीय उपकरणे देण्यातसुद्धा केंद्र सरकारने दुजाभाव केला आहे. लोकसभेतील आकडेवारीनुसार गुजरात आणि उत्तर प्रदेश राज्यात रुग्णसंख्येच्या व्यस्त पटीने N95 मास्क, पीपीई किट्स आणि व्हेंटीलेटर्स केंद्र सरकारने दिले आहेत. pic.twitter.com/MdYDR4Ly3W

— Prithviraj Chavan (@prithvrj) April 10, 2021
Meanwhile in Delhi where rumours of an impending lockdown made migrant workers pack their bags and start heading home again, Delhi Chief Minister Arvind Kejriwal ruled out the possibility of a lockdown. However he said that new restrictions will be implemented soon, and added that Delhi currently has seven to 10 ten days of Covid vaccine stock. Kejriwal told the media on Saturday, "If we are provided with enough vaccine doses, the age bar for vaccination is removed and we get approval to open more vaccination centers on a larger scale then we can vaccinate people within 2-3 months in Delhi. Currently, we have vaccines for 7-10 days. There will be no lockdown. New restrictions will be imposed soon."
Other places which have already implemented night curfews and partial lockdown include Gujarat, Madhya Pradesh, Chhattisgarh, Karnataka, Uttar Pradesh Noida and Ghaziabad, Punjab, Jammu and Kashmir and Odisha.
Related
Calling it "Corona curfew" instead of "lockdown" does little to allay fears
Uttar Pradesh government hospital give anti rabies shots to 3 who came for Covid-19
Covid-19: 71 Vaccination centres shut in Mumbai, shortages reported elsewhere too
Political blame game continues as Covid-19 infections rise making India 3rd worst hit