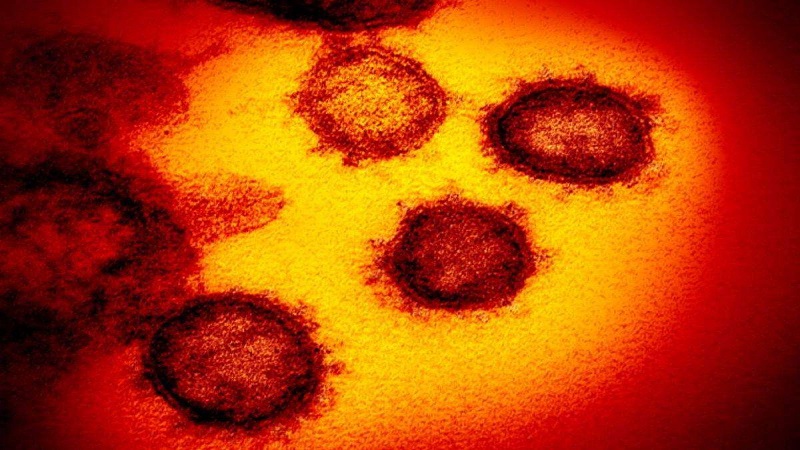 Image Courtesy:timesofindia.indiatimes.com
The Supreme Court has once again led the fight against the devastation unleashed by Covid-19 and has asked the Centre to prepare for the "third wave" of the pandemic. According to media reports, the courts told the Centre to create "a buffer stock" of medical oxygen across the country. According to a report in Bar and Bench Justice DY Chandrachud said in connection with the predicted third wave that "if we prepare today, we may be able to handle it. Whatever stocks procured needs to be sent to the hospitals. It's not about allocating it to the state but also the logistics to see that it is distributed to hospitals." The SC was hearing the Centre's response to non-compliance of its direction to supply 700 MT of oxygen to Delhi.
India, on Thursday has reported 4,12,262 new Covid-19 cases and 3,980 deaths in the last 24 hours period. With multiple 'corona curfews' and 'weekend lockdowns' across the country, the Kerala government has now announced a full lockdown from May 8 to May 16.
According to the government's Principal Scientific Adviser Dr K Vijay Raghavan, the third wave or "Phase three is inevitable given the higher levels of circulating virus, but it is not clear on what time-scale this phase three will occur. We should be prepared for new waves." Dr Raghavan was speaking at a government briefing and added that even the vaccines will need to be "updated" to counter the new strains of C0vid-19 that have claimed many lives and overwhelmed the health care system of the country. However, when this dreaded third wave or phase-3 will show itself, it is not yet predicted. According to a report in NDTV, "medical experts say India's actual figures could be five to 10 times the official tallies".
Government busy with ' Effective Communications' when an emergency response is needed?
Meanwhile, as reported by the Hindustan Times, around 300 senior officials of the central government participated in a workshop titled 'Effective Communications'. This was conducted by Abhishek Singh, CEO of MyGov, and was largely "aimed at helping them "create a positive image of the government", manage "perception through effectively highlighting positive stories and achievements", and making the government "be seen to be sensitive, bold, quick, responsive, hard-working etc"," reported HT.
During the virtual workshop, where Union Information & Broadcasting minister Prakash Javadekar spoke to the participants, and according to HT he was "emphasising the need to focus on positive news." The message must have hit home, as the official information shared with the media is now mostly about reporting review meetings conducted by Prime minister Narendra Modi.
Reviewed various aspects of the COVID-19 response in the states and districts, including the ongoing vaccination drive and augmenting health capacities. https://t.co/WcqG6U4yuI

— Narendra Modi (@narendramodi) May 6, 2021
Another 'positive news' example shared by PIB, was on how "PMCARES has allocated funds for the installation of 500 Medical Oxygen Plants across the country. These plants are planned to be set up within 3 months. In all, five high flow medical oxygen plants will be installed at AIIMS Trauma Centre, Dr Ram Manohar Lohia Hospital (RML), Safdarjung Hospital, Lady Hardinge Medical College, and AIIMS, Jhajjar, Haryana."
Other 'positive news was shared after Union Minister of Chemicals & Fertilisers Shri D.V Sadananda Gowda chaired a meeting to "review availability of drugs for covid treatment and other essential drugs" and "appreciated the efforts of all seven manufacturers of Remdesivir for increasing the production capacity to 1.03 crore vials per month, up from 38 lakh vials per month a month ago." According to the minister an "allocation of 16.5 lakh vials of Remdesivir has been made to all States for period between May 3 and May 9", and since April 21, "a total allocation of 34.5 lakh vials has been made so far."
Yet social media is full of SOS cries for the drug, as well as ventilator beds, oxygen beds, even ambulances. The most 'positive' of all 'news' is how the Government of India has "so far provided nearly 17.02 crore vaccine doses (17,02,42,410) to States/UTs", for Free! And how India's Covid-19 vaccination drive is moving speedily when compared to other nations. Here is an example: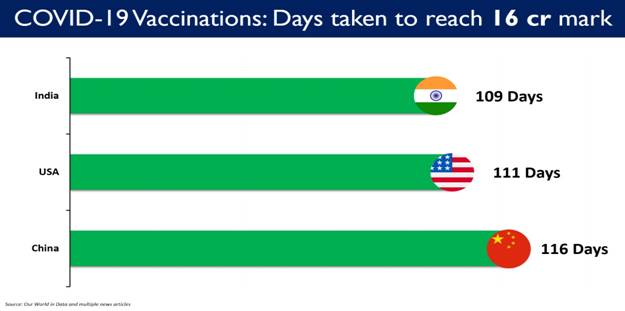 However, the fact remains that many states including Maharashtra, Uttar Pradesh, Delhi, Karnataka,Kerala,Haryana, West Bengal, Tamil Nadu, Andhra Pradesh and Rajasthan continue to report large numbers of new Covid-19 cases. But the Centre reminds us all that the "National Mortality Rate has been falling and currently stands at 1.09%.3,780 deaths were reported in the last 24 hours."
Related:
What is the purpose of Tejasvi Surya's communal tilt to BBMP "bed blocking scam"?
Covid-19: Assam struggles as 90 Tea Garden workers test positive
Hauling up officers won't bring oxygen: SC stays Delhi HC's contempt notice to Centre
Uttar Pradesh: CM Adityanath gives special attention to cows, as citizens battle Covid-19