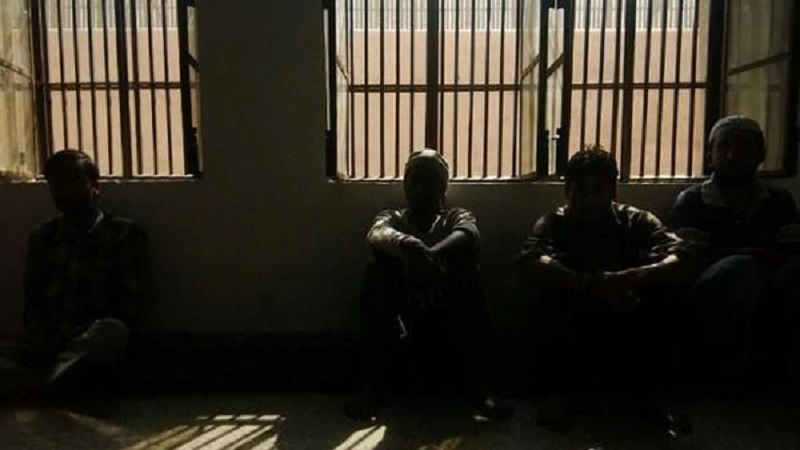 Image Courtesy: livemint.com
Keeping in mind the spike in coronavirus cases in India and the threat of community transmission, state governments are continuing to comply with the Supreme Court order on decongesting prisons in order to reduce the rapid spread of coronavirus there.
Uttarakhand
Madan Kaushik, State Cabinet Minister of the Uttarakhand government said that it had plans to release 855 prisoners on parole for a duration of six months from 11 jails in the state. The 11 jails have a capacity of 3,540 prisoners but currently are overcrowded with around 5,748 inmates found an RTI query. PVK Prasad, IG of Police (Jails) Uttarakhand said that the administration has informed the respective district administrations and police departments to make arrangements "to take the inmates to their homes", the Hindustan Times reported.
Prasad also informed, "All the jail staff and inmates are maintaining social distance inside the jails. Also, jail premises are being cleaned every six hours to ensure cleanliness with the staffers working with masks and gloves."
Saying that "so far there has been no infection in jail", Prasad also said, "We have also set up two quarantine wards, including one in the jail and other in the doctor's room. If any inmate develops any symptoms of the deadly virus then he or she would be quarantined there only. We are also quarantining any inmate who is coming to jail for 15 days before allowing him to go among the other inmates lodged inside."
Akola, Maharashtra
As many as 60 prisoners were released on bail from the Akola district jail following a health check-up on Monday, reported The New Indian Express. The jail administration has taken various measures to protect detainees from the pandemic, an official said. Prisoners were given masks, visits from family were suspended and court proceedings were held over video- conferencing, he added.
Madhya Pradesh
The Times of India reported that the Madhya Pradesh government could release an approximate of 12,000 prisoners on parole to decongest jails. Those who were looking to walk free on August 15, could taste freedom early. As opposed to the capacity of 25,000 inmates, the jails in Madhya Pradesh currently house 45,000 prisoners. DG Jails, Sanjay Chaudhary said that under emergency parole rules, the government would provide a 60-day maximum parole to eligible convicts. Men over 65, women over 50 and women who are pregnant or with children in jail would be considered for emergency release.
West Bengal
Over 3,000 undertrials and convicted prisoners have been freed by the West Bengal government said a senior minister on March 31. Correctional Services Minister Ujjal Biswas told IANS, "On Monday, 3,076 inmates from 60 correctional homes were released. Due to the ongoing lockdown in the country, the freed jailbirds are being driven to their respective homes by the correctional home administration by following all norms of hygiene and social distancing."
Out of the 3,076 prisoners, 2,059 were undertrials who were granted interim bail and 1,017 were convicts who were freed on a three-month parole. Biswas also informed that the prisoners were going to be taken back home in special vehicles.
Agra, Uttar Pradesh
One of the country's most overburdened prison systems, the Agra district jail released 71 prisoners, including 60 men and 11 women, who faced relatively minor charges like dacoity and theft, The Print reported. The jail administration said they were released on short-term bail for 56 days.
In total, the Uttar Pradesh government plans to release 11,000 prisoners lodged in 71 jails across the state. The committee constituted to work on the SC orders directed under-trials lodged in 71 jails of the state in crimes, whose maximum punishment is of 7 years, be given 8-week interim bail on a personal bond, and immediately freed from the jail, News 18 reported.
According to the UP government, there are around 8,500 under trials and 2,500 convicts in the jails across the state.
Jammu and Kashmir
Kicstarting the process of releasing prisoners to decongest prisons, The Jammu and Kashmir administration revoked the detention of 31 people who were booked under the Public Safety Act (PSA) at the Srinagar Central Prison, The Print reported. The 31 inmates were ordered to be released in to batches of 14 and 17 respectively. A senior police officer said, "For now the administration is looking at those individuals booked under the Public Safety Act (PSA). However, there are other prisoners, not necessarily booked under PSA, who would be released as well. This is in compliance with the Supreme Court directions passed last week."
However, politicians like former J&K CM Mehbooba Mufti, Shah Faisal, PDP leader Naeem Akhtar and National Conference General Secretary Ali Sagar continue to remain under detention.
Haryana
The Haryana government released around 1,600 prisoners confined in various jails across the state, reported The Times of India. Haryana IG (Prisons) Jagjit Singh told TOI, "Till Monday, we released around 1,600 prisoners from Haryana jails. It is expected that around 4,000 prisoners would be released from jails within a week, in accordance with the instructions." On March 25, the state government had announced that convicts already on parole or furlough would be given a four-week extension. Convicts who have already availed parole or furlough before and completed the duration peacefully, would be given a fresh one-time six-week special parole.
All convicts above the age of 65 (except those booked for large recovery of drugs under NDPS Act and POCSO, Section 379-B (snatching), rape or acid attacks) would be granted a six-week parole. No foreign national would be entitled for the same.
Convicts with good behaviour who don't face a sentence of more than seven years or who don't have a fine due, would too be considered for release.
Assam
As many as 722 undertrial prisoners have been released from Assam jails in an effort to decongest the jails to fight the Covid-19 outbreak, reported The North East Today.
"A high-level committee has been constituted, which has already arranged for the release of many prisoners, and added that many are yet to be released," Guwahati Police Commissioner Munna Prasad told the local media.
According to the reports, the Karimganj and Barpeta district jail authorities on Monday had released 30 undertrial prisoners. There are around 8,000 inmates in 31 jails in Assam, including six central jails, 22 district jails, one special jail, one open jail and one sub-jail.
Shillong, Meghalaya
94 undertrial prisoners from Shillong jail and eight children from observation home in Meghalaya, were released on bail on Tuesday following Supreme Court order to decongest prisons in view of COVID-19, a law officer said on Wednesday, reported the Nagaland Post.
Member Secretary of the Meghalaya State Legal Services, NA Khan said that the high-power committee discussed releasing the prisoners on bail, interim bail, and parole also deliberated on the present condition and preparedness of the Prison department to deal with congestion in district jails. According to prison department statistics, there are 1105 inmates in the five district jails of Shillong, Tura, Williamnagar, Jowai and Nongpoh. 174 prisoners were identified from the Shillong jail, which constituted 37.9 percent of the total population of Shillong jail.
The Shillong jail has a capacity of 170, but housed 459 inmates. Jowai jail had a capacity of 130 inmates, but housed 243 prisoners. Nongpoh District jail which has a capacity of 120 inmates, housed 179.
There are 193 inmates at Tura jail in West Garo Hills district against the capacity of 200 and Williamnagar Jail in East Garo Hills district which have a capacity to accommodate 50 prisoners is occupied by 31 inmates.
Visakahapatnam, Andhra Pradesh
74 prisoners, including seven women from the Visakhapatnam Central Prison were released on interim bail on Tuesday evening, reported The Times of India. The 74 prisoners included 53 remand and 21 convicted prisoners.
Kochi, Kerala
District jails have recommended the names of 122 prisoners to the Kerala Prisons and Correctional Services Department for temporary release due to the coronavirus outbreak, reported The New Indian Express. These 122 prisoners include 46 lodged in Muvattupuzha Special Sub Jail, 40 in District Jail at Kakkanad, 14 in Mattanchery Sub Jail, 10 in Ernakulam Sub Jail and 12 in Aluva Sub Jail.
Prisoners with more than one case against them, prisoners from other states and habitual offenders will not be released.
Gujarat
On Sunday, the Gujarat government announced that it would release 1,200 prisoners for two months on parole and interim bail to decongest prisons amid the Covid-19 outbreak, reported India Today.
On orders of CM Vijay Rupani, the Home Ministry has been asked to prepare a list of eligible inmates. The prisoners will be physically examined before being released and only the healthy will be sent home.
Odisha
Odisha DGP (Prisons) Santosh Upadhyay told The Hindu, "We have finalised names of 1,727 jail inmates who will be going on parole following a judicial process. We have already relocated 856 convicts to different jails."
The merits of undertrials would be checked on a case to case basis. Odisha currently operates 90 prisons with a capacity of 18,012 inmates. The authorities are trying to bring this number down by 2,000.
Related:
Akhil Gogoi granted bail, Maha and Punjab to release prisoners on bail due to Covid-19
Post SC order, Tamil Nadu government releases 1,184 prisoners to curb n-Cov 19 spread
SC suggests release of prisoners on parole, states yet to respond
Assam detention camps: Plea in SC to release inmates amidst Covid-19 outbreak