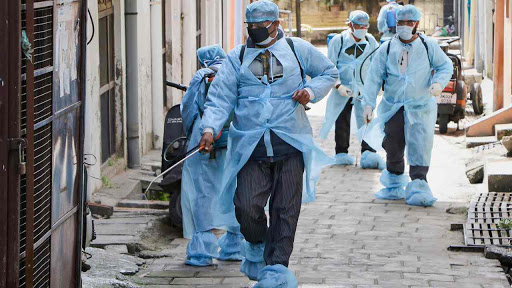 The Coronavirus outbreak in India has rendered its 1.3 billion strong population to be sitting ducks as they brace themselves for a 21-day lockdown in a bid to break the chain of the infection.
As the nationwide lockdown began on March 25, 2020, India's confirmed Covid-19 cases crossed the 600 mark with the total number of cases touching 606, out of which 43 have been cured 10 have lost their lives. Madhya Pradesh and Tamil Nadu reported their first casualties on Wednesday.
On Wednesday morning, 40 new cases of Covid-19 were reported from all over the country with new cases coming in from Mizoram, Maharashtra, Gujarat and Madhya Pradesh.
The tally of cases went up to 14 in MP, after five more people – residents of Indore and Ujjain, tested positive for the virus. A journalist covering former CM Kamal Nath's press conference was tested positive for the virus and asked to immediately self-quarantine.
Uttar Pradesh saw its first case of 'contact transmission', with a 33-year-old Pilibhit resident testing positive for coronavirus. The tally of cases in the state stands at 36.
In Gujarat, three new cases were reported with the total climbing up to 38.
Maharashtra, the worst-hit by the virus, saw cases jumping up to 122 after 15 fresh cases were reported on Wednesday.
After Manipur's first case yesterday, Mizoram has now recorded its first positive Covid-19 case.
Karnataka has now recorded 51 cases, Telangana 39 and Rajasthan 32. Delhi saw five fresh cases, taking the tally up to 35. Punjab reported 2 more cases on Wednesday, taking the tally up to 31. The Shahdara SDM has also asked all those present the Maujpur Mohalla Clinic between March 12 to March 18 to self-isolate after a positive case was reported from the clinic.
Jammu and Kashmir's count has climbed to seven after three new cases on Tuesday. After 2 new cases, the count in Bihar has risen to four.
Uttarakhand has five cases, Andhra Pradesh has seven, West Bengal has nine patients, Tamil Nadu has 23 including two foreigners, Haryana has 30 cases including 14 foreigners and Ladakh has 13 cases currently. The government of Uttarakhand has also announced free medical insurance for essential service providers.
The Assam government has taken to monitoring the health of its 750,000 tea workers as they remain functional and has enforced measures like asking pluckers to stand three meters away from each other, to ensure social distancing.
The Union Ministry has earmarked Rs. 15,000 to strengthen healthcare infrastructure. The Centre has also asked states and UTs to set up control rooms with helpline numbers to ensure availability of essential commodities. The Health Ministry has once again reiterated that there no 'community transmission' has taken place in India and also stressed that nobody should self-medicate.
The Central and state governments have condemned the ostracizing of medical staff by the people who fear they will spread the virus to the healthy public. They have asked people to show sensitivity towards frontline responders at this trying time.
The government has also deferred the Census and NPR data collection indefinitely until further orders.
Reports of high-handedness amid the lockdown have emerged after it was known that constables harassed and assaulted those providing essential services. The Indian Railways suspended all passenger trains till April 14. Freight movement will remain functional to carry essential commodities across the country, officials said.
The home ministry on Tuesday said those who violate the lockdown norms would be punished with imprisonment of up to two years and a fine or both.
(Sources – Business Insider, Firstpost, Livemint, India Today)
Related:
Covid-19 update: Positive cases cross 500, 11 deaths in the country so far
Covid-19 update: Positive cases over 400, 7 deaths; lockdown in 75 districts