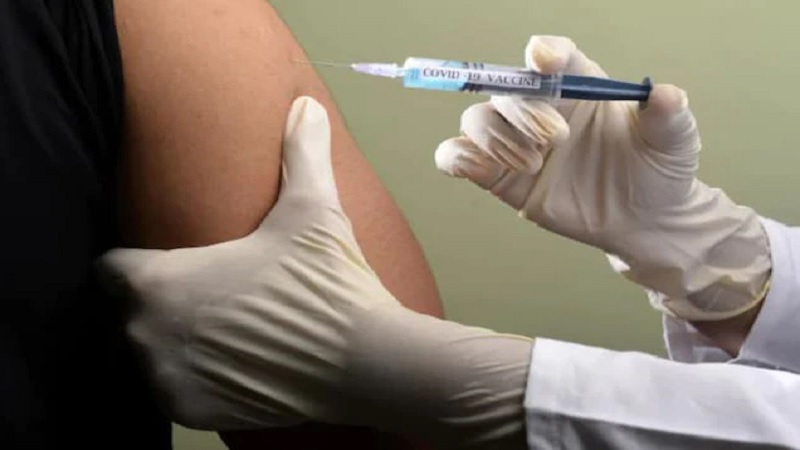 Image Courtesy:businesstoday.in
For the fourth consecutive day, the Delhi government has been unable to administer Covid-19 vaccination to those between 18 to 44 years of age. According to a statement by AAP-MLA Atishi, "All the doses of Covaxin are over for the 45-plus category and 11-day stock of Covishield is available".
This is yet another indicator of the mismatch between the large numbers that companies producing the Covid vaccines shared and the and the number of people who received the vaccine shots across the country.
As reported, the Centre had filed an affidavit in the Supreme Court stating that 8.5 crore doses of vaccines were being produced monthly in India. According to a report in Business Today, the Centre submitted before the SC that the Covid-19 vaccine manufacturing capacity of India for Covishield, Covaxin and Sputnik V, "could cumulatively cross 14 crore doses a month by July 2021."
According to the Centre's affidavit, as reported by India Today, each month the Serum Institute of India (SII), is producing around 6.5 crore doses of Covishield and Bharat Biotech, is producing 2 crore doses of Covaxin. Bharat Biotech reportedly added that it was to "increase the production to 3 crores doses in May." The basic math then adds up to show that India's production capacity of the two Covid-19 vaccines is at least 8.5 crore doses a month. And as reported by IT the daily production and supply of vaccine doses then is at an approximate 27.5-28.5 lakh.
As per covid19india.org, India administered 19,60,51,962 doses till May 23, and the news report shows that this means "17.85 lakh doses" are administered each day in May. This makes the total number vaccinated by May around 5.5 crore, which by all data reports so far across media is much lower than the production capacity declared. There is a massive gap of about 3 crore doses, reported IT.
Where are the missing doses?
The Times of India reported that this gap was most glaring in the case of Covaxin where official data shows that 2.1 crore doses of the vaccine had been administered across the country till Thursday morning, whereas at least 6 crore doses should have been available. If they were made available, why are they not being used? Where are the missing doses?
According to news reports, Bharat Biotech's CMD Krishna Ella had said that just May's production will be 3 crore doses. According to a report in the Times of India, added to the doses made in April and March, at that rate over 6 crore doses should have been in circulation in India itself, after any exports. The Centre reportedly, told the courts that Covaxin production was at 2 crore doses a month. According to reports, India's vaccine exports put together are about 6.6 crore doses and most are Covishield.
That states across India are facing acute shortage of Covid-19 vaccine and have flagged the shortfall to the Centre regularly is old news. Citizens are now suggesting solutions too. In Tamil Nadu they signed an appeal drafted by People First Joint Convenor Thomas Franco on May 20, 2021, requesting the state's Chief Minister and Finance Minister to run the sophisticated Integrated Vaccine Complex (IVC) for Covid vaccine production. The BSL 3 compliant, WHO standard IVC in Chengalpattu was ready in 2017. Yet, four years later, it has still not produced any vaccines. "In 14 blocks, it has five bulk vaccine antigen production units and four formulation units. It also has four filling lines with 200 vials/min speed. Only commissioning and validation are pending," said Franco in the letter.

In wake of scathing criticism with respect to export of vaccines despite shortages in India, Serum Institute of India (SII) CEO Adar Poonawala issued a public statement to explain the current vaccine shortage by taking one through the timeline since January when the nationwide vaccination campaign was kickstarted, saying that at that time "we had a large stockpile of vaccine doses" and that "most people including health experts believed that India was turning the tide on the pandemic." He added that vaccine exports were temporarily halted, and vaccines were prioritised for use in India to control the spread of the more lethal domestic variant that was spreading fast. "We have never exported vaccines at the cost of the people of India," SII had reiterated.
However, India's ambitious vaccine for all programme, still seems to be on the slow track, across the country, as even Global tenders floated for Covid-19 vaccines by various states have not got any favourable response. Major vaccine-makers have said they will deal only with the Union Government and not states.
Related:
UP blunder: 20 jabbed with Covaxin after getting Covishield as first dose
Madras HC raises concern over shortage of Covid vaccine, Black Fungus drugs
Vaccine indemnity: GoI, Pfizer at an impasse
K'taka HC seeks govt's plan of procuring oxygen and vaccines