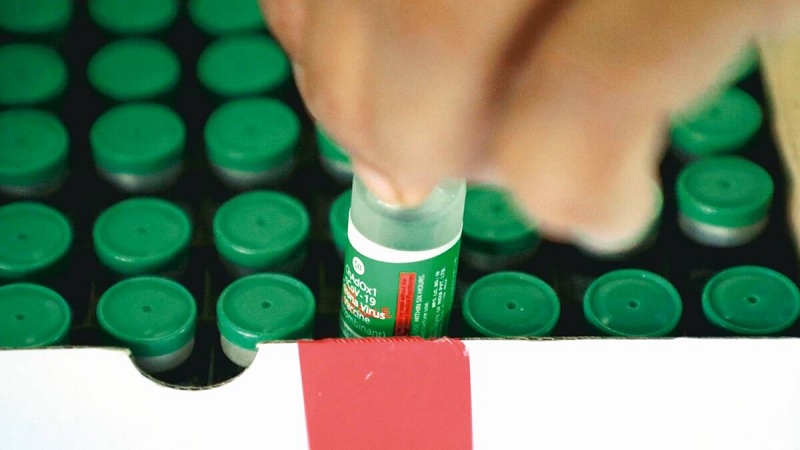 Image Courtesy:indianexpress.com
On Saturday, official Covid-19 figures stated that India reported 1,20,529 Daily New Cases in the 24 hours. Even though it is the "lowest in almost two months" according to the government data, it is still a significantly high number. Experts across the world have stated how universal vaccination is the biggest step to flatten the Covid-19 curve. According to government of India's data the "cumulative number of Covid-19 vaccine doses administered in the country has exceeded 22.78 Cr" by Saturday and doses were administered "through 32,00,677 sessions".
However, the 'vaccine inequality' is on the rise as is seen by the constant flagging of shortages by many states, often led by the Delhi government which has now taken to issuing daily vaccine bulletins by senior Aam Aadmi Party (AAP) leader and MLA Atishi. She stated on Friday, "No Covaxin available now for second doses of 45+ and 18-45" in Delhi's government vaccination centres, adding that "Covishield doses are available for those above 45 years age category, but Coaxin doses will almost run out of stock from today." According to the Delhi government, vaccines are "not available for youth in Delhi for 12 days, vaccination of youth is not being done in any government center. Only 5 lakh vaccines are not enough for Delhi in June, 50 lakh vaccines are needed in this month."
However, in top private hospitals of the national capital region there is no shortage at all. Vaccines are reportedly available, at a premium price of course, and some hospitals are also trying up with non governmental organisations and venues to hold walk-in or drive through vaccination camps. Almost all of them require a pre registration on CoWin or Arogya Setu. That there is a gap in the system is all too glaring.
Where should the poor go for vaccination?
The Supreme Court asked the Centre to clarify how it plans to mitigate the large digital divide in the country as vaccinations are available through online registration for people in the 18-44 age group. The bench of Justices DY Chandrachud, Ravindra Bhat and Nageswara Rao also questioned the Centre on how it plans to manage the logistics and storage of vaccines when the Centre was not procuring them in the Phase III. The court cited various government reports to demonstrate the lack of access to the internet among the larger population, and how this will impinge their right to equality and right to health. The court also sought clarifications from the Centre on how it plans to manage the logistics of vaccines.
According to a report in the Indian Express, "Nine corporate hospital groups cumulatively bought 60.57 lakh doses of the total 1.20 crore doses of vaccines procured by private hospitals in the first full month since the Central government revised its vaccine policy and opened it to the market." Most of these hospital groups are located in big cities and have reportedly "cornered 50 per cent of the Covid-19 vaccine stock meant for the private sector in the month of May" reported IE adding that "purchases by private hospitals in May added up to 1.20 crore doses or 15.6 per cent."
The top nine private corporate hospitals chains and the doses they got, as reported by IE are: Apollo Hospitals (nine hospitals of the group procured 16.1 lakh doses); Max Healthcare (six hospitals, 12.97 lakh doses); Reliance Foundation-run HN Hospital Trust (9.89 lakh doses); Medica Hospitals (6.26 lakh doses); Fortis Healthcare (eight hospitals bought 4.48 lakh doses); Godrej (3.35 lakh doses); Manipal Health (3.24 lakh doses); Narayana Hrudalaya (2.02 lakh doses) and Techno India Dama (2 lakh doses). Most charge around Rs 850-1000 for Covishield and Rs 1,250 for Covaxin per shot.
Related:
Delta variant, a. k.a B.1.617.2, is 50 percent more contagious: UK study
Using digital portal for vaccination will impede universal immunisation: SC
New vaccine policy conflicts with balance of constitutional mandate for Centre and States
Why can't allocated budget of Rs.35,000 crores be used for vaccinating 18-44 year olds: SC asks Centre
Centre's paid vaccination policy for 18 to 44 years, prima facie arbitrary and irrational: SC
Odisha CM bats for centralised procurement of vaccines