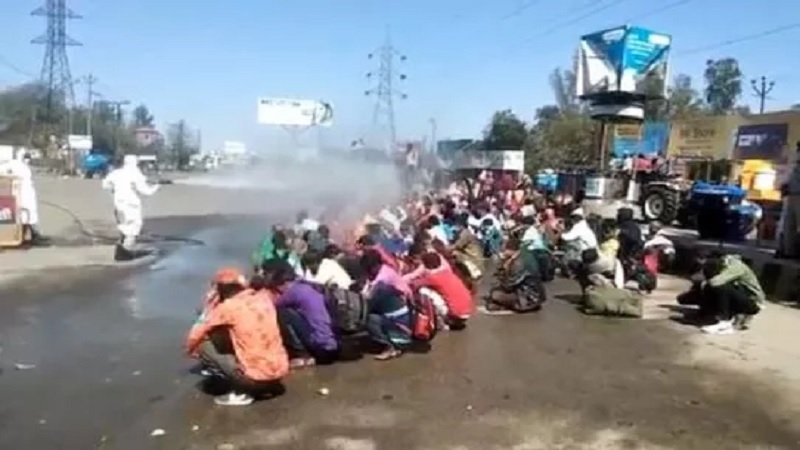 Image Courtesy: news18.com
Three major things have happened as the week that marks the almost mid point of the 21-day national lockdown has thrown up massive challenges on the ground, especially for lakhs of migrant workers who were forced into unemployment, and were left to fend for themselves. Each day has brought new challenges for them, and for lakhs more in the marginalised community, and some states scramble to provide food and shelter as crowds continue to swell on state borders. The worst of which is seen along the Delhi-Uttar Pradesh border which is on the Eastern side of the National Capital Region.
Visuals of lakhs walking through bazing sun, and rain, day and night towards the border, have flooded the media. With announcements that state buses will be arranged to take these migrant workers to their villages in Uttar Pradesh, thousands more walked and gathered at the border till Sunday night. There was a giant human wave at the barricades, and people squeezed through the small opening, to run into UP bound busses, each of which got packed beyond capacity within minutes.
On Monday a disturbing visual was posted by journalist Kanwardeep on Twitter. The short video clip shows a group of migrant workers huddled in a circle and being sprayed down with a solution once can only assume is a what is a sanitising chemical. They sit quietly, soaked as the men wearing protective gear spray them down with a pressure spray apparatus often used to spray pesticides etc and now have been used in many places to disinfect large areas. This is perhaps the first time it has been seen being used on human beings. Once cannot imagine how it felt on their skin. Was there a burning sensation? Did the fumes sting their eyes and nose.
"Who r u trying to kill, Corona or humans? Migrant labourers and their families were forced to take bath in chemical solution upon their entry in Bareilly," asked the journalist who first made this public. Soon the post got thousands of retweets and comments .
Who r u trying to kill, Corona or humans? Migrant labourers and their families were forced to take bath in chemical solution upon their entry in Bareilly. @Uppolice@bareillytraffic @Benarasiyaa @shaileshNBT pic.twitter.com/JVGSvGqONm

— Kanwardeep singh (@KanwardeepsTOI) March 30, 2020
Of course it is highly unlikely that the migrants were asked for their consent, or even involved in what the chemicals were before they were doused in it. Understandably state governments have been caught unawares and responses such as this, and border sealing have led to confusion and chaos on the ground as the sudden, and unplanned lockdown progresses one day at a time.
Meanwhile, the Supreme Court has also asked the Government of India to file a "status report on a petition seeking immediate direction to the Union and the state governments for adopting measures to sanitize the Indians stranded at different bus terminals," reports the legal portal Indialegallive on Monday March 30.
The directive came from the SC bench of Chief Justice SA Bobde and Justice L Nageswara Rao. According to the report the CJI has asked Solicitor General Tushar Mehta to file a status report by Tuesday April on what steps have been taken, "over large scale migration of daily wage and migrant workers."
The portal quotes social activist, Rashmi Bansal (AOR) and advocate Anuj Gupta who filed the petition, "News reports, several photos and videos are already in circulation over Social Media in which these Citizens of India can be seen to be straddled at Bus terminals of Metros/commercial cities. Their migration may lead to disaster and outburst at the villages if some of these migrants turned out to be the carriers of virus as the symptoms surface in any infected persons from 7- 14 days."
"Fear and panic is a bigger problem than the virus" the Chief Justice has been quoted as saying and that the Court will not add to complications by issuing orders, "on the things the government is already doing."
Meanwhile, the Delhi Government on Monday, announced that nearly 800 shelters have been opened to house and feed lakhs of migrant workers who have been walking home to UP, Bihar, Rajasthan, Gujarat and other places, but are now stranded across the city as the lockdown has been intensified and borders sealed even tighter.
These shelters are also open to daily wage labourers such as rickshaw pullers, and small vendors who are not fleeing the city but face starvation because they cannot work to buy basic food. "I will bear a few police beatings, but I need to try to earn some money so I can eat to survive," said Babu Ram who said he hails from Bihar but has been plying his cycle rickshaw in the city for the past decade or so. He does not want to beg, but is not sure how he will feed himself and his small family, "we have nowhere to go." Daily wage earners, as well as delivery persons and vendors have been on the receiving end of the police laathis if they step out to try to earn enough to survive the day.
According to Delhi government sources these shelters have enough capacity to feed around four lakh people for now and more shelters will be added if needed. Called the Hunger Relief Centres, they have become operational in around 568 schools, and food is also being supplied to 238 night shelters.
The Delhi Govt has marked all these Hunger Relief Centres on Google map (Location Map : https://tinyurl.com/yx6bx68u) of the city and shared the links with officials, NGOs, and citizen volunteers so they can direct people to come here. Most of these shelters also have mohalla clinics in the vicinity and doctors any testing will be done "as advised by doctors," said a senior member of the Aam Aadmi Party who is also involved in coordinating this massive exercise.
While there has been little direct help from the Union Government, volunteers working with the Delhi government say they are just "grateful there is no hindrance so far". Not one of them wants to be identified at the moment, or wants any credit unlike the film stars donating funds to trusts like PM cares. "There is no time for that, there is too much work to do," they say.
"The people who are on ground, putting aside personal health risks are the ones we need to talk about," said a senior Aam Aadmi Paty (AAP) member. Perhaps once the crisis has passed the real heroes will come out of the shadows and explain how they braved the storm when most of the national leadership went silent as the biggest crisis in recent history threatened the lives of the most vulnerable and marginalised.