The Uttar Pradesh (UP) committee of CPI (ML) New Democracy has blamed the RSS, BJP, Hindu Jagran Manch as well as VHP for trying to foment communal strife in AMU over a portrait of Jinnah which lay hanging in AMU since last 71 years. It said that the BJP has launched its communal attack at this time as they don't have any answers to the problems of the people of Uttar Pradesh and as people are increasingly turning against them.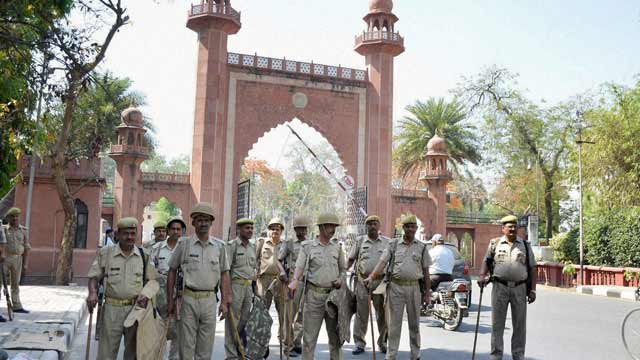 On May 2, dozens of people reportedly affiliated with RSS and Hindu Yuva Vahini-a group formed by Chief Minister Yogi Adityanath- entered the AMU campus through the University's main gate and started thrashing some students who were passing by. Their major contention was the installation of a portrait of Mohammad Ali Jinnah in the students' union building of AMU. More seriously, when the attack took place, Hamid Ansari, the former vice-president of India, was inside the campus to deliver a lecture.
Since then, the campus has been on a boil with the police siding with the outside forces and lathi charging students in a bloodied manner.
Drawing analogies from partition, the statement pointed out how around the time both Muslim League and Congress gave protection to British industries such as Bata, Britannia, Binaca etc. so that they were able to accumulate capital and exploit the people of India. Similarly, today, Modi with tacit support of Yogi and the BJP government, is traveling across the world with an open arm policy to seek more foreign investments, the statement said. It said that in uprooting farmers, tribals, in undermining environment safeguards and labour laws to sell resources and other such things, the government is behaving in a rather unpatriotic manner.
The statement highlighted that "at least Muslim League and Congress were formally against British rule. RSS was a non-participant in the national freedom movement stood totally aloof. They cared little for the country other than their communal agenda." It added that though Muslim League's two nation theory based on religion was anti-people, religious nationalism, in fact, was first proposed by RSS. It accused RSS of still practicing religious nationalism by actively attacking minorities.
It also drew attention to the fact that AMU Students' Union had given life membership to Jinnah along with Gandhi, Nehru, Radhakrishanan, C Rajagopalachari, Rajendra Prsad in 1938, much before issue of partition came up.
The statement said that since RSS did not have any support from AMU students, teachers and workers, they took support from the local police so that RSS cadres could be mobilized from outside the AMU campus to attack the students' union.
It accused CM Yogi of trying "to add fuel to the communal cauldron by alleging that Jinnah's glorification will not be tolerated, although no such event has occurred as the portrait hangs there since many decades."
RSS and BJP didn't have anything to offer to the people except communal carnage, fractured "nationalism" and services to MNCs, it concluded.