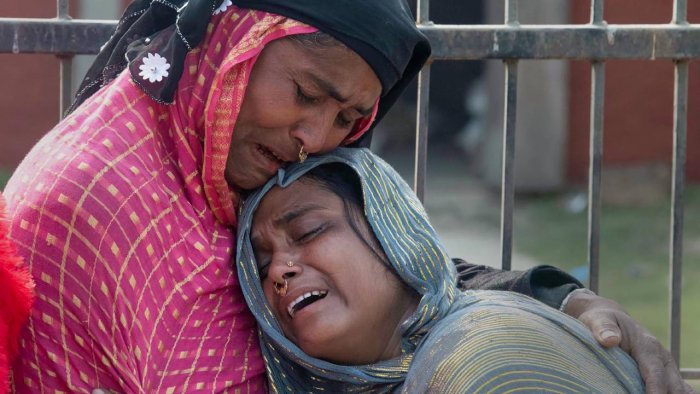 Image: Ritu Raj Konwar
The government plans to open temporary jails, including the Matia Transit Camp in Goalpara district. However, marginalized communities are terrified throughout the state. Tragically, in Jhaudanga Puber village, Mankachar-South Salmara district, a widow named Khushbu Begum took her own life out of fear of being arrested. Families are protesting the arrests and questioning the crackdown on child marriage in Assam.
Three more lives have been lost as a result of the crackdown on child marriage in Assam. Ayna Bibi, a woman from Ramraikuti village in Dhubri district, committed suicide on February 10. Her two children were married before the age of 18 and she was trying to prevent their arrest. However, when she ran out of options, she became frightened and took her own life. (Source: CJP district and community volunteers)
A tragic incident occurred in Karimganj district, as reported by community volunteers and a local web portal. A two-month-old child died as a result of the action against child marriage by the Assam Government. The incident took place at Krishna Nagar village of Boruwala GP under Ratabari police station of Karimganj district in Assam. The child's mother carried the infant from home to police station and back on a cold night, and the child ultimately passed away.
As per reports from community volunteers and a local web portal, the Ratabari police went to arrest Asish Namasudra for allegedly marrying a girl named Sweety Namasudra who was below 18 years of age. However, in Asish's absence, the police arrested his father, Digendra Namasudra, who was the main earner for their small family. Sweety, Asish's wife, couldn't bear the fact that her father-in-law had been arrested and went to the police station with her two-month-old son. She spent day and night pleading with the police, showing them proof of her age and stating that she was above 18 at the time of her marriage. Unfortunately, this ordeal proved to be too much for the little child and ended up becoming a curse for him.
Although she was able to secure the release of her father-in-law from the police station by providing age proof documents, her son became ill soon after their return home at midnight. Unfortunately, her two-month-old son passed away at around 3 AM that same night. The reason for the child's death is still unclear, but the family believes it was due to the stress of the situation they had been through. They were unable to take the child to the hospital. The family is in shock. At the time of the arrest, the police did not take notice of the age proof documents provided by the family. According to Digendra Namasudra, "The police did not look at the papers. They said that whether we had the documents or not, we had to go with them. And our son and daughter-in-law also had to come to the police station."
The grandmother of the deceased is seeking justice for her grandson's death, saying that money cannot bring him back. She pleaded with the Chief Minister of Assam for justice and expressed her pain by rolling on the floor. Her emotional outburst has raised questions on police proceedings with common people.
According to India Today NE, a 17-year-old girl from Khaspur village in Cachar district, Assam, killed herself after her parents refused to allow her to marry the man she was in love with. Her parents had promised to get them married but later denied due to the crackdown on child marriage. The Assam Chief Minister recently stated that if this generation endures some hardships, future generations will reap the benefits.
Related:
Families protest arrests as questions mount on child marriage crackdown in Assam
Hate Watch: Himanta Biswas Sarma on 'Love Jihad' during the Gujarat poll campaign
Assam: New criteria for government jobs singling out minorities?