Karnataka's policemen: Lawbreakers on the rampage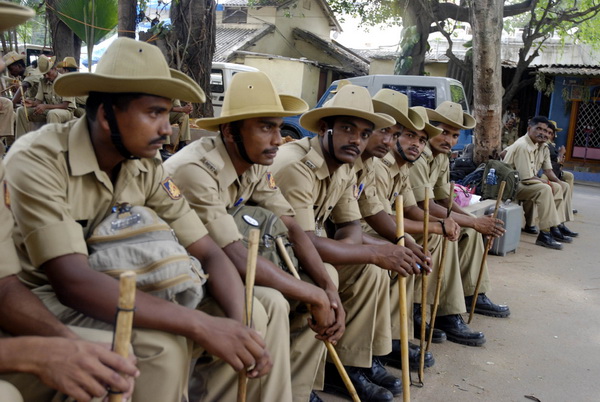 Image for representation purpose only
Allegations of police excesses and partisan behaviour have gone unacknowledged with the official report of the Justice BK Somashekara Commission apparently not recommending any stringent action. Eyewitness accounts of the conduct of three officers from Dakshina Kannada, Sathish Kumar, SP, Dakshina Kannada; Jayanth Shetty, DSP, Mangalore (rural); and MK Ganapathy, inspector, Mangalore (east), reveal disturbing aspects of police misbehaviour.
Immediately after the attacks on churches and prayer halls, on September 24-25 2008, the PUCL, Transparency International India and other human rights groups had called for disciplinary action against these officers as well as the commissioner of police, Bangalore. On September 25, 2008 a report in The Times of India, Bangalore, described how Inspector Ganapathy, who claimed that he was acting on instructions from the higher echelons of the force, had begun demanding land records, corporation licenses, etc from churches and prayer halls. The inspector-general of police (western range), Ashit Mohan Prasad, denied that any such instructions had been issued and was quoted by the newspaper as saying that this was probably being done by local officials at the behest of local, vested interests.
Instead of protecting the lives of persons belonging to the minority communities that were being targeted, the police have been found to have promulgated motivated orders under Section 144 of the Code of Criminal Procedure (power to issue order in urgent cases of nuisance or apprehended danger), facilitated the transportation of stones for stone-throwing on victims and employed the indiscriminate use of tear-gas shells. In almost all the cases of attacks on churches and prayer halls, the police had violated the basic rules of police service by obliterating all traces of the attacks and thus destroying the evidence (Chapter II, Promulgation of Order under Section 144 CrPC, Justice Saldanha Report). Subsequently, over 200 false cases were registered against innocent members of the Christian and Muslim communities.
"It is true that, mercifully, nobody died in these incidents. The record however indicates that over 418 persons sustained fractures, that as many as 198 persons sustained head injuries and that over 1,000 persons sustained painful injuries to different parts of their bodies, some of them extremely painful. More importantly, it was these stones that were used to start every one of the incidents and it is in this background that I record the clear finding that these stones, which come under the category of dangerous implements or weapons, had been procured and used by the state machinery in collusion with communal elements… This can neither be defended, condoned or justified and can only be condemned. I do not share the view that merely because the individuals concerned and responsible for these atrocious criminal acts cannot be singled out, the liability which devolves on the state is in any way diluted" (Chapter III, The mystery of the Lethal Rock Pebbles, Justice Saldanha Report).
"The police violence committed inside the primary school at Kulshekar is unpardonable and unprecedented and does not seem to have occurred anywhere else in the world; where police officers and the police in partnership with the other assailants stormed a primary school with 607 young children and a staff of over 35 women teachers and nuns and resorted to unmitigated violence on them was savage, barbaric and unpardonable" (Chapter XIX, Summary of Findings and Conclusions, Justice Saldanha Report).
"The police storming the church at Pemannur, obstructing and stopping the mass and assaulting the celebrant priest and then standing on top of the altar and directing the assault of the congregation followed by total vandalisation of the entire church and the theft of all the holy objects by the SP, apart from being downright criminal, are absolutely reprehensible. The further use of outdated tear-gas shells containing toxic gas inside the church… can only be defined as an attempt to murder. The same applies to the assault by the police on the congregation after they were brought out of the church with their hands above their heads, all of whom were heavily bleeding and were already injured, and the savage attack that followed was downright criminal and inhuman" (Chapter XIX, Summary of Findings and Conclusions, Justice Saldanha Report)
Archived from Communalism Combat, March 2011 Year 17 No.155, Cover Story