The Ahmedabad police have so far refused to register a first information report (FIR) against retired IPS officer, DG Vanzara notorious for his involvement in previous crimes, for a inciteful and hate driven speech he delivered in Godhra last week. Complainant Abdul Latif Shaikh of the Jamiat-e-Ulama-Hind had tried, unsuccessfully to register a complaint, on October 1, 2016 after he read a news report quoting it, in Ahmedabad. The newspaper clipping can be read here. The Video recording of the speech (can be heard below) has been attached to the complaint. Sabrangindia has been given a copy by the complainant.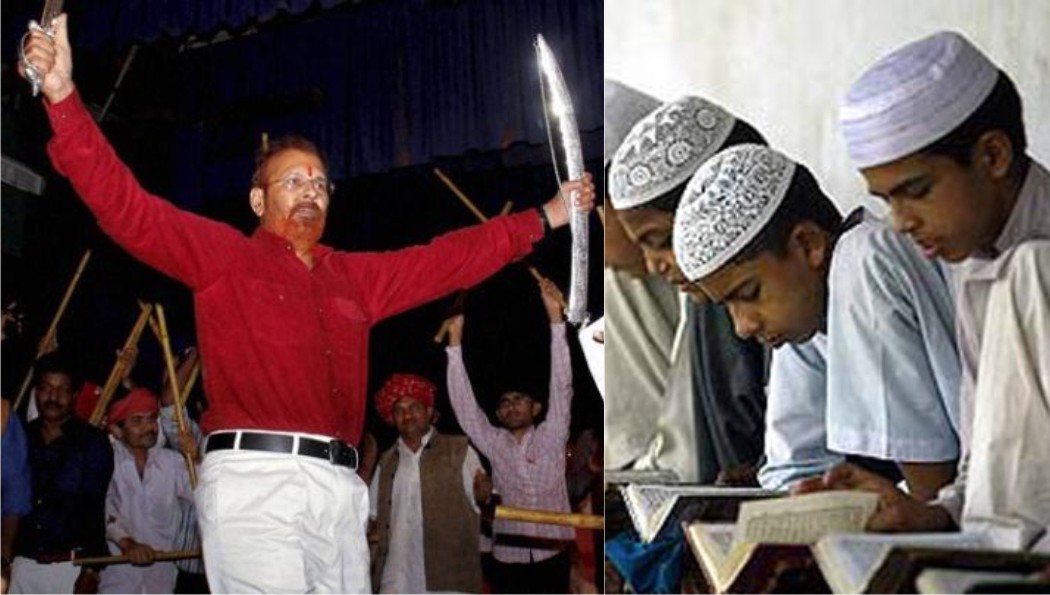 Image: Indian Express / India Today
Thereafter, Latif tried yesterday, on October 3, again unsuccessfully, to register the FIR at the office of the police commissioner, Shivanand Jha in Ahmedabad. A copy of the complaint registered under sections 153 (c) and 295 (c) of the Indian Penal Code may be read here. The complainant has stated that Madrassahs are run according to the Shariah of the Prophet and are involved in teaching of Islam, which is a religion of peace.Vanzara, who is an accused in fake encounter cases, has deliberately uttered such words so that it incites violence against Muslims and engenders hatred towards Muslims, says the complaint.
Latif says that when he went to the Vejalpur station to register the complaint on Saturday, the local officer and inspector sought to intimidate and terrorise him asking how he dared register a complaint against a police officer! When he held his ground and said that the Supreme Court had ruled that a citizen had a right to lodge a case against a public servant if an offence was committed–and here was one who had retired anyway—they shunted him out of the police station.
A video of the inciteful and controversial speech made by a former senior police officer, charge sheeted in at least three criminal cases can be heard here.

In this video, the police officer, former DIC DG Vanzara, controversially says,
"It is not enough to get at the terrorists from Pakistan (antankwadi)…":DG Vanzara
"We must get at the separatists (alagwadi) also. The Hurriyat Conference. Their place is not outside but in jail": DG Vanzara

"Apart from the terrorists and separatists, there are the antimwadis (extremists). These 'antimwadis' are bred in Madrassahs. Madrassahs are dens of hell where anti-national and terrorist activities are carried out": DG Vanzara

"These Madrassahs are factories that breed/manufacture terrosim": DG Vanzara

"These Madrassahs that are centres of traitors and anti-nationals and terrorists are furthering the designs of the Arab Empire": DG Vanzara

"Until Mohammad Bin Qasim invaded India, from Afghanistan to Indonesia there were only Hindus. Now there is not a single Hindu in Kashmir (Hindu mukt Kashmir): DG Vanzara

"War must be declared against Pakistan and war must be declared now. At the same time, the separatists and extremists on Indian soil—especially those bred in Madrassahs must also be acted upon and eliminated": DG Vanzara

Vanzara who was arrested in 2007 and was in jail for eight years (out of which he spent one day in Mumbai jail) until he got bail on February 2016. Notoriously, the day he was released on bail in 2016 he echoed Narendra Modi's election campaign slogan "Acche Din Ayenge" The former DIG was prime accused in the police encounter cases in Gujarat since 2002. On release on bail, he had said "… acche din aa gaye (good days have arrived)," referring to his release in Ahmedabad while addressing the press before flying to Mumbai, where he is to be based, as part of the court's bail conditions

Just day before yesterday, the Gujarat police had finally suspended his son, Arjun who had been arrested by the Anti-Corruption Bureau, on July 6 this year for accepting a bribe of Rs. 75,000. Arjun Vanzara was a mamlatdar (executive magistrate) posted in Vadodara rural. He along with his deputy mamlatdar Jashvantsinh Dashrathsinh Hajuri had allegedly demanded a bribe of Rs1 lakh from the complainant "to order in favour of complainant's land matter."

On March 6 this year, Vanzara had in a series of controversial tweets, asked the 'sons of Mughals to quit India. Sabrangindia had carried the story that read, "Dahyaji Gobarji Vanzara (DG Vanzara) former Deputy Inspector General, Gujarat, jailed from 2007 until 2015 on charges of having conducted a series of extra-judicial murders (encounters) while heading the Anti-Terrorist Squad (ATS), has done it again. In a tweet a few days ago (screen shot below) he has said that not only should Mughals be removed from Books, endorsing the twitter hashtag #removemughalsfrombooks but he has gone several steps further. He says not only Mughals from books, but "those who fictitiously claim to be their descendants should be removed from India."
That he is a man favoured by the entire regime in Gujarat is clear from the fact that on April 15, director general of police, PP Pandey, himself, charge-sheeted by the CBI in a High Court monitored investigation, for offences under the Arms Act and for offences of abduction, wrongful confinement, and premeditated murder of four persons, was –in utter disregard for due process of law—appointed as acting DGP, Gujarat. Before his appointment to a powerful post, Pandey had attended the ""welcome ceremony" for DG Vanzara, re-entering Gujarat after close to a decade. The retired DIG accused in both the Ishrat Jahan and Sohrabuddin Sheikh fake encounter killings was recently allowed by a special CBI court to enter Gujarat. Vanzara's prejudicial outlook that, under law, constitutes hate speech was recently visible on social media when he asked "Sons of Mughals to Quit India."
The sudden discharge of several senior policemen after the Modi regime came to power in Delhi has generated question and criticism.
The worst possible indictment of DG Vanzara was, however in the judgement of the Supreme Court in the Akshardham case (judgement delivered on May 16, 2014.
Para 65: It was contended by the learned senior counsel that PW-126 stated that his senior officer D.G Vanzara, had orally told him that PW-50 was aware of 32 (2002) 1 SCC 35133 (2002) 2 SCC 42634 (2000) 4 SCC 515 the details of the conspiracy, but D.G. Vanzara was never produced as a prosecution witness. The case is the same with Brig. Raj Sitapati, who was also a witness to the recovery of the two Urdu letters, and this material witness had also been conveniently brushed aside both by the police and the prosecution. Reliance was placed by the learned senior counsel in this regard on Tulsiram Kanu v. The State35, Ram Prasad & Ors. v. State of U.P.36 and State of U.P. v. Punni & Ors.37

Para 96: But, apart from all these aspects on the statements of the accomplices, we fear that the story against the accused persons and its corroboration through the statements of accomplices is an act of concoction to make up a case against them. It was recorded in the statement of PW-126 that the information regarding PW-50 was given to him by D.G. Vanzara. However, D.G. Vanzara had not even been examined in this case and there is no information as to how he came to know about PW-50 after almost a year of the attack on Akshardham. This very important aspect of the lapse in investigation had been ignored by the courts below. The learned senior counsel for the accused persons have contended that there has been a delay of around a year from the time of the attack on Akshardham in recording the statements of the accomplices which shrouds the case of the prosecution.
Page No. 265: The statement of PW-50 was taken at 8 p.m, on the same night of 28.08.2003, after receiving verbal instruction from higher officer-D.G. Vanzara in the morning.
The following quotes are poignant and tell their own story:
Para. 131: " ….. take note of the perversity in considering this case at various stages, right from investigation level to the granting of sanction by the State Government ….. We being the apex court cannot afford to sit with folded hands when such gross violation of fundamental rights and basic human Rights of the citizens of this country were presented before us."
Para 136: "Before parting with the judgment, we intend t express our anguish about the incompetence with which the investigating agencies conducted the investigation of the case of such a grievous nature, involving the integrity and security of the Nation. Instead of booking the real culprits responsible for taking so many precious lives, the police caught innocent people and got imposed the grievous charges against them which is resulted in their conviction and subsequent sentencing".
Such verdicts no doubt reaffirm each citizen's faith in the judiciary. The tale of trauma and injustice deserves fair recompense and prosecution of the perpetrators.
(Excerpts from judgement in Criminal Appeal Nos 2295-2296 of 2010, Adambhai Sulemanbhai Ajmeri & Ors. …Appellants Versus State of Gujarat with Criminal Appeal Nos 45 of 2011)