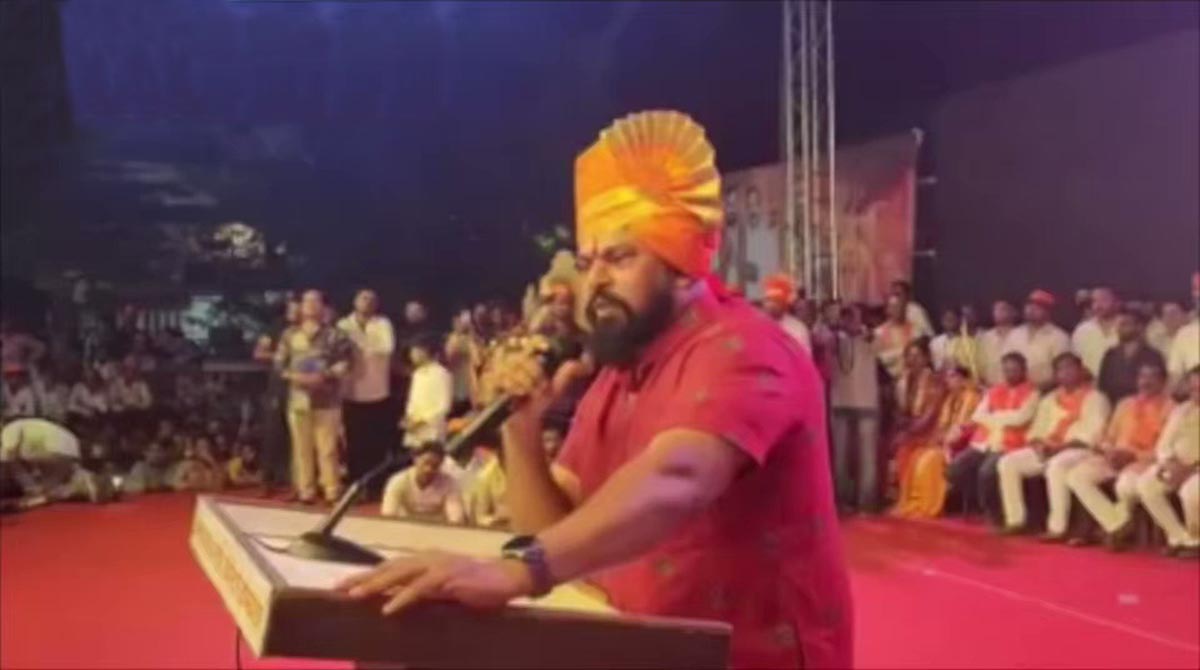 Notorious for stigmatizing and dehumanizing the minority community apart from spreading communal disharmony by targeting the Muslim community, T. Raja Singh, BJP MLA from Goshamahal Assembly Constituency, Telangana, once again delivered two hate speeches in Maharashtra. Through his speeches, given at Shrirampur and Malang Gad district of Maharashtra, he made explicit calls for violence and the killing of Muslims and their economic boycott, only so that a Hindu nation can be established. The impact of the inciting and provocative words can be seen on the thousands in the mob who attended and listened, screaming out "Jai Shri Ram" as a war cry.
T. Raja Singh in Shrirampur
In the videos of his speech given at Shrirampur on March 10, he can be seen spreading his divisive and communal ideology by molding the history of the Maharashtra, coloring all the Muslims as anti-India, and accusing them of committing various anti-Hindu offences like illegal cow slaughter, forceful conversions, illegal land capture, and "love-Jihad". Singh had been invited to this programme organised in the town on the date marked as Shiv Jayanti – the birth anniversary of Chhatrapati Shivaji Maharaj, according to the Hindu calendar.
Singh, a serial hate speech offender from Telangana, is notorious for instigating Hindus and instilling anti-Muslim sentiments, and the easy way is to bring in the Hindu daughters and sisters. Self-appointing himself as the protector of Hindu women, he spread misinformation by saying that Hindu women are being targeted by Muslim men. He even says that Muslim men have set a rate card, and get money based on the caste, culture and religion of the girl that they trap in "Love-Jihad".
On March 15, media reports (including one in The Indian Express indicated that that the Ahmednagar district police have "booked" Raja Singh for the alleged hate speech made by him targeting the Muslim community. According to the media reports, officials from Shrirampur police station, where the complaint against the legislator was lodged in the intervening night of Monday and Tuesday, have invoked Indian Penal Code (IPC) sections 295, 504 and 506 against him. IPC section 295 pertains to injuring or defiling place of worship with intent to insult the religion of any class while 504 and 506 pertain to intentional insult and criminal intimidation, respectively. It is crucial to note that while the FIR has been filed and sections of serious nature have been invoked against him, he has not yet been arrested. It won't be surprising if another video of him making another hate speech can be seen doing rounds on social media soon enough.
Earlier, the serial hate speaker had also indulged in giving another hate speech against the Muslim community in the state's Latur district, during the Shiv Jayanti event on February 19 – the birth anniversary of the Maratha warrior king, according to the Gregorian calendar. Media reports suggest that he has been provided that an FIR was registered against Singh then also, yet he was not arrested, post which he has proceeded to give more hate speeches.
Ironically while the Bharatiya Janata Party (BJP) did make a token show of "suspending him from the party following his provocative statements on Prophet Mohammed after the then BJP spokesperson Nupur Sharma's initial hate speeches, he still remains within the Telangana Assembly where he presumably also acts according to the BJP party whip.
A transcript of his speech (made in Hindu and translated in English) at Shrirampur is as follows:
The Speech:
Video 1
"In the name of Land Jihad, these people have captured government lands. Through any means possible, we will take over Shri Ram chowk and build a statue of Chhatrapati Shivaji Maharaj. Will you all help us?" (0:00- 0:32)
"Will you help us every step of the way in building a statue of Chhatrapati Shivaji at Ram Chowk?" (0:32- 0:42)
"And if any minister opposes this, we will destroy them, no matter which party they belong to. The present Maharashtra has changed a lot from before. If one picks up the History of Maharashtra, the seeds of Hinduism were created from here, as they will be in the future." (0:43- 1:14)
"On one hand, Chhtrapati Shivaji Maharaj gave so much respect to women in Maharashtra, but on the other hand, today, our daughters and sisters are getting trapped in "Love-Jihad", and are being sold." (1:15- 1:30)
"If you can remember correctly, in Maharashtra, Sharradha Walker, Rupali and Urvashi, all were trapped in Love-Jihad. Shraddha was taken to Delhi and chopped in 35 parts by these haramis." (1:31- 1:54)
"I want to tell the women that you all need to read the history of Jija Mata, Jhansi ki Rani and Ahilya. Read it yourself and teach it to your children to educate them on who to befriend." (1:54- 2:20)
Video 2
"We do not think or speak, we are shy about teaching our daughters on the issue of Love and Jihad. Don't you think so? Brother and fathers are shy about talking to their sisters and daughters about Love-Jihad. They think that nothing will happen in our homes." (0:06- 0:33)
"We think that we belong to Bajrang Dal, Vishwa Hindu Parishad, Sri Ram Sene, nothing will happen in our homes. But, these people steal from such houses only, we have seen many cases." (0:34- 0:47)
"We wave our saffron flags outside our homes, but inside our own homes, we do not value our saffron flags and do not protect ourselves from Love-Jihad." (0:47- 1:01)
"I want to request you all, to take an oath about spending atleast 10 minutes a day to make our sisters and daughters about the current environment of our country and the weaponisation of Love-Jihad." (1:02- 1:31)
"The day you start with this and spread all this information with your relatives and neighbours through social media, you will create awareness about Love-Jihad and the current environment of India." (1:32- 1:51)
"If a case of Love-Jihad happens anywhere, make it viral and tell your sister and daughters that see, we lost a sister today. She has been abducted and taken away." (1:52- 2:04)
"There was a case in Telangana yesterday. The boy was Hindu and the girl was Muslim. They fell in love. The boy was murdered by the girl's family." (2:04- 2:20)
Video 3
"Not only Telangana, in a lot of other areas, Hindu are being targeted and killed. These traitors have created a dedicated sena to commit the crime of Love-Jihad." (0:00- 0:18)
"They have even set rates for the women- if the girl is from a Brahmin family, the rate is 5 lakhs, if the girl is from a Rajput family, the rate is 4 lakhs, 3 lakhs if the girl is from the Jain community, and 2 lakhs if the girl is from the OBC, ST or SC community. If the girl is from the gujarati community or Marathi community, they get 6 lakhs and for Sikh girls, they get 7 lakhs." (0:18- 0:47)
"How are these people getting money? From where? Who is giving them the money for conversion or Love-Jihad? In India, there are so many organisations that are providing them money to these people from trapping Hindu women." (0:47- 1:18)
"These people marry the Hindu girls, and then make them a machine to give birth to their children. If she refuses to given birth, they sell the woman for prostitution." (1:18- 1:30)
"We have seen many cases of our Hindu sisters being sold in Pakistan, in Saudi, in other Islamic countries. Even in Shrirampur, a gang is very active here that commits Love-Jihad. So many of our sisters and daughters have been trapped by them and then sold by them." (1:31- 1:59)
"A few days ago, a 16-year-old girl was being kidnapped by a Love-jihadi. We caught them on a train and saved that girl. We have saved many girls." (2:00- 2:20)
Video 4
"We are working on saving are girls from this group. These group that work for Love-Jihad, a few years ago, they even had the support of police. Many big police officers were extending their support to these Love-Jihadis. They would not even file our complaints for our sisters and daughters." (0:00- 0:34)
"Many Hindu organisations then opposed this. And after that, an enquiry was set up, our sisters were found and those police officers were transferred to some unknown areas. Another officer had come after this, we don't know where he is now." (0:35- 0:56)
"I want to tell you that the occasion of Navratri is a very pious and special occasion for us. We play garba, our sisters and daughters also play garba. Everywhere we play garba, these gang of Love-jihadis become active, apply tilak on their heads and enter our garba grounds." (0:56- 1:20)
"They give their contact numbers to our daughters-sisters, and then trap them. Every year, almost 4000-5000 love-Jihad cases are coming to the forefront because of this garba." (1:21- 1:37)
"I want to ask the police authorities, why do you not work pre-emptively and stop the storm before it comes? If they are targeting our daughters and sisters today, they might do it with your sister and daughter, remember this." (1:37- 1:56)
"And I would also like to remind our officers at high posts, that if you are unable to stop these Love-Jihadis from entering the garba arena, we know ways to stop them." (2:01- 2:20)
The videos can be viewed here:
This is from #Shrirampur, #Maharashtra. #Telangana legislator & #Hindutva leader #RajaSingh delivers another #HateSpeech targeting #Muslims.

Yesterday, at an event organized by Rashtriya Sri Ram Sangh, Singh peddled conspiracy theories against Muslims & threatened violence. pic.twitter.com/GmUXACIei1

— Hate Detector ? (@HateDetectors) March 11, 2023
Video 5:
"If you want to beat any L***e (anti-muslim slur), then connect with brother Sagar or Bajrang Dal. I want to ask all the youth- do you want to protect our country and our religion? Do you want to make India a Hindu Rashtra?" (0:00- 0:28)
"Then switch on the light of your phones and show your solidarity, so that these (anti-Muslim slur) in India, Maharashtra get to know that the army of Chhtrapati Sena is ready." (0:29- 0:48)
"Whoever speaks against Hindus, we will not spare them. Whoever slaughters cows, we will not spare them. Whoever does Land Jihad, Love jihad, we will not spare them." (0:48- 1:00)
"We are ready." (1:02)
Echoing screams of Bharat Mata ki Jai can be heard.
"Arre jo bhi L***a (anti-muslim slur) love-jihad karega, arre beta, tum adhe katte ho purre kaat denge. Humare Hindu Rashtra mei Love-Jihad ki koi jagah nahi hogi. Aur humare Hindu Rashtra mei jo 5 baar tum pukarte ho na, who pukaarne ke liye bhi tumhe bhoopu nahi milega. Jitne bhoopu honge Yogi wale style mei unka kaam tamaan kar denge" (1:12- 1:53)
(To any Muslim that does Love Jihad, you are already half circumcised, we will cut you entirely. We do not have space for Love Jihad in our Hindu nation. And in our Hindu Rashtra, you will not even get loudspeakers to call for your prayers. Whatever loudspeakers are currently in use, we will get rid of them in Yogi's style.)
The video can be viewed here:
One of India's top Hindu supremacist leaders T Raja Singh is giving a hate speech to thousands of cheering supporters, calling Muslims insects & cockroaches – they need to be killed for the country to be Hindu Rashtra. This is why Genocide Watch puts India at the top of its list. pic.twitter.com/B7mfpBqe4k

— Ashok Swain (@ashoswai) March 13, 2023
T. Raja Singh in Malang Gad
On March 5, BJP MLA T Raja Singh had gave a communal speech where he called for an economic boycott of Muslims. While speaking at an event organised by the Sakal Hindu Samaj, a dargah had become a target of his abuse. While molding the Islamic history, he had made threats to unfurl the saffron flag atop Haji Abdul Dargah and remove any of its traces. This event was also attended by thousands of people.
The Speech
"Chhtrapati Shivaji Maharaj and Afzal Guru can never be brothers. Similarly, one who says Bharat Mata ki Jai and Vande Mataram, and the one who do not can never be brothers." (0:00- 0:27)
"And remember their tactic, wherever their number is less, they hold your feet, but wherever they are present in large numbers, they put a knife in your back. Remember to never let these people come near you." (0:28- 0:46)
"But if any of them are influenced by our religion and traditions, then we can think about whether we should let them come near us or not." (0:47- 0:56)
"It is because of us 100 crore Hindus that their life is going on. If we stop purchasing from them, they will come begging to us, requesting us to forgive them. They will say that they will not cut our cows, not commit love-jihad, and not commit forceful religious conversion. They will further say that they are our brothers. We will then think if we want to make them our brothers or not." (0:57- 1:28)
"In 1952, the Wakf board captured a samadi, and made a dargah of some Haji Abdul. Who is this? Whose dargah is this?" (1:29- 1:45)
"Some historians, who have written duplicate history, have written that 7 maulvis came and made a 7 storey building on a mountain. One maulvi dies on the first floor, second maulvi dies on the second floor, and so on. These seven old maulvis die like this. If we have a look at their history, if these people cannot even walk, what welfare they must be doing of their own people." (1:47- 2:33)
"This is a false story that there was a maulvi and they did any welfare, and this is their death place. I want to tell those traitors that this samaadi (mausoleum) is not yours, it is ours. From now onwards, the saffron flag will be hoisted there." (2:34- 3:10)
"Just like the tomb of Afzal was destroyed by us, we will also destroy this dargah too, I fully believe so." (3:11- 3:30)
The video can be viewed here:
Location: Malang Gad, Maharashtra

Telangana MLA T Raja Singh once again gave a communal speech where he called for an economic boycott of Muslims. He also threatened to unfurl the saffron flag atop Haji Abdul Dargah and remove any of its traces.

He was speaking at the Skal… https://t.co/8eBcPrer0K pic.twitter.com/9Jn8CZeitZ

— HindutvaWatch (@HindutvaWatchIn) March 9, 2023
Background
Singh, who has over 100 criminal cases against him, had spent 76 days in jail under preventive detention for stoking communal tensions in Hyderabad. In January, 2023, the Mangalhat police station had served a notice to Goshamahal MLA Raja Singh in connection with a "provocative speech" made at Ajmer Dargah last year. The complainant in the case is Syed Mahmood Ali and is registered at the Kanchanbagh police station under Section 295-A (Deliberate and malicious acts, intended to outrage religious feelings of any class by insulting its religion or religious beliefs) of the Indian Penal Code (IPC). Following investigations, Raja Singh has been directed by Mangalhat police station to not commit any offenses in the future, not tamper with any of the evidences in the current case. He has also been directed to not threaten, induce or coerce any person acquainted with the facts of the case.
It is evident from the slurs and abuses uttered by Singh in the above mentioned speeches, that he has no fear of the authorities or the police. No order of the court and police has been able to stop him from indulging in hate speeches. In his speech, in reference to garba pandals, he has even said that if the police does not do what they wish to do, they will take the law in their hands. Will action only be taken by the authorities these words become backed by actions and innocent lives are lost?
The reality is that, in all his speeches, Singh has been (and continues to) use the same instigating words, promoting the same divisive ideologies. Even after FIRs have been filed against him, he is roaming free, able to use his words and make open calls of such kind. The pattern of Singh's speech are the same, invoke the aggressive protective senses of men towards their Hindu sisters and daughters, provoke them on the fictitious issue of Love-Jihad and Land Jihad, talk about cow slaughter, and then make violent appeals to physically harm Muslims as also working towards establishing a country without Muslims. Even after this repeated pattern has become evidenced in consistent reportage, no concrete action has been taken against him by any authority by law enforcement authorities of even the judiciary.
Related:
No action taken by authorities as BJP MLA Raja Singh engages in communal hate speech again in Maharashtra
Mumbai: Undeterred by Court, 'Suspended' BJP MLA Raja Singh Again Calls for Violence Against Muslims
Hate Offender: Hyderabad BJP MLA T Raja Singh threatens UP voters
Is the VHP above the law in this new age of impunity?
Another call for Hindu Rashtra, this time from Karnataka
Hate Watch: Notice served to BJP MLA Raja Singh for hate speech at Ajmer Dargah: Hyderabad
Mumbai: BJP leaders attend far right Hindutva rally where calls for economic boycott of Muslims, violence against them are made