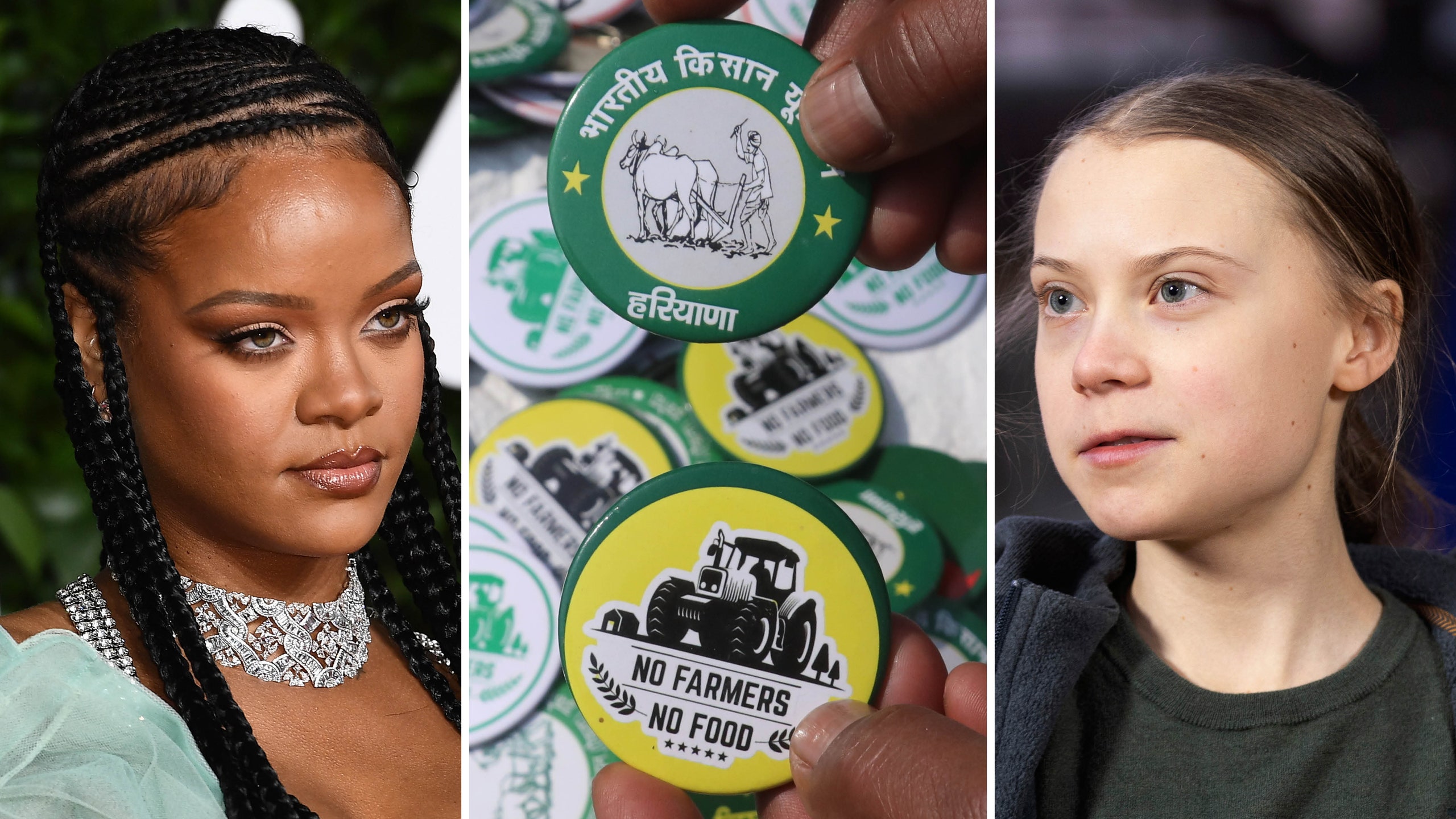 The spokesman of the Ministry of External Affairs (MEA) has said that Celebrities like Rihanna and Greta Thunberg are talking about matters they don't understand. They do not, it is suggested, know anything about the new Indian farm laws and what they imply.
It is quite possible that they don't. Their brief remarks do not say anything about the farm laws but express their distress at the sufferings of farmers who are risking death by undertaking this peaceful and unrelenting demonstration against the laws in punishing weather and inclement conditions. Thousands upon thousands of them, undeterred by extremely adverse circumstances, vicious malign propaganda and devious plots to divide and deflect them from their purpose. But their resolve remains immovable.
This is obviously a matter that anybody without blind prejudice is bound to be struck by.
And if one considers the motive behind the prolonged massive sit-in admiration usually follows. Long before one heard of globalisation, observers from other parts of the world similarly wondered at and admired Gandhijee's Salt Satyagraha. The British rulers had also curtly retorted at that time that these were matters other Westerners did not understand. And yes, there is the glib reference to an international conspiracy. To use an extreme analogy, when the Nazis were killing and maiming and jailing Jews and dissidents, were the world's shock and horror visible marks of an international anti-German conspiracy?
It thus appears that the government of India and the ruling party are insensitive to matters that all the world find heart-rending. This again, reminds one of the party in America, that refuses to understand that Trump's attitude and action are a threat to the very foundations of American democracy. These Americans are maniacs who refuse to understand that the essence of democracy is the value it ascribes to the government's concern at and responsiveness to the people's heart-felt woes. A nose-in-the-air attitude is characteristic of feudal aristocratic rule, but is by no means a sign of democratic government.
A news report says the Prime Minister's Office (PMO) is unhappy at the way the National Green Tribunal (NGT) is allowed to hamstring development projects and is moving to prevail over the NGT's interventions in an "economically responsible manner". This has sent a chill down the spine of environmentally conscious people of Assam. Baghjan is just one instance of the cost of such reckless "development projects".
Huge swathes of forests have already been decimated by rampant open-cast coal-mining and once verdant hills have now a forlorn denuded look now. Besides, it has wrecked the still reasonably comfortable and sustainable livelihoods of scores of traditional villages in the easternmost parts of Assam. The atmosphere has become so polluted in some areas that it is difficult to breathe. Does that amount to economic cost or not? Is it 'economically responsible' to inflict such costs on hapless people?
Should that be a feature of the 'largest democracy in the world', population-wise? Can a colossal echo-chamber substitute even minimal serious dialogue to be expected in democracy?
*The author is a highly respected Assamese intellectual, a literary critic and social-scientist from Assam. Views expressed are the author's own.
Other pieces by Dr. Hiren Gohain: