Laetitia Zecchini in Conversation with Githa Hariharan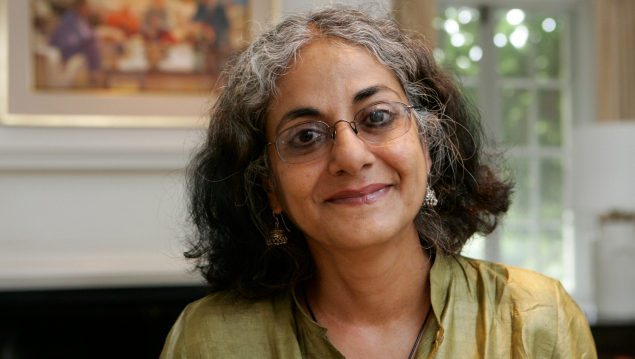 Githa Hariharan

LZ: You've repeatedly talked about being under "siege" as a writer in India today, and it is hardly – if at all – metaphorical. Can you describe what you mean, and how would you define the cultural, literary and political climate that you and other Indian writers live in today?
GH: I wish siege were more metaphorical. In fact, the metaphor is a shockingly real – or surreal – thing standing before us like a solid wall, and this is true of far too many places in the world. What does this siege look like in India? I would not separate cultural and political. In India, the establishment loves it if culture can be reduced to what they can control, a soft, "feminine" sort of thing – a kind of on-going festival of incredible India with colourful costumes, entertaining exotica. We need to make it clear that culture is not just this sponsored exhibition of cultural practice; it is not just "high culture"; but a dynamic range of transacting, colluding, colliding ways of life. Such a view allows us to include multiple languages, multiple locations, choice of religion or no religion. What we eat, how we dress, the historical figures we admire or critique – everything is a part of the culture and sub-cultures we live. It may seem I am repeating the obvious. But we need to do this, because we cannot debate free speech in depth today in India without taking on questions about the conditions necessary in a diverse country, to live the various possibilities of free speech. This is why free speech gets reduced into fragments, such as bans on books and films. It's actually much more.
The cultural climate in India at the moment: it's bad news. And the list is very long, we are spoilt for choice, which is why I can only highlight a few aspects. First and most obvious is the violence that has become a part of "culture". There's the language of discourse – threats to beat up or gang-rape or kill anyone who you disagree with. There's the lynching of someone who you suspect ate beef or someone who is transporting cows. (The most recent lynching, of a boy called Junaid travelling on a train, has not even had this alleged excuse.) There's the violence against Dalits because they speak up against ongoing discrimination, and the dehumanising things they have always been forced to do, such as manual scavenging. There's the increasing violence against women – it's always been there, against women of certain castes and communities – but now the net has been spread to include even the relatively privileged. And, of course, there's the violence against entire regions, peoples, in highly militarised places, Kashmir, the Northeast and Chhattisgarh for example, and this violence is given a semblance of the workings of law and order, the armed forces keeping peace and so on.
I list these which do not seem obviously like cultural territory, because they are. This is what provides the context for the practice of an ideology that is afraid of a writer, a book, a film, a painting. It's not just "intolerance"; it's a kind of cultural civil war. For the rightwing "cultural" organisation Rashtriya Swayamsevak Sangh (RSS) and its range of offspring, diversity is a problem. If you want to homogenise a place like India, where else would you begin your war but in the cultural space? So you divide tasks among government bodies, semi-autonomous bodies, the army and police, the media and, of course, multiple "armies" of real life and virtual hoodlums. Let's take one small strand: writing. Writers are killed for their views (Narendra Dabholkar and Govind Pansare), for their questions (M.M. Kalburgi). Writers have been hounded by rightwing goons for their imagination (Perumal Murugan), for their language (Urdu writers), or for their critique of the state (Arundhati Roy). Colleges and universities are regimented so that students and teachers cannot use these spaces as they must, if debate and speculation, education, reading and writing, culture itself, are to happen. And I am only citing the most obvious examples; many of us have written about and spoken about other examples; and still there must be any number we don't even know about.
As for painting, making films or music: the censorship ranges from the official to the unofficial – that is, intimidation by a few goons. It ranges from the ban of a book, or the hounding of a writer, to some truly bizarre forms. An artist who was making a point about cows eating plastic got into trouble in the Jaipur Art Fair because he had a cow, made of fibreglass, I think, floating in the air. The chair of the Film Certification Board insisted that the word "balls" had to be replaced with the word "cats", and that the kisses he found too long in a James Bond film should be shortened. A film on the effects of demonetisation on people's lives got into trouble. The most recent instance is that a filmmaker who has made a film on Nobel Prizewinning economist Amartya Sen has been asked to beep out words such as "cow", "Gujarat" and "Hindutva". In addition to this censorship by official bodies, censorship increasingly happens on the street, in art galleries, in educational spaces, or on the film sets even before a film is made. Someone or the other, some group or the other, claims "hurt sentiment". There's intimidation, violence; and the current establishment either offers support, or looks the other way.

Read the full interview on Writers and Free Expression.
Published first in Writers and Free Expression .