The Hindustan Times reports that the RSS, which is the ideological parent of the ruling BJP, has started a family counselling programme issuing guidelines on public and private conduct.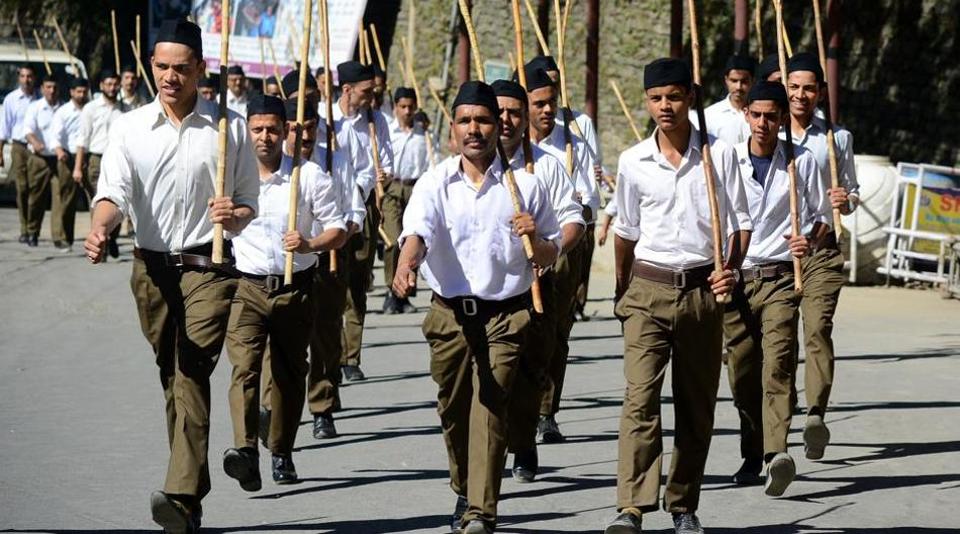 Image: Hindustan Times
Though deceptively calling itself a 'cultural' outfit to escape legal scrutiny, thee RSS has been tHe organisational bedrock on which the BJP has risen to power. No wonder then that Amit Shah, BJP president makes frequent stop overs at Nagpur.
Hence, in a newly conceived family outreach programme, HT reports that cultural values as okayed by the Sangh, clearly upper Caste and exusivist are being carefully propagated. The Kutumb Prabodhan Programme.
What to eat, what to wear, how to celebrate birthdays and advice on public conduct — all this is part of the RSS' family counselling programme launched in April.
The pan-India campaign involves visiting people's homes to "instill values and ethics" apart from advocating vegetarianism and promoting Indian attire. Named Kutumb Prabodhan (family counselling), the campaign will continue till the 2019 general elections.
The move comes amid widespread outrage and anger over mob violence in the name of the cow, considered holy by many Hindus.
This is how it will work says HT: RSS insiders said senior swayamsevaks, along with one or two swayamsevaks and a Rashtra Sevika Sangh (RSS' women's wing) worker, visit families and 'educate' them on the benefits of vegetarianism and how to avoid being influenced by foreign culture, especially as shown by various television channels and social media portals.
One such group led by RSS leader Ashok Bhatt, the Vidarbha convener of Kutumb Prabodhan, visited the family of Suresh Deshpande in Nagpur's Sadar locality last week.
The team advised them to wear sarees and kurta-pyjamas during festivals and told them celebrating birthdays by blowing candles and cutting cakes was not a part of the Indian culture.
The Deshpandes, a family of four, were told about traditional Hindu practices such as chanting mantras before meals. They said all the family members must eat together at least once a week and should not watch television at the time, instead bond with each other.
During their family time, they should avoid discussing politics and cricket. Besides, every person must respect women, fight casteism, and inculcate the habit of reading good books that feed one's intellect. The Deshpandes were told to take up social work.
"The RSS team enquired about our food habits, favourite TV channels and shows, how we celebrate birthday and our preference of attire," said Suresh.
He said the talk was a good concept aimed at strengthening the bond between family members.
"Besides, through the interaction we could understand the problems faced by our children and other members of the family," said Sunita, Suresh's wife.
Bhatt said they have been getting a good response.
"We are also asking the families to sit together at least once a week to help to create bonhomie and strengthen ties among the members," he said.
Atul Pingle, a senior RSS leader and Vidarbha Prant Pracharak Pramukh, said such an initiative was the need of the hour when people were becoming more materialistic and self-centred.
"We will also visit the families of minorities like Muslims and Christians," said Pingle, adding the campaign would help restore harmony, friendship and community bond among people.
The Kutumb Prabodhan campaign is a major initiative of the RSS, the ideological mentor of the ruling BJP, after its pet project of "one temple, one crematorium and one well for all in each village" that was launched last year across the country on Dr Babasaheb Ambedkar's 125th birth anniversary in an effort to propagate social equality and harmony.
The project was appreciated by noted industrialist Ratan Tata when he met RSS chief Mohan Bhagwat in Nagpur last year. Other dignitories who gave visited the RSS headquarters to understand their values are reportedly WIPRO business mangate Azim Premji and film icon Amir Khan.
Will such ventures would give the swayamsevaks a direct access to families and reap dividends for the BJP in the ensuing elections. ?