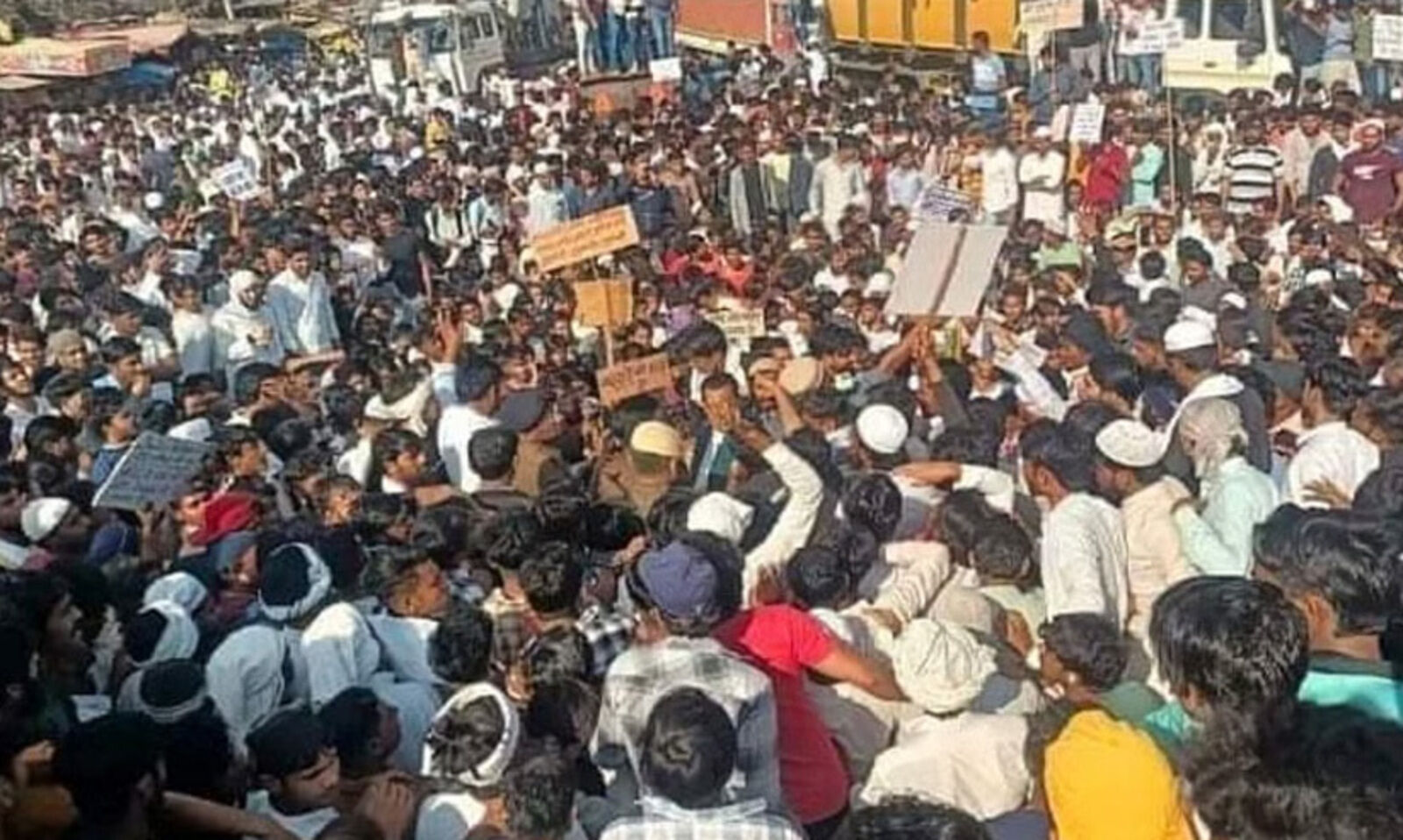 In a bid to curb the protests demanding justice for the murder of Junaid and Nasir who were allegedly killed by cow vigilantes in Bhiwani, the Haryana government has mobile internet, SMS services and all dongle mobile internet services except voice calls in Nuh district since February 26, for two days, reported The Wire. The state's home department has said that since "there is a potential cause for communal tension, obstruction or injury to persons, danger to human life and property, disturbance of public peace and tranquility," these restrictions have been imposed. Since after the news of the heinous crime broke, protests started in the villager in Rajasthan from where Junaid and Nasir hailed and now there have also been protests at Ferozpur Jhirka demanding justice.
The suspension on internet has been invoked under Section 5 of the Indian Telegraph Act, 1885 read with Rule (2) of Temporary Suspension of Telecom Services (Public Emergency or Public Safety) Rules, 2017.
It is pertinent to note that before this many 'mahapanchayats' were held in support of Monu Manesar and other accused cow vigilantes. At a Mahapanchayat held in Hathin, Haryana, on February 22, 400 people were present and the state government was urged to learn from the Uttar Pradesh government and adopt a "bulldozer type" approach to tackle cattle smuggling. Yet, this curb on internet was brought in after protests for justice for the victims escalated.
On February 24, thousands gathered on the streets in Ferozpur Jhirka in Nuh, after Friday prayers, to demand justice for the victims which is likely to have been the reason behind the curb on internet. They even blocked the Gurugram–Alwar highway for some time and then submitted a memorandum to the President of India through the local sub divisional magistrate (SDM) titled 'Demand for a ban on Special Cow Protection Task Force and justice for families of Junaid and Nasir'. The memo cited instances of killings of Pehlu Khan, Umar Khan, Rakbar Khan, Waaris Khan by cow vigilantes and demanded immediate arrest of all the accused and the trial to be held in fast-track court, reported The Print.
Role of Haryana Police
Even the role of Haryana has been put in question as the accused Rinku Saini claimed that he along with other men had taken Junaid and Nasir to Ferozepur Jhirka police station, Haryana where the police refused to take them in custody on charges of cow smuggling and sent them away as they feared that the duo would die in custody. On February 20, a video of SHO of Gopalgarh police station in Rajasthan's Bharatpur surfaced where said that the two deceased were beaten mercilessly by cow vigilantes and were taken to Haryana Police who refused to take them in custody looking at their condition.
Forensic report
Junaid and Nasir's charred bodies were found in a car registered as the state's Gram Panchayat department's car in a forest in Bhiwani. It has been alleged that men connected with the cow vigilante group headed by Bajrang Dal leader Monu Manesar were involved in this incident. Bharatpur range IG has confirmed that, "The FSL (forensic science laboratory) report confirms that the charred bodies and the blood stains in the SUV recovered from a Gau-shala in Jind (Haryana) were of Nasir and Junaid".
Inadequacy of Congress
The families of the victims told The Quint that they were being pressurized by the Rajjasthan government to be silent. "Since day one, the Rajasthan government has been trying to silence us, the notice against our protests confirms our fears that this government isn't interested in punishing the culprits, but only getting us to keep quiet," Mohammed Jabir, a cousin of Junaid and Nasir told The Quint.
The Pahari (Bharatpur) Magistrate has summoned a few relatives of Junaid and Nasir to court today, to show cause why they should not be restrained for breach of peace and to execute a bond of Rs. 10,000 each.
The family of Junaid and Nasir have also alleged that they are being pressured to accept Rs. 15 lakhs as compensation and a contractual job for a family member. It has been pointed out that Rs. 50 lakh compensation was given to the family of Kanhaiya lal (a tailor who was murdered after allegedly sharing a post in support of BJP spokesperson Nupur Sharma); even government jobs were offered to his sons.
Related:
Calcutta cook lynched in Bihar weeks before marriage
Junaid Nasir murder: Magistrate summons relatives, villagers of victims for breach of peace
Bihar: New day, new atrocities reported against the Muslim community
Monu Manesar not an accused in Junaid Nasir murder
Gau Rakshak Dal issues open threats to Rajasthan Police for investigating Junaid-Nasir murder