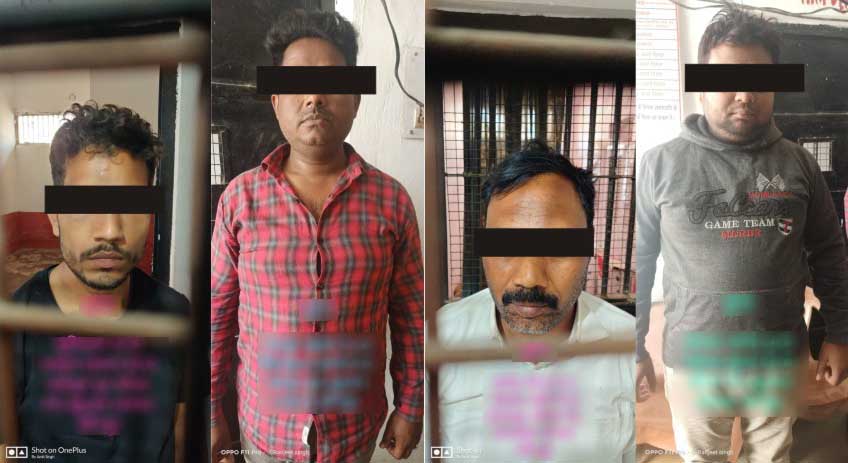 Four Muslim men, hailing from Patel village, in Jaunpur district of Uttar Pradesh, have been arrested and charged under various IPC sections including 307 (attempt to murder) for stealing chickens!
They were arrested on March 4 by police from Azamgarh district, and were reportedly accused of "stealing a cargo van of poultry". The police called them 'murgi chor' or chicken thieves. However, once in custody and after questioning, additional charges including Section 307, 34, 392, 342, 363, 366 etc of the IPC were leveled against them.
According to a local, once in the police station, the men were allegedly rouged up, taunted and asked if they also 'kept the stolen chicken,' and if they 'also traded in cows'. In Uttar Pradesh, any trade in cattle has been a red flag, especially for the minority community which is vulnerable to attacks from right wing groups in such circumstances.
The four men identified as Abdul Rehman, Mohhamad Javed and Javed Khan, were arrested with one Sufiyan. According to local sources, Sufiyan, who hails from Makhdumpur and works as a driver, has been involved in petty theft a few times in the past, and it is said that the police were on the lookout for him.
However, Abdul Rehman who hails from Patel village area (locally pronounced as Patella) did not know this, and hired him as a driver. Hence when Sufiyan was nabbed, so were the others including Abdul Rehman, who were with him in the small vehicle he was driving. Sufiyan's criminal antecedents were not known to anyone who was arrested along with him that day. According to a local resident, the men who hail from Patella and nearby villages, do not have any criminal records at all and are innocent, and just happened to be with Sufiyan.
"They are being framed, please help them," said a villager, who added that in Uttar Pradesh a lot of innocent people are being framed in fake cases. The officials are also still on the lookout for anyone they even suspect of being involved in the farmers movement too. However, these men from Patella, who are still in the police lockup, according to locals, did not have anything to do with even that. The men were arrested for merely being in the same vehicle, driven by a driver whose antecedents they had not verified.
However, the arrests made it to a local news channel named PP News 24X7, which has put out the police version in a video. According to this 'news' the poultry ladden van was stolen in the last week of February, and the police had been on the lookout for the 'criminals'. It added that four more accused were still at large, but the police had 'recovered' an illegal 'desi tamancha' or country made pistol, a live cartridge and a spent cartridge from the accused.
It added that the police also recovered lost vehicles, including a Bolero and a pick-up van, and some cash from the accused. It also aired a byte of the Azamgarh Superintendent of Police (SP) Sudhir Kumar Singh, who called this a 'gang of looters'. The senior policeman also accused the alleged gang of trading in cattle, including taking cattle to slaughter. The 'news' channel then aired a video of the police questioning a man wearing a mask, about his activities. The police then displayed the weapons and ammunition it reportedly recovered from the accused.
"The police are just trying to frame these men from Patel. Their only mistake is that they did not verify the driver of the vehicle. But the police are now trying to trap them in cases they have no involvement in. It is a scary situation," said another resident of Patel village.
The FIR copy may be viewed here:
Related:
Nearly 2,000 people arrested under UAPA in 2019: MHA tells Lok Sabha