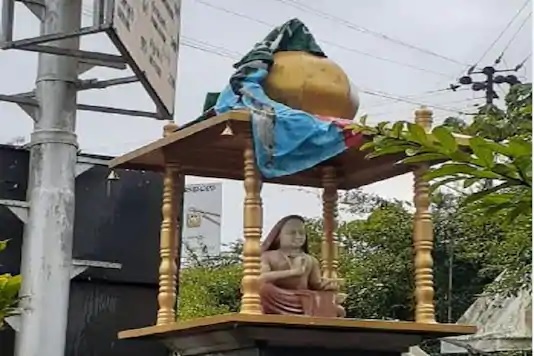 It's not rare that a normal incident involving two religions escalates into a communal incident, more often than not, at the instance of right wing people. One such incident took place in the temple town of Sringeri in Chikmaglur district of Karnataka.
BJP MLA from Sringeri, Jeevaraj along with local activists raised a hue and cry as they found a a piece of green-and-blue-cloth with an imprint of a mosque lying on top of a statue of Adi Sankaracharya, a Hindu philosopher.
Jeevaraj and some others held a protest over how an 'SDPI flag' landed on top of a small temple of the saint's statue. The police reached the spot to pacify the crowd, to avoid escalation of the situation as had happened in Bengaluru a few days ago. They were also assured that the culprit will be brought to book soon.
The police then looked at the CCTV footage of the spot and identified a 28 year old habitual alcoholic man named Milind. Chikmaglur SP Hakay Akshay Machhindra told News18 that the accused is a habitual drunkard, and he is not affiliated to any organisation or any party and neither did he have any motive.
'It was not an SDPI flag, nor of any other political party. It was a banner printed for the Eid-Milad festival. It was very cold and raining that day. He was initially looking around for something to cover himself. So, he used the cloth. Then he realised it was a banner that belongs to a God. So, he kept it in the safe custody of another God," said Chikmaglur SP Hakay Akshay Machchindra.
This was a rather quirky turn of events as there arose no communal issue whatsoever. Yet, right wing hate mongers kept at it. In what seems to be a move to pacify them, the police booked the drunk man for hurting religious sentiments.
Despite this statement coming from the police, BJP leaders insist on spreading hate:
5. Planting SDPI flag on Sri Shankaracharya's statue in Sringeri & inciting violence.

It's high time that, Govt led by Sri @BSYBJP recommends central govt to ban this terror outfit.

Orgs like SDPI & PFI are threat to mankind, national security & for a harmonious society.
3/3 pic.twitter.com/qey1F2WIuc

— Shobha Karandlaje (@ShobhaBJP) August 14, 2020
Related:
UP police books man who announced Rs. 51 lakh bounty on Karnataka MLA's nephew
Social media hate machine goes into overdrive against Rhea Chakraborty
Demolish temple to build mosque: Sajid Rashidi stokes controversy
I love India, don't you dare call me anti-nationalist : Irrfan Khan's son