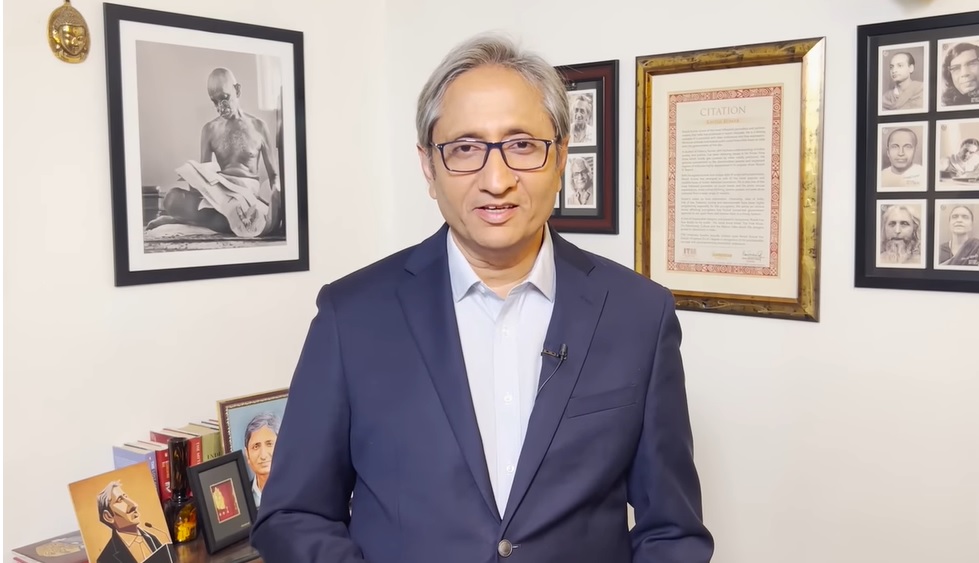 It was around the time when his Primetime newshour show was usually telecast, 9 p.m. or so on November 30, 2022 that media was abuzz with the news many viewers were expecting: the resignation of Ravish Kumar from NDTV. Social media was flooded with messages and quotations from India's popular television anchor. A day before the owner-promoters Pranoy Roy-Radhika Roy had stepped down from the channel's promoter firm, RRPR Holding's board as former journalists with the Adani group, Sanjay Pugalia, Senthil Chengylvarayan and Sudipta Bhattarcya occupied their place. The next morning, today, Ravish addressed his audience.
There was a barely controlled drama, inevitability, sadness and anger as hundreds of thousands viewers watched his 'farewell NDTV speech' on a recently launched YouTube Channel, Ravish Kumar Official. Auf Wiedersehen is a charming term in Austrian or German that simply does not allow a final parting: Until we meet again or goodbye for now, for the present. Auf Wiedersehen sums up what Ravish communicated this morning, perfectly.
The masterful use of language is Ravish's forte and the December 1 address so beautifully resonated this. Among all else that he said, the manner and fashion, charm and grace with which he saluted the women and girls in his life –personal and professional– was rare, exceptional. The association and teaming up with women bettered him both as a journalist and a human being, Ravish told us showcasing the bitter and sly burden of patriarchy within newsrooms.
A proud Bihari belonging to the Bhojpuri language and a practitioner of the saral Hindi. Journalism is about the choice of language and in a country or nation where language domination has a colonial throwback, the language that Ravish brought to national television, and with it, a peer's respect for the Urdu, the Marwadi, the Marathi, the Kannada, the Tamil, the Bengali, is unique. At the award ceremony of the first Gauri Memorial Trust in Bengaluru in September of 2019, the same month he was awarded the Magsaysay award, he spoke of the language behind communication. Then, in his acceptance speech, he delved deep into topics that ranged from Indian media and its role to the detriment of Indian democracy to Article 370 and its aftermath. He spoke about the Centre's Hindi imposition while quoting from a poem by Kedarnath Singh evoking a thunderous applause from the audience.
Back now to the show. And this personal cum professional salaam to Ravish.
Hark back to 2016, the first dark assault by the Regime. When students of Hyderabad Central University (HCU) and Jawarharlal Nehru University (JNU) were reviled and abused by powerful in government, and this abuse was reflected and amplified on commercial television.
Darkness on India's Prime Time News: In a scathing self-critique of India's private prime time television news, especially the unprofessional conduct of well-known and lauded anchors, Ravish Kumar of NDTV India had a Blackened Out Screen on the News Hour for 45 minutes on Friday, February 19. Thereafter began his epiphany to India's dying television news casters, the Godi media.
The video of this radical programme –still available on YouTube— is self explanatory. In simple and hard hitting Hindi, Ravish argues how the lynch mob is cultivated by the undemocratic and tyrannical conduct of television anchors in the name of debate. The immediate provocation was the lies being dished out on commercial television, the morphed and manipulated imagery being "sold" about JNU and its student leaderhip, dubbing them the anti-national and the terrorist.
"Yeh Andhera hi Aaj Ki TV ki Tasveer Hai." (The dark screen is the true image of TV today).
"Debate ke naam par Janmat ka Maut Ho Raha Hai." (People's voices are being throttled in the name of debate)
Before a dark screen, we heard Ravish's calm yet biting voice:
आप इस चीख को पहचानिये। इस चिल्लाहट को समझिये। इसलिए मैं आपको अंधेरे में ले आया हूं। कोई तकनीकि ख़राबी नहीं है। आपका सिग्नल बिल्कुल ठीक है। ये अंधेरा ही आज के टीवी की तस्वीर है। हमने जानबूझ कर ये अंधेरा किया है। समझिये आपके ड्राईंग रूम की बत्ती बुझा दी है और मैं अंधेरे के उस एकांत में सिर्फ आपसे बात कर रहा हूं।
The use of the Azaadi slogan by the iconic youth leader Kanhaiya Kumar, then with the CPI now with the Congress party, first during agitations and then 13 days after Ravish Kumar's black-out broadcast on March 3, 2016 was precursed by all efforts to slur his image.
कन्हैया कुमार की तस्वीरों को बदल–बदल कर चलाया गया ताकि लोग उसे एक आतंकवादी और गद्दार के रूप में देख सकें। एक तस्वीर में वो भाषण दे रहा है तो उसी तस्वीर में पीछे भारत का कटा छंटा झंडा जोड़ दिया गया है। फोटोशॉप तकनीक से आजकल खूब होता है।
After that, there was this open letter, powerful, scathing and emotional to previously one of India's most loved editors who has then not just demeaned himself politically but been mired in the most degrading of sexual harassment at the workplace scandals, MJ Akbar, now a politician. Senior journalist Priya Ramani had won a criminal defamation case slammed by Akbar, against her, in 2018, alleging 'damage to his reputation (February 2021).'
Ravish Kumar reminded Akbar that the political change in the Indian landscape that 'veteran journalists' like Akbar call 'great for India'has also forged a culture of abuse with media persons being called 'presstitutes' and 'pimps and hustlers.' Ravish Kumar in this open letter to Akbar on his blog reminded him that things had sunk so low that 'my mother has been called a whore –a woman who does not know what an anchor is' but is concerned about her son, Ravish Kumar's health. When she found that her son was being abused in such vile language, she could not sleep for days. There is much more that Ravish says to Akbar abour political control and overt psychphancy (use of the prime minister's photos on journalists' 'profiles) and the letter needs to be read and recalled in full. By students and practioners of the craft.
Today. NDTV India, the field television journalists who covered the Shaheen Bagh protests and the Kisan Andolan, the large number of lesser and bigger professionals who made up the Ravish Kumar Team—each and all received a mention today. Ravish Kumar, saluting the India and Indians that sat in protest against the CAA 2019 and the three farm laws, reminded us of the television anchor, who, through all his telecasts was not just a sharp critique but an unthreatening colleague who began his career with the channel he departed from yesterday, sorting out correspondences and letters. Today, with a fan club numbering millions he is the recipient of hand written missives from a vast audience that are also his collaborators, journalistically.
That then was the essence of the message that was finally communicated today: that the view of the Indian people matter, that democracy is about this accommodation and assertion. He spoke to the Indian people, the viewers, the last stakeholders of a democracy seriously under assault and attack. It was and is they who will be the final victors if and when Indian democracy does crawl out of the abyss; when ordinary Indian, sick neck deep with the hate poison they have consumed, force it to be cleansed out of the body politic. Thus spoke Ravish.
The ambush on the NDTV channel by corporate honcho, Gautam Adani, had first happened in August 2022: when the Gautam Adani-led Adani Group, acquired 29.18 per cent stake, and said it will launch an open offer as required by the Securities and Exchange Board of India (SEBI) to buy another 26 per cent in the company The stark message was there for all to see. In a notice to stock exchanges, NDTV said the acquisition was executed without any input from, conversation with, or consent of NDTV founders Prannoy Roy and Radhika Roy. At the time, both held 32.26 per cent in NDTV.
Given this 'backdoor ambush' by a business unashamedly close to the ruling regime, back in August 2022, it was only a matter of time before senior journalists like Ravish did actually bow out. The millions of Indians for whom Ravish brings sanity, reason and hope however will not allow Ravish the last bow.
Related:
Also watch BBC's trending Video- "Debunking the Viral Video of 'sedition' that has captivated India"