Like many industrialists of his ilk, Vedanta Group's head Anil Agarwal makes no secret of his unalloyed affection for whoever is in power.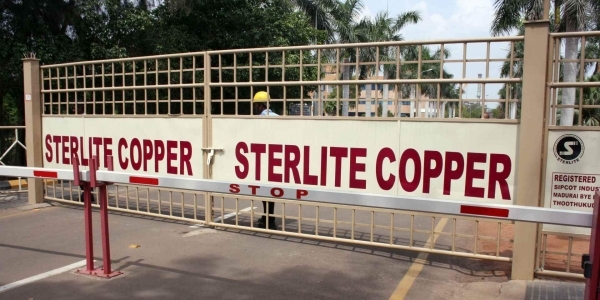 Image Courtesy : NewIndian Express

The 28 May decision of the Tamil Nadu government to shut down the copper smelting plant of the Vedanta/Sterlite group in Tuticorin has come not a day too soon. It is being argued that this decision may soon be overturned by a court of law, that many jobs would be lost and the working of the economy would be disrupted. Nevertheless, it is evident that the Vedanta group headed by Anil Agarwal – who thought he would be able to get away with brazenly flouting the country's environmental laws presumably because of his proximity to the ruling regime, specifically, to Prime Minister Narendra Modi – has been halted in his tracks in Tamil Nadu, even if temporarily.
This is an all-too-familiar story of the complicity between big business and politics, a tale of corporate greed and venality and an account of an administration that refused to act in the interests of those it is supposed to represent until innocent lives were lost in egregious police brutality. The circumstances that have led to the "permanent" closure of Sterlite's Thoothukudi plant ­– whose capacity was being sought to be doubled by the Vedanta group in the teeth of opposition from local residents – need to be remembered.
This copper smelting plant in Tuticorin was started in 1996. Fourteen years later, the Madras High Court ordered it shut because of violations of environment protections rules and laws. Three years later, in April 2013, the Supreme Court set aside the ruling of the high court while at the same time ordering the company to pay a hefty fine of ₹100 crore for polluting the environment. Earlier, in March the same year, there was reportedly a leak of toxic gas from the plant resulting in the Tamil Nadu Pollution Control Board ordering it to be shut down. However, this decision was over-ruled by the National Green Tribunal.
Irrespective of the legalities of the issues involved and different court judgements, what cannot be denied is that there is considerable evidence about the Sterlite plant polluting the atmosphere and the groundwater in the surrounding area. Every other household has a cancer patient. Many suffer from respiratory ailments. The atmosphere became intolerable to those living within a five-kilometer radius of the plant.
From February this year, tens of thousands of people had been peacefully protesting against the expansion of the smelting unit which was producing an estimated one-third of the country's total output of copper which is used for a wide variety of purposes. If the smelter is allowed to double its current capacity from 4,00,000 tonnes per year, it will become Asia's largest plant of its kind and the world's largest single-location copper smelter in a densely-populated urban area.
After 100 days of peaceful agitations, police fired on the protesters because they were said to be destroying public property. Thirteen persons lost their lives. Videos played out over television channels and the social media show a policeman standing on top of a bus taking aim to fire at those who were agitating. One video shows a policeman purportedly remarking that "at least one protester must die." The cops did not aim at the feet of those agitating.
Edapaddi K Palaniswami, Chief Minister of Tamil Nadu belonging to the All India Anna Dravida Munnettra Kazhagam (whose government is supported by Prime Minister Modi) not only justified the police firing but further alleged that those who were agitating had been "incited" by "anti-social" elements. The same person is now claiming that the Sterlite plant has been "sealed" and closed "permanently" because he respects "public sentiments."
Few believe the Chief Minister. It is clear that he has acted out of a sense of desperation before the situation on the ground worsened and also because he apparently sought to cover up the incompetence of his government in dealing with the agitators. It is easy to blame "do-gooders" and non-government organizations (NGOs) for allegedly fanning the protest movement. But civil society activists would not have been able to "incite" the agitators had there not been a huge outpouring of resentment and anger against the management of the Sterlite/Vedanta and at the utter apathy displayed by the state government.
The Vedanta group, which is one of the world's biggest mining conglomerates, has a particularly poor track record in dealing with those who have opposed their projects in different parts of India – be these in Odisha or in Goa or in Chhattisgarh or in Rajasthan. In Zambia as well, there has opposition to the group's projects. The Vedanta group has also acquired quite an awesome reputation for "working with" important politicians cutting across party lines.
In March 2014, the Delhi High Court ruled that a trust set up by the group had illegally donated funds to the Bharatiya Janata Party and the Indian National Congress because political parties registered in India cannot receive funds from foreign-controlled entities. Finance Minister Arun Jaitley "retrospectively" amended the Foreign Contribution Regulation Act to effectively "overturn" the court judgement by tweaking the definition of what is a foreign entity. Jaitley was the same man who had earlier severely criticized the Congress-led United Progressive Alliance government for retrospectively amending the Income Tax Act in the Vodafone case.
When Modi visited London in 2015 and in April this year, the Vedanta group took out full-page advertisements in newspapers in that country and "sponsored" some of his public events. Soon after he was elected, in June 2014, group head Agarwal publicly exuded how the "entire world" was looking forward to Modi's term as Prime Minister. Like many industrialists of his ilk, Agarwal (who started his career as a metal scrap trader in Bihar) makes no secret of his unalloyed affection of whoever is in power.
Will he able to pull it off once again? Or will the recent events at Tuticorin further tarnish his already-sullied reputation as a predatory capitalist? Your guess could be as good as mine.
Courtesy: Newsclick.in