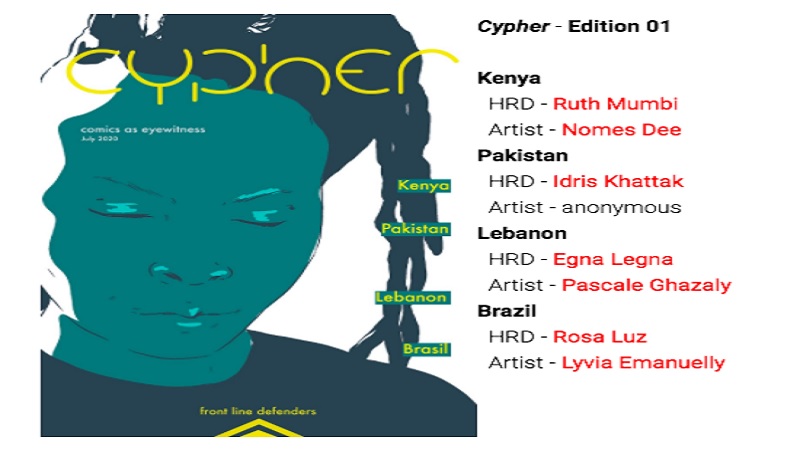 Image Courtesy:practicesource.com
Visual storytelling has now become an art form all over the world. It has been said that 'a picture speaks a thousand words' and visual storytelling does exactly that. It has gone from being just the cornerstone of marketing to a formidable weapon used by artists and dissenters to bring their stories to the public.
Everyone, from feminists to tribal rights activists, have used this medium to draw attention to, gather like-minded collaborators and inspire hitherto ignorant citizens about causes that have not found a space in the conventional debates around human rights. Through online messaging, videos, photos and other forms of art, India and the globe have seen massive human rights movements garner success. Some examples are the anti-Citizenship Amendment Act (CAA) protests in Shaheen Bagh, India, 'The Rapist is You' – feminist movement in Chile and Save the Arctic movement.
Now, Front Line Defenders, an organization working with the specific aim of protecting human rights defenders at risk (HRDs) has harnessed this medium to "reach new audiences, beyond the human rights community that already works to support HRDs". It has launched a new monthly digital magazine, Cypher, through which it will collaborate with comic artists from around the world and pair them with HRDs to develop stories that portray their work and the challenges, risks and threats they face.
Explaining why it chose the name Cypher to facilitate creative production, Front Line Defenders said, "The dictionary definition of cypher is 'a secret or disguised way of writing'. In many ways, this is the essence of comic storytelling – the image, rather than the word, is a disguise for many words, that can convey meaning and emotion, and can re/frame an entire narrative."
Cypher will take human rights stories to new communities
The organization which is collaborating with Beldan Sezen, an award-winning storyteller for Cypher, stated, "Comics offer unique, creative and different ways of engaging audiences than videos, reports or infographics, and can be disseminated across digital platforms that can reach audiences that otherwise might not pay attention to more traditional forms of reporting. And by working with artists to put their talents in the service of human rights, Front Line Defenders is enabling partnerships between the artists and the HRDs that can extend beyond the magazine and bring those stories to new communities to which the artists have access."
The first edition of Cypher will feature stories from:
Kenya (artist: Nomes Dee) – a profile of Ruth Mumbi's efforts to defend the rights of evicted families in the Kairobangi neighborhood of Nairobi as the Covid-19 pandemic spread;
Pakistan (artist: anonymous for security reasons) – the story of the abduction enforced disappearance of Pakistani HRD Idris Khattak, as told from the perspective of his daughter;
Lebanon (artist: Pascale Ghazaly) – with Covid-19 hitting, ongoing street protests against political and economic corruption and the collapse of the economy, Ethiopian domestic workers found themselves kicked out and abandoned, as even the embassy refused to help; a collective of domestic workers organized critical support;
Brazil (artist: Lyvia Emanuelly) – transvesti HRD Rosa Luz is a social media and YouTube influencer and rap/hip hop musician; when she used her art to criticize political leaders, she faced intense backlash in the media and from politicians, including death threats, only returning to her public role after a hiatus to ensure her security.
Prior to this, Front Line Defenders had developed, produced and disseminated the critically acclaimed nonfiction graphic novel, La Lucha: The Story of Lucha Castro and Human Rights in Mexico. Following the publication in Spanish, Front Line Defenders worked with educators and human rights defenders in Chihuahua State in Mexico to develop a curriculum to use the book in schools in the state. Since 2017, the book has been used by thousands of secondary school students and initial work is underway to develop the project to the national level.
The entire statement by Front Line Defenders may be read below.
Related:
Revolution through art at Mumbai Bagh and Mumbra Bagh protests
Front Line Defenders expresses concern on "Imminent arrest" of Fr. Stan Swamy and other Jharkhand activists
Front Line Defenders condemns arrest of Pinjra Tod activists, demands immediate release