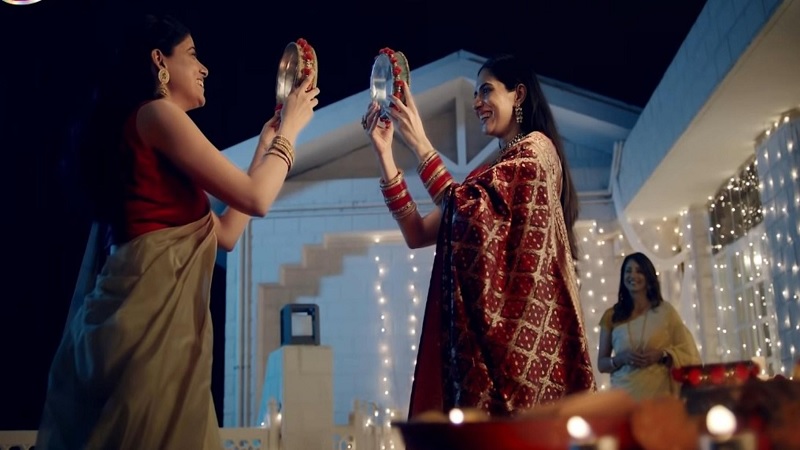 Image Courtesy:indiatimes.com
Dabur India, the Fast Moving Consumer Goods (FMCG) company, has quickly dropped its season special advertisement for Fem Crème Bleach, that promises to lighten dark skin to acceptable standards of beauty. However it has not dropped the advertisement and apologised for the racist overtines, nor has it apologised to the LGBTQI community for using a lesbian love storyline to sell a bleaching product on a festival considered by many as patriarchal.
Instead it has withdrawn the advertisement that debuted on October 23, a day before the Karva Chauth festival. After it was trolled on all social media handles, Dabur has said, "We unconditionally apologise for unintentionally hurting people's sentiments."
Fem's Karwachauth campaign has been withdrawn from all social media handles and we unconditionally apologise for unintentionally hurting people's sentiments. pic.twitter.com/hDEfbvkm45

— Dabur India Ltd (@DaburIndia) October 25, 2021
Hell hath no fury than a minister angered
Dabur it seems was forced to withdraw the advertisement featuring a lesbian couple celebrating the Karwa Chauth after they were criticised by Madhya Pradesh home minister Narottam Mishra who called it "objectionable content" and threatened legal steps if it advertisement was not withdrawn. Mishra told the media that, "Today, they are showing two women celebrating Karva Chauth. Tomorrow, they will come up with an advertisement that shows two men getting married. We cannot allow anyone to show such objectionable content."
His objection was to showing a lesbian couple in marital bliss, rather than the fasting for long life of the spouse tradition or that the product was a skin bleach that promotes 'lighter skin is beautiful' concepts. The patriarchy soaked advertisement was withdrawn and the company publicly apologised for the 1.06-minute video advertisement. Mishra told the Hindustan times that he "had asked to send a warning to withdraw the advertisement before registering an FIR for hurting religious sentiments. It's good that they withdrew the advertisement and also made a tender apology for that." Religious sentiments being hurt was his major objection.
बस यही करते रहो.. slam,bam,ban! So much for being the 'Mother' of democracy! Pity a giant like #Dabur refused to stand behind their AD. While I don't endorse a fairness cream in principal I reserved my comment as they attempted to celebrate Inclusivity & #PRIDE So why hide now? https://t.co/avzq1XafgW

— Pooja Bhatt (@PoojaB1972) October 26, 2021
The advertisement got mixed reactions on social media platform, some users applauded it for the "queer storyline" and the hashtag "BoycottFem" also began to trend as others said the advertisement "hurt religious sentiments." Dabur India released its clarification stating, "Dabur and Fem as a brand strive for diversity, inclusion, and equality and we proudly support these values in our organisation and within our communities. Our campaign too reflects the same. (…) Our intention is not to offend any beliefs, customs and traditions, religious or otherwise. If we have hurt the sentiments of any individual or group, it was unintentional and we apologise. We are also humbled by everyone who has showered their support for the brand and the campaign."
However, the advertisement also received flak from the Lesbian Gay Bisexual Transgender Queer and Intersex (LGBTQI) community as well, HT quoted Tejaswi, Digital Editor, Gaysi Family, a digital platform that publishes queer content, saying, "Some of our biggest crusaders for queer rights in the country today are transwomen of Dalit and non-Savarna identities. We disgrace their labour if we thought this ad could go viral in our name. The ad's final tagline clearly says that our queerness will be acceptable as long as we are cis-passing, fair-skinned and following certain traditions of living". A sentiment echoed by many.
Don't support the boycott or withdrawal but Dabur ad problematic for me on many levels 1. It's for a fairness product 2.suggests a regressive ritual becomes progressive coz same sex couple performs it 3. The lesbians are so devoid of nuance they come across as totally straight

— Reema Kagti (@kagtireema) October 26, 2021
Is it just me, or did a skin lightening product brand just try to legitimise a patriarchal tradition by piggy-backing on same-sex relationships? You can't use lesbians to further patriarchy or colourism, you fools! #LGBTQIA #women #feminismhttps://t.co/cIHtFLXmA2

— Deborah Grey (@GreyFrost) October 23, 2021
The advertisement also comes when, according to reports, the Centre told the Delhi High Court, which is hearing four petitions seeking legalisation of same sex marriages, that a valid marriage can only take place between a biological man and a biological woman. The court will begin the final hearing on the matter on November 30.
Meanwhile, here are a clutch of advertisements that have courted controversy this season:
BJP MP says Aamir Khan's CEAT Tyres Diwali ad hurts Hindu sentiments
The Bharatiya Janata Party MP from Karnataka Ananthkumar Hegde, has penned a woefully sarcastic letter criticizing CEAT Tyres ad featuring actor Aamir Khan. The MP says Aamir Khan's CEAT Tyres Diwali ad hurts Hindu sentiments as in the ad, Aamir Khan is seen advising people to not burst crackers on the streets.
Fabindia bullied for Jashn-e-Riwaz
Trolls inspired by Bharatiya Janata Party MP Tejaswi Surya, ensured that garment giant FabIndia removed its seasonal advertisement. The backlash came after the BJP MP said Diwali was "Not Jashn-e-Riwaaz", perhaps upset that an Urdu term had been used. Many in the right-wing have decided on their own that Urdu a language is actually only Muslim.
iD dosa batter gave communal trolls indigestion
Bangalore based iD dosa batter makers bravely countered communal campaign and misinformation, and issued a statement saying batter contains rice, urad dal, fenugreek and RO-water. They were trolled with a hate campaign that spread a dangerous lie over Whatsapp and social media, that the dosa batter made and sold by the popular iD startup contains 'cattle bones and calf rennet'. The company took to its social media page to reassure customers that this was not the case.
Indian Express apologises for epic Adityanath advertorial goof up
The Indian Express, in what may be a first for the legacy media organisation, issued an apology style clarification for an advertorial titled 'Transforming Uttar Pradesh under Yogi Adityanath' that carried a collage of images from Kolkata, passing them off as achievements of the Adityanath led Uttar Pradesh Government! The biggest photo of the collage was that of the Chief Minister himself, and the smallest one was of the iconic yellow kolkata ambassador taxicab. The flyover being passed off as something Adityanath built was identified as the Maa Flyover bridge in Kolkata. An identical image used in the UP Govt advertorial is incidentally available on the Trinamool Congress website since 2018.
Related:
Aamir Khan: Surviving in the regime's crosshairs
BJP MP says Aamir Khan's CEAT Tyres Diwali ad hurts Hindu sentiments
Jashn-e-trolling: What does the festive season mean for bhakts?
Why did Indian Express apologise for the epic Adityanath advertorial goof up?
Deccan Herald caught in sly attempt to malign Fr. Stan Swamy
Hate Watch: Hindutva group raises slogans outside Muslim-owned shop in Gujarat