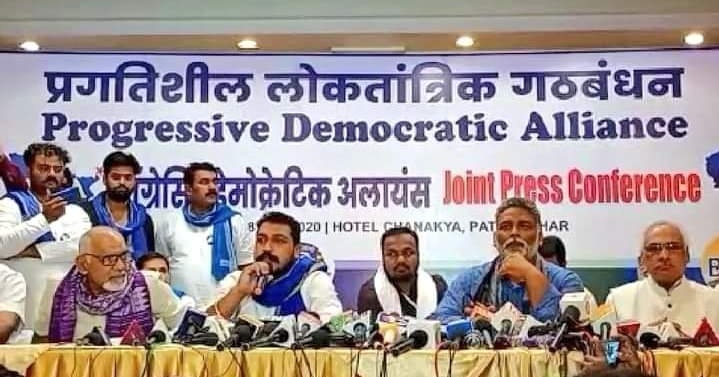 Monday saw the solemnization of a political alliance of Pappu Yadav led Jan Adhikar Party (JAP) and Dalit rights activist Chandrashekhar Azad's Samaj Party, thus kickstarting the election season in Bihar. The Election Commission had recently announced that elections for the mammoth 243-member state assembly would take place in three phases, with nomination filing for the first stage all set to begin on October 1.
At present Bihar Chief Minister Nitish Kumar of the Janata Dal United, leads a coalition government with the Bharatiya Janata Party (BJP) as well as Lok Janashakti Party (LJP) and Hindustani Awam Morcha (HAM). Pappu Yadav wants to take on this ruling coalition by stitching together his own band of brothers that has been christened Progressive Democratic Alliance (PDA). At a public display of this alliance, other members were revealed to be Bahujan Mukti Party (BMP) and MK Faizi's Social Democratic Party of India (SDPI).
Azad explained that the alliance was formed "to save Bihar, to establish social justice, to end cate-based atrocities, to ensure equal opportunity for the marginalized and the deprived." He added, "We welcome any party that wants to defend the Constitution to join our alliance."
बिहार को बचाने के लिए,समाजिक न्याय की स्थापना के लिए, जातीय अत्याचार के खात्मे के लिए, वंचितो की भागीदारी सुनिश्चित करने के लिए प्रगतिशील लोकतांत्रिक गठबंधन की शुरूआत की गई है। जो भी पार्टियां संविधान की सुरक्षा के लिए हमारे साथ आना चाहती हैं हम उनका खुले दिल से स्वागत करते हैं। pic.twitter.com/5BV6B7ls5z

— Chandra Shekhar Aazad (@BhimArmyChief) September 28, 2020
"We will rescue Bihar from the clutches of a corrupt BJP and Nitish Kumar's administration of looters," promised Pappu Yadav.
https://twitter.com/pappuyadavjapl
At present the Opposition in the Bihar state assembly is led by Tejashwi Yadav of the Rashtriya Janata Dal (RJD). Yadav is the son of two former Bihar Chief Ministers Laloo Prasad Yadav and Rabri Devi.
Meanwhile, there is no dearth of drama amidst the ruling coalition either with LJP's Chirag Paswan openly challenging Nitish Kumar, especially in wake of Jitin Ram Manjhi switching sides. Manjhi's vote base is identical to that of Paswan. Nitish Kumar himself has been swinging partners; first embracing the BJP, then switching allegiance to the RJD, and then running back to the BJP.
Needless to say, in the coming days, we will see a lot of political posturing and back-channel negotiations by leaders on both sides, in order to ensure the seat-sharing arithmetic best suited to them.
Related: