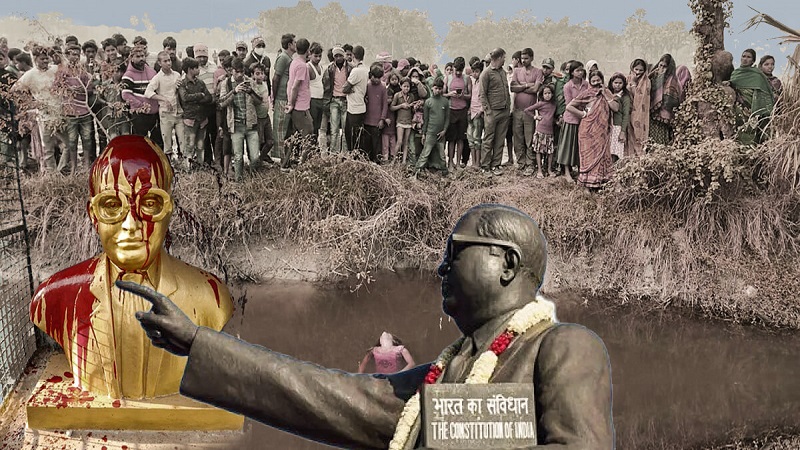 "A just society is that society in which ascending sense of reverence and descending sense of contempt is dissolved into the creation of a compassionate society"- Dr BR Ambedkar, Annihilation of Caste.
We certainly have miles to go before we can even get close to the compassionate society the Babasaheb envisioned. It is shocking to document that 2021 has been a year that has seen exacerbated attacks on Dalits and Adivasis (indigenous tribal communities).
While shockingly many of these attacks on Adivasis have been by government's security forces on the pretext of fighting insurgency by Maoists, and its Forest department weaponised by the State, the attacks on Dalits are a result of re-inforced historic discrimination and alienation they have always faced. The current dispensation has been brutally targeting the community and its human rights defenders (HRDs) especially those engaged in the enforcement and struggle for constitutional rights.
While some measure of space and political representation has been ensured due to the affirmative action of reservations, decades after independence, the Dalits have not achieved total emancipation. Sub-castes within castes, the scourge of untouchability worst manifest in manual scavenging is a major part of the story. The other is the sanskritisation of a section of the more "influential" Dalit into the upper-class, upper-caste (read Brahmanical) fold. All this, despite Dr. Babasaheb Ambedkar having given a call to annihilate caste system, one that allows the systemic discrimination and exclusion of Dalits from its social hierarchy. Decades later, Dalits continue to be vulnerable to such attacks which are not just violent in nature but also emerge from trivial social stigma such as entry into temples, access to cremation grounds, sporting a moustache, riding a horse and so on.
The National Crime Records Bureau (NCRB) Crimes in India report of 2020 records that a person from a Scheduled Caste (SC) faced crime every 10 minutes in India in the past year, cumulating to a total of 50,291 cases registered in 2020, an increase of 9.4% from the previous year. Crimes against scheduled tribe (ST) communities also increased by 9.3% to a total of 8,272 cases in that year.
This year too has been no different. Here's are some of the most shocking instances of crimes against Dalits and Adivasis in 2021.
Attacks on Dalits
December 28: A 16-year-old Dalit girl was allegedly beaten and molested in Raipur Phulwari town in UP's Amethi. This came to light when purported video of "16-year-old Dalit girl being beaten up and molested" surfaced on social media.
December 20: A 20-year-old Dalit girl was abducted and murdered when she went to the toilet, allegedly by "upper caste" men in Shahpur village, Vaishali, Bihar. The assailants belonged to the same village and are said to be "Thakurs". On December 26, a group of women who had taken their flock of goats to graze, found a body submerged in a pond. It was later was identified as that of the Dalit girl.
December 13: One Balwant Singh, who was defeated in a village block election in Aurangabad, Bihar was caught on camera forcing a Dalit man lick spit as 'punishment' as he blamed the Dalit community for his loss, and abused the two men identified as Anil Kumar and Manjeet Kumar. He made them hold their ears and do sit-ups, made one of them lick spit, to humiliate them in public.
December 2: A 35-year-old Adivasi man identified as Sunil Pasi was beaten up by villagers in Khetko under Bagodar police station area of Giridih district, Jharkhand. The attackers suspected Pasi "of being a cattle thief" and had kept him hostage. Shabad Ansari, a high court lawyer and member of Jharkhand Janadhikar Mahasabha told mediapersons, "It is unfortunate that incidents of mob justice and lynching over religion and caste are taking place in Jharkhand. We want the government to take stern action, arrest all culprits and ensure a complete stop on such incidents." According to Bagodar-Sariya sub-divisional police officer Naushad Alam, police reached the spot and rushed a critically injured Pasi to the hospital where he was declared brought dead.
November 21: in Madhya Pradesh's Rewa district, it was reported that Ashok Saket, a Dalit worker's hand was chopped off by his "upper caste" employer as the worker went to him seeking his wages. The employer, Garesh Mishra, refused to give the wages, verbally abused Saket with caste slurs and said he would not pay the full wages. However, Saket insisted on full wages, and didn't accept the amount proposed by Mishra. This enraged Mishra who then allegedly attacked Saket with a sword. Instinctively Saket tried to shield himself, but the sword landed on his hand and severed it.
November 26: Four members of a Dalit family were brutally murdered in Uttar Pradesh's Prayagraj district's Phaphamau area on November 26, allegedly over a land dispute. Bodies of the 50-year-old man, his 47-year-old wife, 17-year-old daughter and 10-year-old son, were found on their beds inside their home at Phaphamau. The victims had been attacked with an axe and killed. The teenaged girl had allegedly been gang-raped before she was killed. A relative reportedly told the media that "a land dispute and alleged that members of an 'upper-caste' family had issued physical and verbal threats to the Dalit family in the past." Locals also alleged that the "family had approached the police station to lodge an FIR but were rebuffed."
November 12: A minor Dalit boy was beaten up mercilessly in Tirsingda village of Barmer Rajasthan as he dared to drink water from a tap 'owned' by an upper caste man. The victim's family told the media that they were threatened with dire consequences if they passed through that area again. Reportedly, the child was so badly beaten that he may have sustained a spinal injury.
October 27: Six members of a Dalit family were assaulted by 20 persons allegedly for merely entering a Ram temple in Kutch, Gujarat. Even their farmlands were ravaged after they allegedly entered the village temple during a ceremony organised by another community. The attack was reported from a village in Bhachau taluka of Gandhidham city of Kutch and took place around October 27.
October 16: In Chhatar village in Jind's Uchana sub-division more than 150 Dalit families were denied ration, medicine and were faced with a social boycott by "upper caste" families. They were boycotted as a means to build pressure to withdraw a case where a Dalit boy was beaten up by some "upper caste" people during a Kabaddi match.
October 19: A Dalit labourer, Lakhbir Singh's mutilated body was found at the Kundli border near the farmers' protest site. The Nihangs, a section within the Sikh community, claimed that members had reacted in response to the victim's attempt to insult their holy text Guru Granth Sahib. Lakhbir was brutally beaten up, murdered, his hand chopped off and the body tied on the barricade behind the main stage of the farmers protest site.
October 14: A physics teacher at a government school in Chidambaram town, Cuddalore, Tamil Nadu was held for allegedly flogging and kicking his 17-year-old Dalit student studying in Class 12. Based on the student's complaint, the teacher has been booked under Sections 294 (b) (uttering obscenities), 323 (punishment for voluntarily causing hurt), 324 (voluntarily causing hurt by dangerous weapons or means), section 75 of the Juvenile Justice Act read with Scheduled Caste and Scheduled Tribes (Prevention of Atrocities) Act, 2016 and was sent to judicial custody
October 1: Principal of primary school in Gaderi in Sangrampur area, Amethi, UP was accused of allegedly forming a "separate queue of Dalit children" when they are served the midday meal and an FIR was registered under sections of the SC/ST Atrocities Prevention Act. The Principal, Kusum Soni was reportedly suspended.
September 28: A Dalit man, Sahab Singh, faced open threats from Thakurs of Daudapur village, Mainpuri district, UP after he exposed that the school in the village was forcing children belonging to the Scheduled Castes to wash the utensils they used for their mid-day meals and then keeping them separate from other utensils. Singh, has alleged that the Thakur's of his village "are openly saying that they won't let a Dalit continue to remain the village pradhan. They used caste slurs on me as well. They are threatening to break my bones and even shoot me". According to Mainpuri Basic Shiksha Adhikari (BSA) Kamal Singh, the allegations of caste discrimination at the school, were true.
September 15: A 14-year-old Dalit girl was allegedly sexually harassed and subjected to casteist slurs in a village under the Budhana police station limits in Uttar Pradesh. Additional Superintendent of Police Atul Shrivastava told the media that the accused has been arrested, and a case has been registered.
September 13: A 45-year-old Dalit village pradhan at Semardari village in Gorakhpur district was beaten to death with sticks and stones during a clash. There was an altercation over the right of way for the accused's vehicle.
September 13: A 16-year-old Dalit boy was found hanging in the bathroom of a juvenile home in Uttar Pradesh's Bulandshahr district and the family alleged that he had been "brutally beaten up by upper caste inmates" of the juvenile home. The teenager reportedly asked his father to take him away from the juvenile home alleging that inmates, in collusion with staff, would thrash him brutally. He was remanded to the juvenile home as he was accused of kidnapping an upper caste girl while the family stated that the girl and the boy were in love.
September 10: Bijnore Police arrested a daily wager named Shahzad, for allegedly killing a 24-year-old Dalit woman who was a national-level kho-kho player whose body was found near a railway track in Bijnor. Police told the media that the accused had intended to rape the woman, but "panicked when she screamed and then strangled her with her own dupatta."
September 4: A Dalit family was made to pay Rs 25,000 as fine after a two-year-old child of the family toddled into Anjaneya Temple in Miyapur of Koppal, Karnataka. locals belonging to the so called 'upper caste' demanded money from the child's family for 'purification' rituals at the temple they claimed had been defiled. More than 10 days after the Dalit family was 'fined' Rs 25,000, the Kushtagi police registered a case under the SC/ST prevention of atrocities Act on Wednesday and arrested five people of Miyapur village.
August 21: Seven members of a Dalit family were brutally assaulted on suspicion of performing black magic at Wani in Chandrapur district, Maharashtra. At least 13 villagers were arrested in this regard. The family members suffered thrashing and mud-flinging by a mob at the village square; three were tied to wooden poles out of which two were women. Only five family members had survived when the news was reported.
August 20: The Dalit community in Malewadi village of Solapur district was refused the right to cremate the body of a 74-year-old Dhananjay Sathe at the crematorium situated adjacent to the farmland of the OBC Mali community. The community then burnt the body in front of the gram panchayat office as a sign of protest. Family members said the other community members had been aggressively discriminatory against the only two Dalit households in the village since a Dashrath Sathe (brother of the deceased) was elected village sarpanch.
August 2: A Dalit labourer Anuj, hailing from Jaunpur, Uttar Pradesh was beaten to death by a mob after a girl alleged that she was molested by him and three others.
August 1: A nine-year-old Dalit girl, belonging to Valmiki community was allegedly raped, murdered and her body forcibly cremated by the alleged culprits. She was from Nangal village of Delhi cantonment area. The girl had stepped out in the evening to get cold water from the crematorium's water cooler but failed to return. Her mother was later shown the body by the crematorium priest, who said that she was electrocuted while drinking water. The priest attempted to intimidate the mother from informing the police
August: In Nalanda, Bihar, 25-year-old Upendra Ravidas was killed for demanding his wages and dues of 10 kg rice. The accused Dinesh Mahto allegedly assaulted the victim before tying him to bricks and throwing him in the river.
June 5: Vinod Bamnia, 21, an active member of the Bhim Army was attacked by a group of men belonging to an OBC community near his own house in Kikraliya village of Rajasthan's Hanumangarh district by men allegedly shouting casteist slurs as they assaulted him. The attackers reportedly, kept shouting "Aaj tumhe tumhara Ambedkarvad yaad dilvayenge (We will make you remember your Ambedkarite ideology today." This fatal attack is said to be an act of revenge and was carried out two weeks after these men had allegedly torn B R Ambedkar posters pasted outside Vinod's home.
May 23: Eleven people belonging to an Other Backward Classes (OBC) group attacked Suresh Vaghela (22), a Dalit man, because he was "sporting a long moustache" in Ahmedabad's Viramgam Taluka. The victim is from Karakthal village and works with Voltas in Sanand GIDC area of Ahmedabad.
May: Sub-inspector Arjun of Gonibeedu police station in Mudigere taluk, Bengaluru had allegedly forced a Dalit youth to drink an inmate's urine. The victim, Punith, was taken into custody after complaints that he had caused some marital discord in the village. While in custody, when he asked for water. PSI Arjun forced another inmate to urinate on Punith and also forced him to lick it off the floor. PSI Arjun was arrested by CID in September.
April 15: A 17-year-old Dalit boy was allegedly forced to lick spit and drink urine for eloping with a a 15-year-old girl from the same Manjhi caste from Kadhauna village of Gaya district. The Wazirganj police arrested six persons from Kadhauna village, including the girl's relatives who were forced to participate in the crime.
March 31: A 22-year-old Dalit youth suffered extreme physical trauma to his private parts, when relatives of his upper-caste girlfriend allegedly physically assaulted him. The incident occurred in the Tikunia area of Lakhimpur Kheri district in Uttar Pradesh. His girlfriend's father Brahmendra and sons Raju, Gajraj and Bharat beat the young man with belts and sticks. It is alleged that the accused also crushed his private parts, inserted an iron rod into his rectum and thrashed him mercilessly. Doctors attending to Harendra confirmed injuries to his private parts.
March 6: Dalit activist Shiv Kumar, President of Mazdoor Adhikar Sangathan, who was arrested in January for allegedly violently protesting the harassment of factory workers in the Kundli Industrial Area in Sonipat, alleged after being released on bail that he was tortured while in custody. He told the media that his injuries include "broken toenail beds, fractures and symptoms of post-traumatic disorder". "From January 16 to 23, I was constantly hit with sticks, abused and humiliated referring to my caste. I was not allowed to sleep. They were inhuman. They were always in plainclothes. None offered me first aid," he said.
March 2: Amrabhai Boricha, a Dalit RTI activist and farmer was hacked to death, by a group of Kshatriya men, in his home in Sanodar village of Ghogha taluka in Bhavnagar district. He had filed a complaint against the Kshatriya men as they were trying to usurp his agricultural land as well as residential plot. Boricha's was the only Dalit family residing in the village. He was assaulted in 2013 as well and Jayrajsinh Gohil, Bhaylubha Gohil and Virmadevsinh Jadeja have been convicted in that case. They are also accused of his murder, the trial of which is yet to conclude.
February 28: The body of a Dalit teenager who had gone to get fodder, was found dumped in the wheat fields near her village in the Akrabad area of Aligarh, UP. It was suspected that the teenager may have also been sexually assaulted.
February 17: three Dalit girls were found with their hands and legs tied in the field in Babura village, Asoha police station area, in UP's Unnao. The family members say that the girls had gone to the fields in the afternoon to fetch fodder for the cattle and did not return until late evening. There were indications that one girl was poisoned. Two of them were dead and 1 was in critical state.
February 4: A five-year-old Dalit girl was allegedly raped and killed in Morena district, MP by the accused who was released from jail after 6 months of being incarcerated on charge of molesting the minor victim's aunt.
Adivasis and tribals under attack
December 23: A 15-year-old Dalit girl was allegedly raped and murdered in Rajasthan's Bundi district. The minor's body bearing bite marks and fatal wounds to the neck and the head was found in a forest area near Kalakunwa village under the Basoli police station area.
August 29: A 45-year-old tribal man Kanhaiyalal Bheel was beaten mercilessly, tied to a pick-up van and dragged along the road for 7 kms in Neemuch, MP. A video of the incident went viral, prior to which the case was being passed off as a road accident. The police arrested 8 persons including husband of the Sarpanch of the village.
June 12: A fact finding report of Jharkhand Janadhikar Mahasabha (JJM) alleged that what was initially reported as an exchange of fire between security forces and "Maoists" in the Kuku-Piri forest, Latehar in Jharkhand was systemic violence by security forces against Adivasis. In his violence, young Bramhadev Singh lost his life. Six Adivasis including the deceased were out on an annual hunting ritual for the Sarhul festival when they came across the security personnel. The villagers carried Bhartua guns that have been in their families for generations. They use these guns to hunt small prey like rabbits, pigs and chickens, and to protect crops from pests. The security forces fired at the group without warning, according to JJM's report. The villagers also told the fact-finding team that none of the six victims were associated with the Maoist organisation.
May 31: A 24-year-old tribal woman was gunned down in an alleged Maoist encounter in Dantewada, Chhattisgarh by District Reserve Guard (DRG) personnel. Her mother, however, claims that she was picked up from their house by the police and alleges that when the body was handed to them, it was mutilated. The mother also alleges that her daughter was raped. The Sarpanch of the village supported the claims of the family and said that the victim was involve with Maoists 5 years ago, but had returned home a few years ago and there were no weapons in the house neither did she carry any.
May 17: The police allegedly opened fire at peaceful protestors, claimed residents of Silger village resulting in death of 9 tribals. Tribals from over 30 villages of Sukma and Bijapur had gathered in protest outside thew CRPF camp in Sukma protesting the setting up of the security camp. The security forces alleged that it was "Naxal cadres, in the garb of protesting villagers," attacked the Silger camp with "stones and gunshots". The District Collector, Sukma directed the Magistrate to conduct an inquiry in the matter
May 13: Bodies of five people of the same tribal family, including minors, were found almost reduced to skeletons in a pit, Nemavar, in Madhya Pradesh's Dewas district. The family had been missing since May 13. They had been strangled, stripped, buried 10 feet deep with urea and salt added to accelerate decomposition. According to police the victims' landlord "was in a relationship with one of the victims", and that nearly half a dozen of his accomplices were behind the murder. Bahujan activist Suraj Kumar Baudh called it a "caste massacre" and said, "There is a caste angle because the man [accused] proudly calls himself a Rajput and a national leader of an organisation called the Hindu Kesaria Sangh."
Related:
Hate Watch: Man loses Panchayat election, forces Dalit voter to lick spit!
Segregated burial grounds, a violation of the Constitution: Madras High Court
Hate Watch: Dalit worker's hand chopped for seeking wages in MP
Uttar Pradesh: 4 of Dalit family masacred in Prayagraj
Two young Dalit girls attacked, where is the outrage?