More than 300 Dalits, including four men who were allegedly flogged by cow viilantes in Una in Gujarat's Gir Somnath district in 2016 and their family members, converted to Buddhism at an event that took place in the state's Mota Samadhiyala village on Sunday, April 29. More than one thousand Dalits reportedly took part in the event, which was held on the eve of Buddha Purnima and nearly a third of them went ahead with the religious conversion.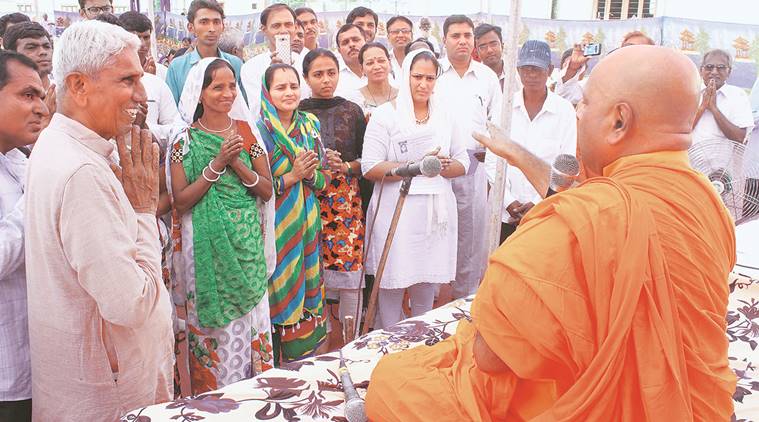 Image: Indian Express
In July 2016, four Dalit men–Vashram Sarvaiya, his brother Ramesh Sarvaiya and their cousins Ashok and Bechar, were allegedly attacked by cow vigilantes for skinning a cow, with the attackers alleging that the four men had killed the cow. The four men who were attacked resided in Mota Samadhiyala. A video of the incident was posted online, and prompted national outrage. Following the incident, the Gujarat Crime Investigation Department arrested 43 people.
However, currently, only six individuals are in custody. According to Govindbhai Parmar, an advocate representing the Sarvaiya family, 35 of 43 accused are out on bail, including the prime accused in the case. In fact, on Wednesday, April 25, two of the men who had originally been attacked in Una in 2016 were allegedly attacked again by one of the accused in the case, Kiransinh Balubhai Darbar, who is out on bail. An FIR against Darbar and a friend who was with them at the time has been filed at the Una police station.
Balu Sarvaiya, father of the two of the men who were assaulted, said, "It's been over two years now that our sons were brutally flogged. However, till date, the state government has not extended any kind of help such as land or government jobs. Moreover, we haven't got justice still and all the accused are on bail now." He explained, "We have been forced to convert our religion because we think it would lend a momentum to the Dalit uprising that was witnessed after the flogging incident. Other Dalits too, who are silently suffering tortures, will also have to embrace Buddhism sooner or later".